Learning Battle Cards Pinterest Space And Learning Methods
There are already more than 4.500 visuals regarding education, training, and development in the learning space I have been curating.
You can reach it here: www.pinterest.com/lbcards.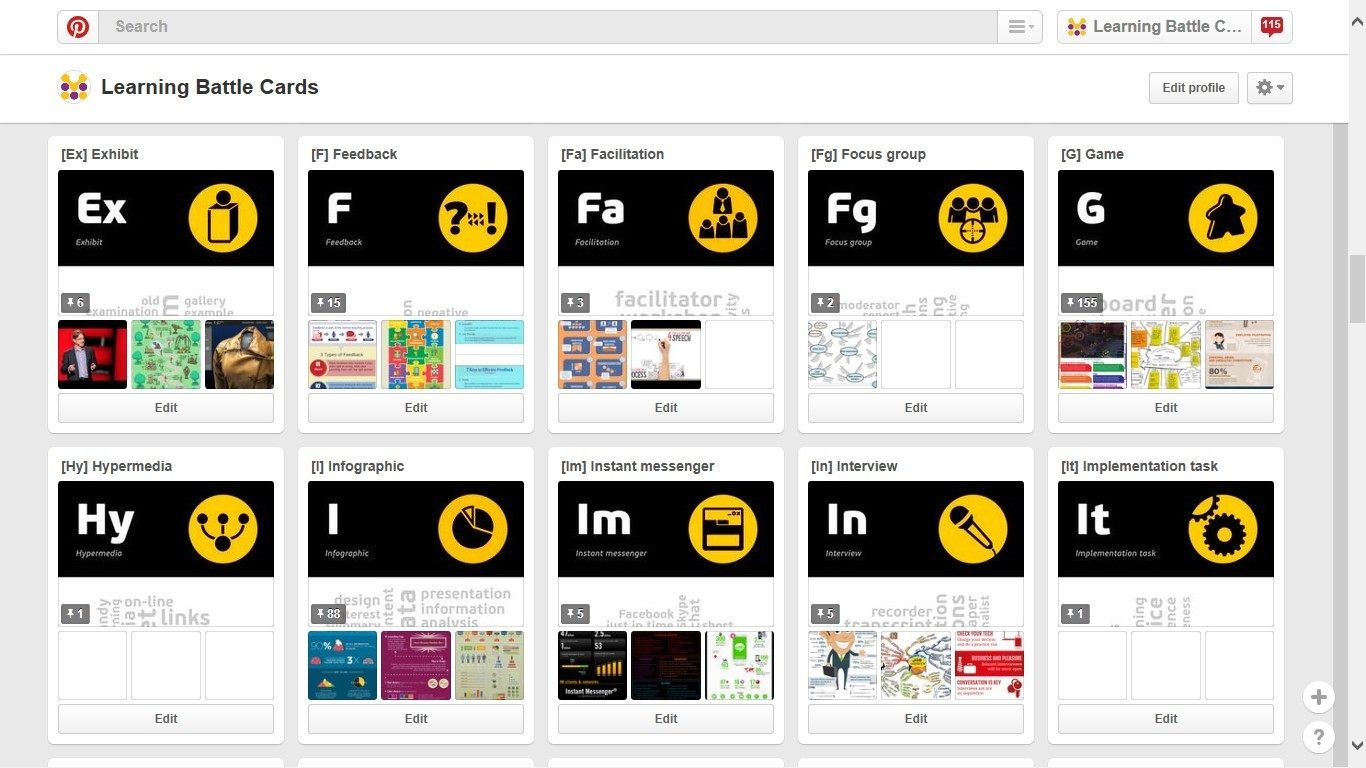 They are divided into folders (boards) organized in the Learning Battle Cards (LBC) logic. Every single board represents one card (learning method) within the deck of Learning Battle Cards.
The number of visuals in various folders is different. Some of learning methods are over-hyped; some of them are just easier to represent in the visual form. To realize these differences just take a look at the [G] Game folder, where you can find 155 Pins, and the [Im] Instant messenger folder, where you will find only 5 Pins.
How Do I Work With Learning Battle Cards Pinterest Space?
When I find visuals I don't evaluate them; I don't take a deliberate decision on which is good, which is not, which one should be placed in the folder, and which one should not. I assume that I will introduce to this learning space every single visual I will find. It is your responsibility to take what is important, valuable, right, etc. for you.
Why Pinterest?
I decided to use Pinterest to take care of the whole portfolio of visualizations. Why?
It is easy to use – it lets us pin new visuals by just clicking one button.
It is free.
It lets us create as many folders (boards) as we wish (or at least as many as needed for this purpose).
It presents the folders and the content in a visually appealing way.
It allows for collaboration (I haven't started it yet, but it is nice to have such a functional possibility).
It lets us create both visible and hidden boards.
It lets us curate content (organize, add metadata, etc.).
How To Use Learning Battle Cards Pinterest Space?
You can do it in at least 2 ways:
Visit www.pinterest.com/lbcards from time to time and browse through boards to reach for visuals of your interest.
Create your own Pinterest account and follow Learning Battle Cards Pinterest space to be inspired with new pins added to our boards.
We add new materials on a regular basis to it. You are very welcome to reach us there in any of these two ways.
Pinterest As A Support Tool To Learning Battle Cards 
We treat this learning space as supportive for Learning Battle Cards idea.
As a reminder…
Learning Battle Cards is a deck of individually designed set of cards which gamifies the Instructional Design process. It is:
A playable representation of information space connected with every form of learning.
Educating, collectible, and kinesthetic form with attractive design.
Stimulation for constant communion with variety of Training and Development forms.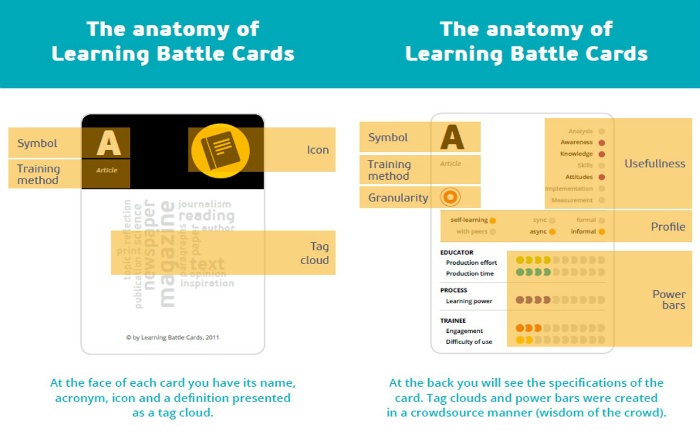 By Learning Battle Cards we propose to treat designing instruction like a game which involves resources and has constraints; also has goals and needs strategy to achieve them. Such a metaphor helps us understand that every learning form has its own set of parameters which makes it more or less adequate to a certain situation.
You can learn more about the idea of Learning Battle Cards on our website: www.learningbattlecards.com.
Your Own Deck Of Learning Battle Cards 
You can order your own deck of Learning Battle Cards in our store: http://store.learningbattlecards.com/.