How Can Blended Learning Technologies Benefit Your L&D Program?
This article is part of a series exploring the concept of blended learning for remote and on-site workers. What you are about to read is a fable. The company, AshCom, is fictional but the learning challenges faced by Kathryn, AshCom's CLO, and her team are real and commonly shared by learning teams in large organizations. It is our hope that you will be able to connect with the characters, their challenges, and the solutions they discover. We also invite you to read the first eBook in the series.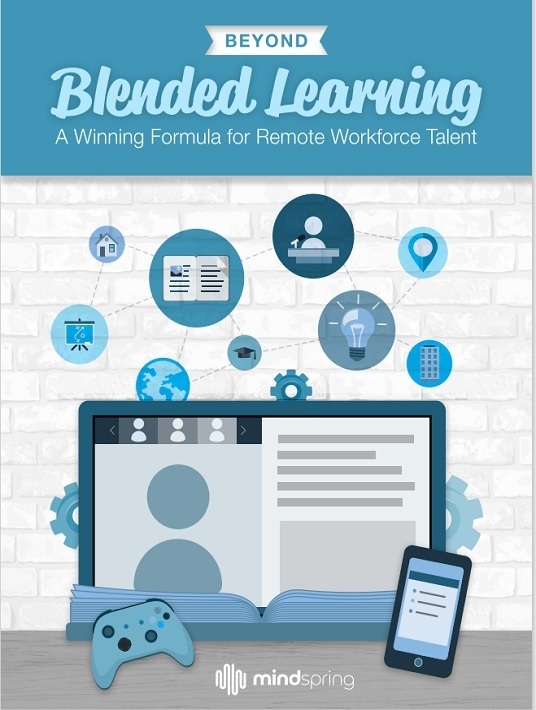 eBook Release
Beyond Blended Learning: A Winning Formula For Remote Workforce Talent
Follow along as fictional company AshCom faces L&D challenges and rethinks traditional blended learning strategies using an innovative formula for success.
The Blended Learning Formula
Lush green hostas unfurled underneath the purple blooming allium that lined the winding walkways leading up to AshCom's stately cottage. Located in the countryside outside of Minneapolis, the cottage provided AshCom's nine-person learning team with a secluded spot to sift and sort through thorny issues. Inside, Kathryn, AshCom's CLO, and her team focused on two complex challenges they faced at the company. The first was caused by increasing retirements and difficulties in attracting qualified talent and was being called "the skills gap."
At the same time, AshCom was also challenged with keeping the people they had. Team members were requesting more flexible schedules and remote work, so Kathryn and her team were tasked with delivering learning geared toward a more remote workforce.
Darryl, one of Kathryn's team members, and Rebecca, from Inno-Versity, proposed they think through these challenges using a formula:
N1+N2+T+D=M
In the morning session, Kathryn broke her team into two groups. Group A was assigned to focus on N1 and N2—the needs of AshCom and the needs of the learners for both issues. This team included Maggie, Amy, Darryl, and Adeena. All were experienced instructional designers but referred to themselves as "learning experience designers."
Compiling A List Of Tools
The second group was tasked with creating a list of all the tools available to the AshCom learning team in doing their work. This team was made up of Alishia, Michael, Martina, and Rebecca. Alishia and Martina were learning experience designers. Michael was a retired university professor who helped Kathryn think through difficult issues. Rebecca worked for Inno-Versity but had become a trusted part of Kathryn's team. She was current on technology and learning science and her perspectives were invaluable.
Team A reported while everyone ate their lunch. After cleaning up, Team B was up to discuss the Tools part of the equation.
"Who on Team B is taking the lead?" asked Kathryn.
"Looks like it is me," said Martina.
"Great," said Kathryn, "What do you have for us?"
"We kind of deviated from our assignment," said Martina. "We started with what you wanted. I even wrote it down when you said it:
"The task is to list all the learning tools we have available to us right now. Every single thing you can think of. The more difficult part of your task is that I want you to give us a list of all the tools we don't currently have in our toolbox but that we need. Don't limit yourself by budget or complexity level. Think of everything you can and come back ready to discuss both what we have and what we might need in the future."
"So, you don't have a list?" asked Kathryn.
"We started on a list, and I can share that with everyone later," replied Martina, "but as we started building the list, something else came up, and we think it might be more important than a list of tools available to us or tools we might like. It started with something Rebecca said."
Everyone looked at Rebecca, the learning consultant from Inno-Versity.
"I certainly didn't mean to hijack the conversation," said Rebecca, "but I've been thinking about this formula for a long time. Long before I started working with the AshCom Team. What I'm about to say comes from years of working with other learning teams in all sorts of companies and organizations."
Kathryn smiled, "And this is why we like having you around."
The Flip Chart
"I appreciate that," said Rebecca. "I'm a visual person, so I'm going to draw on the flip chart. This is what I presented to Darryl when we first met to talk about these challenges and it's what we've been talking through on this retreat."
She stood and wrote "N1+N2+T+D=M" at the top of the flip chart.
Everyone was already familiar with this. "But this," said Rebecca, "is what I think happens inside a lot of learning teams in companies and other organizations." She wrote "T+N1+N2+D=M" in the middle of the flip chart.
At this point, Amy from Team A jumped in. "I think I know exactly where you are going with this. As you all know, I've worked with dozens of learning teams all over the United States and a few in Canada. These companies wouldn't want to admit to it. I'm not even sure they are aware they are doing it."
"Meaning?" asked Kathryn.
"They start with the tool," replied Michael. "Before they have a grasp of the needs of the organization or the needs of the learners, they already have the tool in mind."
Amy continued, "Maybe they are most comfortable in a particular authoring tool. Or maybe they really like video. Or animation. Or games. It could be any tool that they feel most competent in or the one they use the most..."
Michael completed the thought: "And they are already trying to figure out how they are going to do whatever it is they are going to do within that tool."
Music And Tech Limitations
Martina has been listening carefully to the back and forth between Michael, Amy, and Kathryn. When there was a pause, Martina said, "We came up with some analogies that were helpful to me. I thought it was like a piano with five keys. It limits the kind of music someone could play."
Michael nodded and said, "I thought it was like a toolbox with a hammer and a wrench in it. No matter what the problem is, you have a choice of just those two items to fix it."
"Are you saying this is because there is a lack of tools?" asked Kathryn. "Or are you saying that even though we might have many tools available to us, we tend to choose the one we know best at the start even if it isn't the right tool?"
Team B looked at each other to gauge what they might say next. Rebecca broke the few moments of silence. "I think we would say it is both."
Maggie, who had been at AshCom the longest, responded, "We have a lot of tools available in the marketplace including some very cool things like augmented and virtual reality. But those are not in our toolbox at the moment."
She continued, "But I don't think that's our problem. We might have multiple tools right now, but we tend to use two or three of them 90% of the time. This is a bias that we have to address."
Rebecca responded, "And that's why we didn't finish our list of tools. I don't think that is our problem either. It is more likely that we only use a handful, and we tend to give learners the same experience over and over again."
Rethinking Blended Learning Technologies
Darryl replied, "Back to the conversation about blended learning. Who cares if learning is blended if the blend is two or three of the same experiences repeated through most learning?"
"No one," replied Kathryn. "So where do we go from here?"
"We know we still owe you the list," said Darryl. "We will get that to everyone in the next few days."
"Thanks," replied Kathryn. "We know we need that, but I think this conversation was most important than a list review. I thought I gave your team the easy assignment. Turns out it was more complicated than I thought but the result was better."
"We need to wrap things up," continued Kathryn, "and get ready to head back to the office. Please gather your things and maybe some of you can give me a hand doing a final clean-up?"
Several people acknowledged they would. Kathryn's return to work with clarity of the needs of the company and the learners. They had identified a significant limitation with the tools they were using to build learning experiences. They still needed a list of tools. They also have a significant amount of design and build work to do to meet the needs of AshCom related to remote work and the skills gap. But their time spent together had been worth the effort and a clear direction was beginning to emerge.
Kathryn was sure they would end up with a blended learning experience that incorporated multiple modalities for learning. But she was no longer concerned about whether the learning would be blended. Her team's goals were focused on providing successful learning experiences pointed at both the needs of their company and the needs of their learners.
Conclusion
Download the eBook Beyond Blended Learning: A Winning Formula For Remote Workforce Talent to discover how AshCom overcomes its L&D challenges using innovative blended learning strategies. Also, join the webinar to uncover valuable insights that will help you improve your L&D planning and learning delivery.

MindSpring
MindSpring is an award-winning agency focused on delivering engaging and transformative digital content. We create digital experiences using exceptional creativity, the best of learning science, and innovative technology. (Previously Inno-Versity)