How Does The Digital Area Affect Maturity?
Digital transformation has had a great impact on the maturity model. Created in 2003 by Laura Overton, the Emerald Works Index aims to analyze and benchmark the overall health of corporate learning. Formerly known as the Towards Maturity Index, more than 8,500 companies have taken part in this health check since its inception.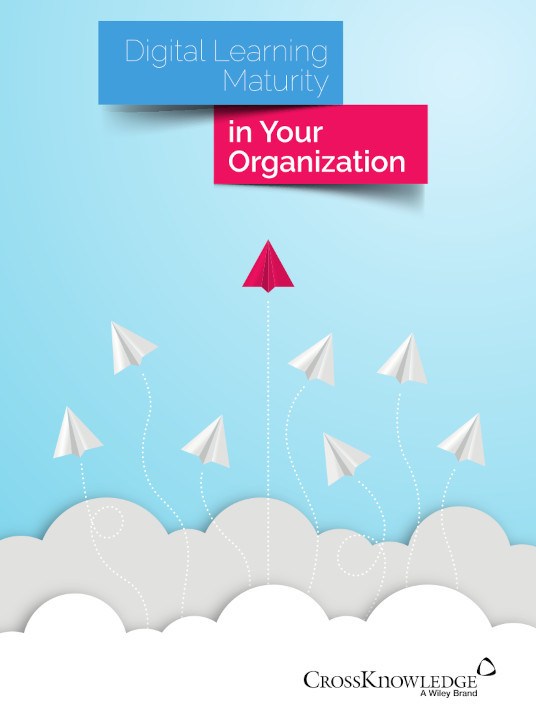 eBook Release
Digital Learning Maturity In Your Organization
Discover how digital learning maturity can help your organization overcome its biggest challenges cost-effectively.
Parallel to the rapid emergence of new digital learning technologies, Towards Maturity has developed this tool to guide learning professionals and help them innovate. Through a decade of digital revolution, TM's premise has been that by capitalizing on digital transformation, learning professionals can boost the impact of training in areas such as growth, transformation, productivity, and profitability.
Towards Maturity's research also focuses on the evolution of L&D skills and capabilities to develop and manage digital learning transformation. The results of this research have consistently shown that the risks of status quo in L&D functions, as well as some resistance to change, have prevented corporate learning from fully realizing the benefits of digital learning as a strategic driver for business performance.
From The Learning Bubble To The Flow Of Work
Although we most certainly have not touched on every maturity model that exists, we did want to talk about one more: Dani Johnson's Enterprise Learning Framework.
Before launching her own consultancy firm, Dani was at Deloitte with Josh Bersin and helped work on the HILO model. When she ventured off on her own, she decided to leverage her in-depth expertise in management science and business consulting to refine the HILO model. Her goal was to link it closer to business reality, aligned with her philosophy for a completely decentralized and personalized L&D strategy that ultimately focuses on its main goal of making business easier. Her Enterprise Learning Framework is articulated around four sections, which are then segmented into specific focus areas.
Strategy And Experience
Employee development is owned by the entire organization, not just the L&D function. Business strategy, organizational learning philosophy and strategy, employee development experience, and learning organization culture are the "conditions" that will either encourage or discourage learning within an organization. Aligning these four focus areas and considering their roles in employee development is crucial to integrating learning with work.
Design
Learning contexts and infrastructure and technologies are two focus areas most familiar to L&D practitioners, as they include the contexts for learning (that is, the ways in which employees will learn) and the technologies and infrastructure of learning delivery. The HILO research also identifies career progression as an integral focus area that determines how employees learn to master their current roles, as well as how they prepare for their next roles, and all the roles they may fill within the company.
Administration And Oversight
The focus areas in this section are organization and governance, analytics, measurement, and intelligence. Whereas L&D may have had a high degree of control over employee development, decision-making, and measurement in the past, these elements in today's more mature learning organizations are more likely to be governed jointly. Further, data is more likely to be shared across the business to ensure better employee development decisions.
L&D Enabling Capabilities
The HILO study clearly outlines a set of capabilities that L&D should possess in order to support and influence the successful implementation of this framework. These focus areas are: conditions creation, business skills, performance augmentation, contextualization, analytics, design, and delivery.
Conclusion
Would you like to learn how digital maturity models can help your organization? Download the eBook Digital Learning Maturity In Your Organization and change the game today.