How To Improve On-The-Job Performance And Productivity With A Mobile LMS
Modern employees expect to be able to train wherever they go, during a client meeting or while fulfilling customer delivery. However, many organizations assume that a mobile LMS is out of their price range, or that the implementation process is far too complicated and involved for their L&D team. Fortunately, there are some insider secrets that can help you deploy a multiplatform-friendly online training program for your remote workforce. Before I give you a glimpse of what you'll discover in our new eBook, let's take a look at some of the job performance benefits a new mobile LMS can bring.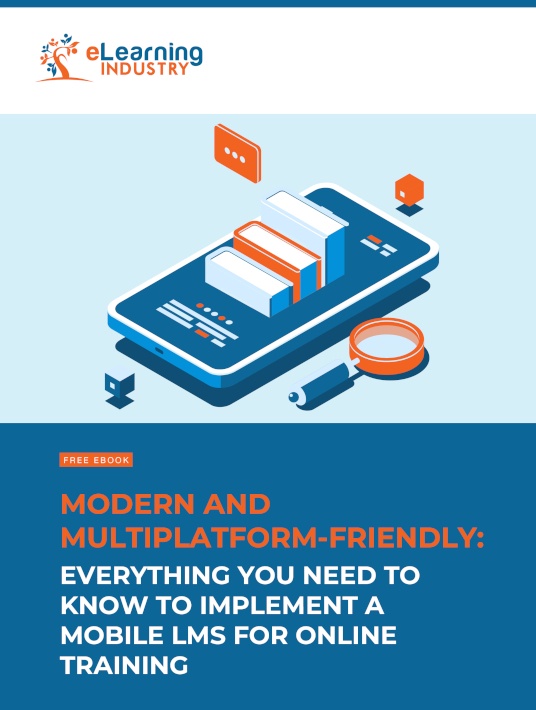 eBook Release
Modern And Multiplatform-Friendly: Everything You Need To Know To Implement A Mobile LMS For Online Training
Find out the surprising benefits of investing in a mobile LMS that features a mobile learning app.
4 Performance And Productivity Perks Of Investing In An LMS Mobile App
1. Offers Your Team Anytime, Anywhere Support
With traditional training, your employees have to wait until the next ILT session or ask a manager whenever they run into a problem. You can take it a step further by launching a locally-installed LMS. But they still have to bide their time until they get to the training terminal. A mobile learning app allows them to receive support on any device, regardless of their physical location. There is no lag time between when they encounter the issue and when they can access valuable training tools, which means they can improve performance behaviors right away, anywhere in the world.
2. Instills Self-Confidence And Facilitates Mistake-Driven Learning
Employees who have the online training resources which they require are more confident on-the-job since they have the ability to make mistakes and learn from them in a risk-free setting, instead of having to make costly (and often embarrassing) errors in the workplace. A mobile LMS app enables them to build real-world experiences so that they are more self-assured. They can tackle any task or challenge because JIT support resources are available on their device whenever the need arises. They can also train discreetly rather than letting their managers or team leaders know they're struggling. Of course, social learning features in the LMS mobile app give them the opportunity to tap into peer-based support, if necessary.
3. Ensures That External Partners Receive The Same Level Of Personalized L&D
Remote members of the team, such as sales channels and vendors, aren't left out in the cold. Mobile learning solutions give them the same access to your training content as your in-house employees. Thus, they're more productive at what they do because they have the knowledge-building tools they need to succeed. External partners put your best foot forward and stay true to company policies and standards, instead of breaching compliance or mishandling customer issues due to lack of mobile-friendly L&D resources. You can even deploy customer online training content that consumers can use on-the-go to build brand awareness and product know-how.
4. Allows Employees To Identify And Close Skill Gaps On-The-Spot
Skills are a hot commodity in the corporate world. Employees are always on the lookout for opportunities to hone their talents and improve on the pain points. A mobile LMS gives them the chance to identify skill gaps immediately and then bridge them to improve performance behaviors. For example, the mobile LMS app features self-assessments, scenarios, and serious games that highlight areas for improvement. Then they can use support tools, like the mobile-friendly microlearning online training library, to address them autonomously, rather than letting these gaps prevent them from landing the sale, increasing customer satisfaction scores, or violating compliance policies.
Implement A Modern And Multiplatform-Friendly Mobile Training Program
The eBook Modern And Multiplatform-Friendly: Everything You Need To Know To Implement A Mobile LMS For Online Training has all the tips, techniques, and trends you need to know to launch a successful mobile training program. Including how to choose the best mobile LMS for your organization, regardless of your budget or staff size. It also features:
Unexpected perks of investing in a mobile LMS that features a built-in app, and how the advantages compare with mobile-optimized solutions.
Mobile learning solution features to look for in your next mobile LMS to get the best Return On Investment and maximize functionality.
Tips to select the ideal custom mobile learning solutions provider for your mandatory compliance training program and avoid costly penalties.
Hot mobile learning trends to consider when investing in your next mobile LMS, and secrets to staying one step ahead of the tech curve when implementing your strategy.
Surprising reasons why your SMB needs a mobile learning system to provide your team with JIT support, and how it can help you retain your top talent.
Free demo checklist to get the most from your test drive and choose the best tool for your team and budget.
Exploring the many ways that a mobile LMS contributes to stellar customer satisfaction scores and builds brand loyalty.
Tips and tricks to find the right flexible mobile LMS app for your blended training program that scales with your organization.
Costly mistakes to avoid when implementing a mobile LMS and budgeting factors to consider when launching a mobile learning program for external partners.
Mobile learning solutions are essential for organizations who need to provide easily accessible support to in-house staff and remote workers, alike. The issue isn't whether you can afford to deploy a mobile learning strategy; but how long can your business continue to thrive if you don't implement a mobile LMS? It helps you retain your top talent, improve the health of your bottom line, and maintain compliance.
Why should you buy an LMS with a built-in mobile training app? What's the specific benefit of investing in an LMS that has its own mobile app included? What are the advantages of developing an eLearning app with a mobile LMS versus using a mobile-optimized one? Download our eBook Modern And Multiplatform-Friendly: Everything You Need To Know To Implement A Mobile LMS For Online Training to learn all there is to know about implementing a multiplatform-friendly training program for your team, the must-have features to look for in mobile learning solutions that can stretch your L&D budget, as well as top tips to choose the ideal custom mobile learning solutions provider for your compliance training program. In addition, which costly mistakes not to make when implementing a mobile LMS, tips to develop a realistic timeline for mobile LMS implementation and much more.