The Vital Components Of A Successful Learning and Development Strategy: Building Up Your Team
This article is part of a series focused on the Seven Elements of Needs Analysis.  The Elements are: Curriculum Mapping, Know/Do/Believe, Defining the Audience, Designing a Learning Brand, Defining the Return on Investment, Building the Team, and Scoping the Project.
What you are about to read is a fable. The company, AshCom, is fictional but the learning challenges faced by Kathryn, AshCom's CLO, and her team are real and commonly shared by learning teams in corporations, non-profits, associations, and education. It is our hope that you will be able to connect with the characters, their challenges, and the solutions they discover. Building and following a Needs Analysis system is vital to the success of the learning opportunities we create.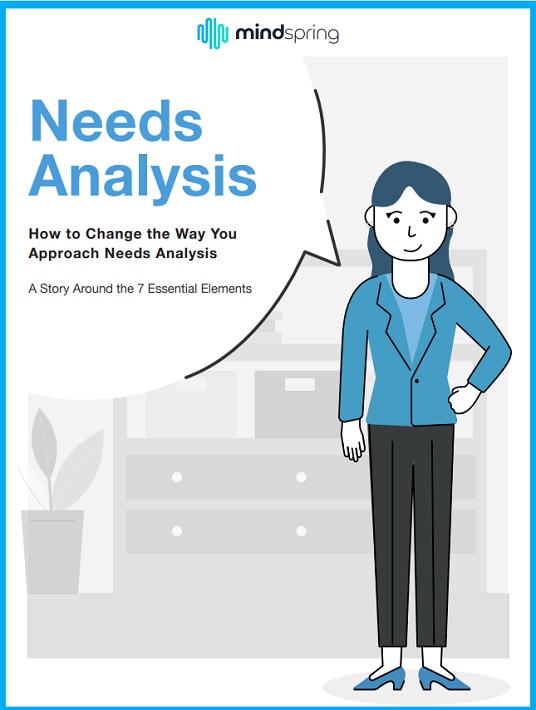 eBook Release
How To Change The Way You Approach Needs Analysis: A Story Around The 7 Essential Elements
How does the fictional company AshCom adapt to change and devise innovative L&D solutions? Discover the seven crucial components of successful needs analysis.
Rowing Your Own Way
A picture hung on the wall behind Kathryn's desk. It was a rowboat powered by oarsman executing perfectly timed strokes through smooth waters. A Swahili proverb was written across the bottom: "A boat doesn't go forward if each one is rowing their own way." Kathryn, Chief Learning Officer at AshCom, understood the importance of the team. She put a lot of effort into building her learning team over the last several years. Maggie joined AshCom's team more than 20 years before, at a time when there was no separate learning team. Initially hired as part of the HR team, Maggie slowly transitioned to a position with a greater focus on learning and development.
When the leadership of AshCom announced they would be creating a new position, Chief Learning Officer, Maggie thought carefully about applying for it. Given her experience and her time with the company, she probably had an inside track. Surprising to many, she decided to remain in her role as Senior Instructional Design. She loved the work. She was a creative person who loved to think of new ways to bringing learning to life. Systematic thinking was not really her strong suit, and she was seasoned enough to accept that and embrace her role.
Michael was Kathryn's first hire. She knew him from her social circle as the friend of a friend. When he retired from the administration of the University of Minnesota, Kathryn and her husband, Bill, were invited to the retirement party. That led to a deeper conversation and quickly led to Kathryn offering a job to Michael for as much time as he was willing to give. His title was Learning Strategist, and he was soon her trusted advisor. Michael was clear from the beginning that building eLearning was not in his skillset and that he was no longer interested in learning it.
Amy was next as a consultant who would help Kathryn build the learning system. She brought a wealth of experience, knowledge from consulting multiple companies, and the ability to jump into instructional design in a pinch.
The final hire was Alishia. She was hired as an instructional designer who had a solid creative side. Her enthusiasm and willingness to try new ideas were much appreciated by the team.
With the acquisition of Globex, no one on Kathryn's learning team feared for their job. Part of their confidence came from understanding they were working well and were aligned as a team. Even more assuring, Kathryn told everyone on her team that their jobs were safe and that they would each continue to play a vital role.
Underlying Anxiety
Unrelated to job security, there was still some underlying anxiety on the team. So far, they had done a lot of planning. They began with Curriculum Mapping which gave them a path. Then they adopted Michael's three buckets describing the objectives for learners – KNOW/DO/BELIEVE. They spent time getting a deeper understanding of their learning audience, although they acknowledged this task was not complete because of the upcoming influx of Globex's 2,500 employees into their system. Besides, understanding the learners was one of those tasks that is never complete.
They planned how they would market their learning offerings to their learners. They spent time coming up with a learning brand that would build the learning culture they all wanted. Finally, they spelled out the metrics they would track and the kinds of reporting they would do in following the Five Levels of Evaluation.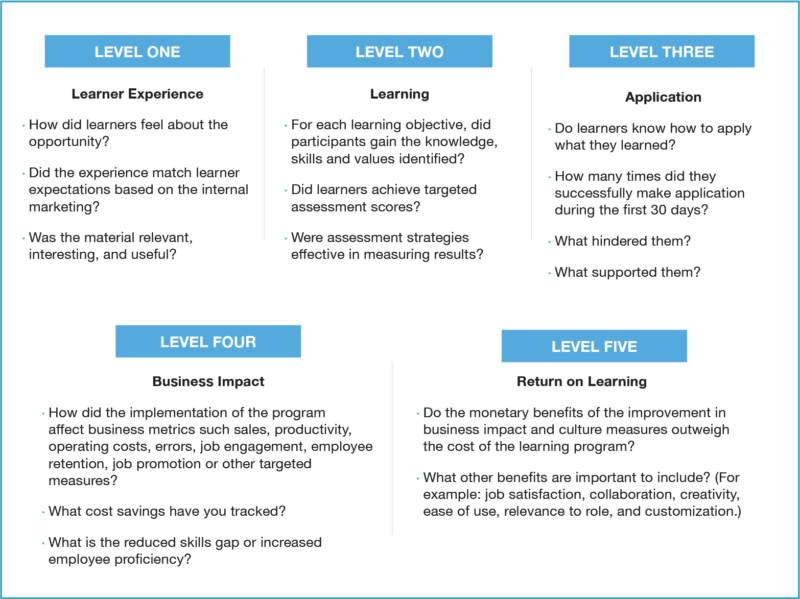 They had confidence in their plan. The anxiety came from knowing they would soon move from the planning stage to execution. For the past few years, things were planned carefully and executed well. This team would update 10% of AshCom's training material so that it was current and then build digital options for the learning.
The acquisition changed all that. Now, the plan was to go as fast as possible as far as possible. The leadership of AshCom, thankfully, recognized that the learning team would be vital to making the Globex acquisition work. There would be budget and resources. But the pressure would come as they went into execution phase.
Furthermore, there was the question of what to do with the three-person learning team from Globex. While smaller, Kathryn needed to make decisions about who from Globex would be joining the AshCom team and who would not. She had not yet met them but would be in the coming weeks. But she had seen the organization chart and had spent time carefully reviewing their resumes. All three has strong backgrounds in instructional design. One had a degree in graphic design along with an instructional design certification from the University of Wisconsin-Stout.
Needs Analysis For A Successful Learning And Development Strategy: The Big Meeting
It was time to talk strategy with her team. Kathryn found the Thursday afternoon was one of the more productive time slots. The craziness of the beginning of the week was over and the haziness of Friday afternoon had not yet begun. She asked for 12:30 to 4:30 and told her team she would provide lunch, something everyone appreciated.
Kathryn began the meeting by handing out the resumes of the three people from the learning team at Globex. She said, "I haven't decided who will be joining our team, but I want you to be aware of who they are and their experience level. I want to remove anyone's concern immediately, so I will repeat what I've already told each of you: None of you are being replaced. We have a lot of work to do, and I want your input before I make a decision."
Statements like this are one of the many reasons Kathryn's team appreciated her leadership.
Kathryn continued, "Before we can make decisions about specific people or other additional people we might need, I thought it would be good to discuss some of the roles needed and who else might need to be part of our expanded learning team. We all know the size of the task in front of us, at least most of it. I'm thrilled with our planning. Now is the time to put it into practice."
Amy Speaks Up
Amy raised her hand almost involuntarily and immediately put it back to her lap. But everyone in the room, including Kathryn, noticed.  "Amy," Kathryn said, "Something you want to say?"
"Sorry," Amy said. "Maybe you are coming to this and my apologies if I am stealing your thunder, but can I share something I've seen go wrong at other companies when they begin a new and aggressive learning plan?"
"Of course," said Kathryn.
Amy continued. "There is an essential part of a learning needs analysis that gets little attention at this point, just when you are ready to begin. The natural thing is to think about who is going to do what. And that certainly is important. I'm pretty sure that is part of why you wanted to meet today."
She continued, "But let me throw out two bigger questions before we get to who is doing what. Is that okay with everyone?"
Everyone nodded with some anticipation of what Amy would say.
The First Question: What Are The Essential Roles?
"The first big question has to do with the roles that are necessary rather than who is going to fill them. It isn't "who do we have?' but "what do we need?' Sometimes learning teams paint the target around the arrow and start plugging people into slots, not realizing that they may not have identified all the roles. Or maybe they have and the wrong person gets put in that role because they volunteered. All I'm saying is let's think about what we need and not just about what we have."
Michael jumped in, "Makes a lot of sense. I've seen the same at the university. We'd have a topic that we wanted to add to curricula and most of the time was then spent discussing which existing faculty member might teach it rather than thinking about what kind of faculty member we actually needed in that role."
"Exactly," said Amy. "We need to think about the roles we need. Obviously, we need instructional design time, and I'll jump in wherever I can to help Alishia and Maggie. And, it looks like the Globex team has a lot of experience in ID. But if we are going to have a lot more projects all at the same time, project management will be a pressing need."
"I've seen this before. Fifty percent more projects usually require one hundred percent more effort in project management. The role of the SME will be more important too, and I think we need to consider not just people from the AshCom team. It will be good on a number of fronts to include people from Globex beyond just their learning team."
"You said you have two big questions," said Michael. "What is the second?"
Question Number Two: Who Are The Stakeholders?
"It's a harder question, but I've seen it become costly for learning teams that didn't think about it ahead of time. Basically, we should clarify who are the stakeholders for our learning plan. Who are the people who have an interest in what we are doing? I suspect that list is bigger than we might think."
Kathryn raised her hand and looked at Amy. Everyone laughed. "I think Amy brings up a great point about stakeholders. Who needs to weigh in?  Who needs to be kept informed?  Beyond that, who needs to be involved beyond just weighing in? Will the other business units at AshCom need input? I know our marketing team is fairly small, but will they want a voice in the discussion about the learning brand we want to create?"
Maggie responded, "I don't know the answers to all those things, but I can tell you what I've seen in my 23 years at AshCom. When things are rolling along, people mostly stay out of each other's business. But this Globex acquisition is not business as usual nor is the role our learning team will be playing. We will have additional budget but that also means we should think hard not only about who the stakeholders are. Also, we should put together a plan for how we are going to communicate to each stakeholder group. We may find that people who have never asked for input will suddenly want final signoff on what we created. We need to know that at the beginning."
Needs Analysis: Getting Down To Business
The group spent the remainder of their afternoon on two activities. First, they put sticky notes on Kathryn's whiteboard focusing on the roles needed to complete the curriculum map they had created. That came easily.
The second activity was more intense and difficult. They began to create the stakeholder list and then spent time considering how they would effectively communicate with each group. Keeping key people in the loop would be essential to moving forward and to their success.
Kathryn ended the meeting promptly at 4:30. "I want to thank each of you for thinking through these issues. I thought we would mostly be talking about who was going to do what. I'm grateful to Amy for raising her hand and asking hard questions. We might not have gotten as far as I thought we would, but I think we went in a much better direction, and that matters a lot right now. I hope you have a good evening."
"Maybe we can circle back for an hour tomorrow morning and see if anyone has any more insight. Thanks team!"
Conclusion
To read the rest of the chapters in this series on Needs Analysis and to see Kathryn and her team take on the other Essentials, please download the eBook How To Change The Way You Approach Needs Analysis: A Story Around The 7 Essential Elements. You can also join the webinar to nail your training needs analysis and develop a culture of continuous improvement.

MindSpring
MindSpring is an award-winning agency focused on delivering engaging and transformative digital content. We create digital experiences using exceptional creativity, the best of learning science, and innovative technology. (Previously Inno-Versity)