Goals, Tools, And KPIs Of The Next Generation Learning Infrastructure
Whereas today's infrastructure tends to focus on controlling access to learning and gathering rudimentary data about completion of assessments, modern Learning and Development is moving to create a more robust infrastructure that accomplishes 3 key goals:
To deliver learning at the point of need.
To capture not only data on learning outcomes, but also data on performance.
To use tools that synthesize all of this data, so we gain insight both on the impact we have made and the needs of our audiences.
Free eBook - Next Generation Learning Infrastructure, by Kineo
This eBook will help you keep up with the continuous transformation of L&D.
At a high level, this new technology infrastructure could look something like the following:
IMAGE 2
Let's unpack this diagram to give you an idea of how you can start planning your own roadmap for change.
Real-Time Feedback And Analytics
Let's state the obvious. What shouldn't change is that designing a learning program still needs to start with defining the overall business goals. This is the starting point for this entire diagram and the transformation.
These business goals are then translated into Key Performance Indicators (KPIs). KPIs help us understand what good performance looks like in our organizations. From there, we identify the skills, competencies, and knowledge our employees need to perform their jobs.
Once we've got these core inputs established, we're ready to start thinking about the infrastructure a little differently. Today, most organizations approach learning and measurement as a linear process – we build some training and then attempt to evaluate its impact.
For the modern L&D team, the building block of the new world order is data, which can come from many places. Of course, we still want to track what employees do when they engage with learning materials. And many of the new learning tools available to us significantly expand the data we can track and analyze. For example, xAPI and some of the standard built on to of it go beyond SCORM to give us the ability to track online behaviors at a much more granular level and can track experiences beyond just the "course".
We need to embrace the potential of this new technology and stretch our reach. As the entire workplace is digitized, more and more data is available that can both inform learner needs and give us additional insight into the impact of our training solutions. We can start gathering data and tracking trends in work systems like POS systems to CRM to social platforms to performance development systems and much, much more.
By pulling usage data from these systems, we start to get a complete view of our learners with answers to questions like:
What are they seeking help with?
What are they interested in?
Where are they struggling and making mistakes?
How are they feeling?
What are their development goals?
Where are they spending time?
4 Software Systems That Help Synthesize Data Of The New Learning Infrastructure
Of course, the fact that this data is out there is all well and good, but to make sense of it, we need it in one place. In the olden days, we had to do a lot of complicated and costly system integration work to pull all this data together. Thankfully, with today's advances, most software systems have the ability to easily connect to other systems and share valuable data. The market demand for data and integration has introduced a new set of systems and vocabulary to the industry. Here, we provide a glossary of these systems and terms.
1. Single Sign On (SSO)
SSO is a service which allows users to use one set of credentials (e.g. Name & Password) to access multiple systems. In other words, once you log into one system you can seamlessly move to other systems, without having to sign on again. Establishing SSO requires an agent module or service provider on the application server, a SSO policy server and an identity provider (IdP). The agent module retrieves credentials for an individual on the SSO policy server while authenticating a user against repository of credentials. The most common protocol or standard used to facilitate this exchange is security assertion markup language or SAML.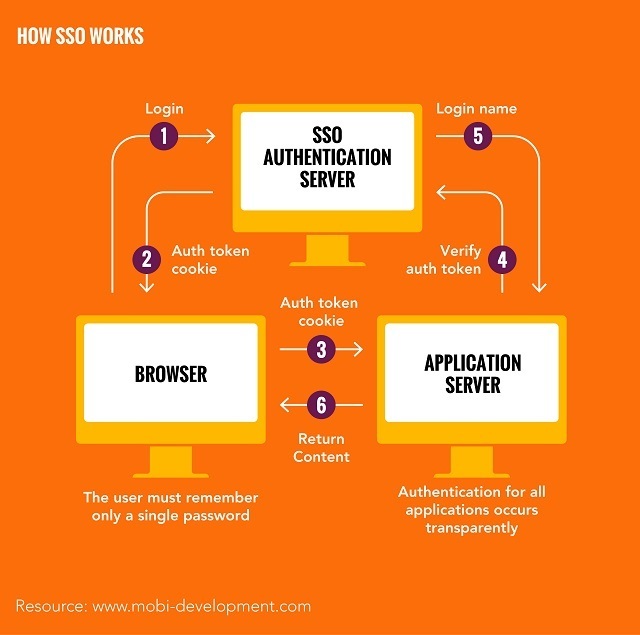 2. LTI Learning Tools Interoperability®
(LTI®) is an emerging specification specifically developed to establish a standard way of integrating learning applications with platforms like learning management systems, portals, learning object repositories, or other educational environments. In LTI, these learning applications are called Tools (delivered by Tool Providers), and the LMS, or platforms, are called Tool Consumers. LTI achieves the same outcome as SSO as well as provides additional data exchange.
3. API And Web Services
Web services and APIs have been around for a long time. An API (Application Programming Interface) is the means by which third parties can write code that interfaces with other code. In other words, it's the code that allows two applications to share data back and forth. A Web Service is a type of API. xAPI (also called Tin Can and the belle of the ball of late in the learning space) is a web service specifically developed to facilitate the passing of data to and from a Learning Record Store (LRS – see below) in the form of "statement" objects. Statements convey an experience which has occurred or may be occurring. Simple xAPI statements take the general form of "[actor] [verb] ". While a growing list of applications support xAPI, it still serves only a very small subset of the web services universe. More often than not, use a general web service (SOAP & REST being the two most common) to share data between two systems.
4. Data Warehouse And Learning Record Store (LRS)
From a functional point of view, a data warehouse is a system used to capture, report, and analyze data. From a technical point of view, a data warehouse is a relational database that is designed for querying and analysis. A Learning Record Store or LRS is a specific version of a data warehouse configured specifically to accept and send data using the xAPI standard. An LRS can exist inside a traditional Learning Management System (LMS) or on its own. LRSs can communicate learner data with other systems, such as LMSs, business software systems, sensor-enabled devices, mobile technology, and other LRSs. Most LRS also have data analytics tools integrated to support reporting and analysis. The LRS uses this data in dashboards, reports, and learning analytics and can even award Open Badges. It also makes the data available for other systems to use. Depending on where your data is originating, you may need only an LRS or you may need a general data warehouse to capture non-xAPI data.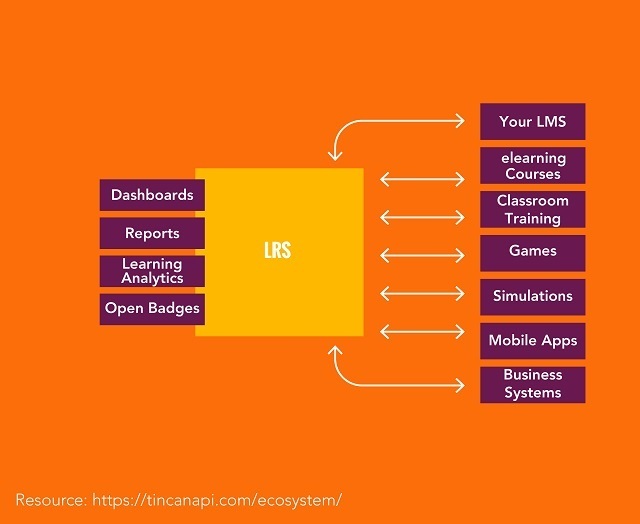 Related Articles: