Outsourcing Custom eLearning Development
Whether a small enterprise or a multinational conglomerate, every organization has its own set of training development needs. And, corporate L&D departments today are being increasingly tasked with developing efficient online training courses within reduced budgets. Outsourcing eLearning development can help cut the overall training development costs, along with boosting employee performance and giving you a competitive edge.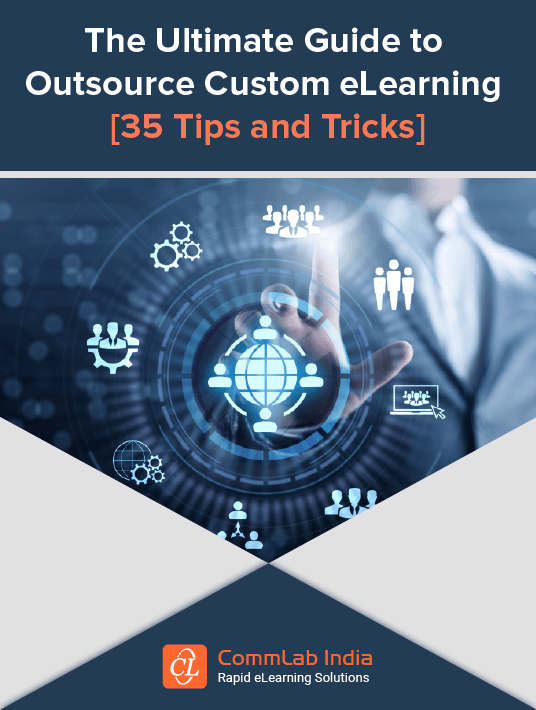 eBook Release
The Ultimate Guide To Outsource Custom eLearning
Read up on practical ideas on designing learner-centric courses within set parameters, without compromising quality.
A large number of eLearning vendors are located in India. The country has been the favorite location for outsourcing for quite a while now, owing to the industry's propensity to offer high-quality eLearning courseware at competitive costs. Add to this, India—compared to other countries such as China and the Philippines—has a vibrant and energetic workforce that is highly proficient in speaking English, the official business language of the world.
However, when outsourcing custom eLearning development to countries such as India, there are certain things you should expect to happen and be ready to tackle. Let's look at each of them in detail.
What Should You Expect When Outsourcing Custom eLearning Development?
1. A Learning Curve Working With A New Team
Outsourcing eLearning development opens doors to working with new teams. Unlike your organization's internal workflow, the vendor brings in a new dynamic to your business processes, such as deliverables, time management, and communication channels. You will be working with an entire team that already has certain established rules and process flows. You will have to learn and accept their established norms, and this change is not always easy to get used to.
If your organization is outsourcing eLearning development to an external development team for the first (or even a second time), this change is not going to be easy to get used to. When an external team is involved in your eLearning development processes, it can get a bit overwhelming and lead to conflicts; constant communication is the key.
Successful outsourcing is as much about relationships as it is about business requirements. To calm the waters and ensure the outsourcing project succeeds, organizations must:
Focus on establishing good relationships with the vendor not just for the ongoing project, but for future projects too. Strategically negotiate and reconcile with the vendor wherever possible to ensure a healthy, long-term partnership.
Spare time, especially in the initial stages, to understand the cultural and linguistic differences as well as build a healthy, long-term partnership.
Old or new, understand the processes in place at the vendor's end. They may not have similar processes like you, but knowing how they work ensures you know what to expect and promotes a great working atmosphere.
Have regular meetings with them and keep in regular contact; be clear about how they manage outsourced activities—have fixed time slots for calls (weekly or monthly) as time progresses.
2. Cultural And Linguistic Barriers
Many organizations fall too easily to the argument that we live in a globalized world, and distance, borders, and place no longer matter. However, differences do exist and cause issues during the outsourcing process, which still need to be overcome.
Language barriers
Indian culture is quite non-verbal. They prefer writing things down over speaking to someone. As a result, some vendors may insist on communicating through emails and may be hesitant to communicate via audio/video conferencing.
Select a vendor who is willing to bend their communication protocols and is ready to communicate not just using electronic mails but also through additional communication media, such as Skype audio and video chat, to reduce communication difficulties.
Talking to their team will also give you an idea of their language skills and how likely they will be able to understand your requirements, clarify issues, and develop high-quality courses.
Cultural barriers (both corporate and regional)
Outsourcing to an Indian vendor also means different calendar holidays and weekends. India is a land of cultural diversity and celebrates a variety of festivals. Apart from this, their weekends are not aligned with your country's weekends, thanks to the considerable time difference.
Ensure you factor in these differences when planning a project and setting milestones. A competent vendor will be able to leverage the time difference by ensuring your feedback is implemented during for night and is ready for your review the next day.
3. Differences In The Perception Of Time And Quality
A response as simple as a "Yes" can have a different meaning in India. For example, if you tell an Indian vendor, "We need to have this course out by the end of September" and the vendor replies "Yes," it does not really mean "Yes, the course will be ready by the end of September." It might simply mean "Yes, I hear what you just said."
Some Indian vendors have a hard time saying "no" to the customer—the king. They might end up toeing the line and not really sharing practical workarounds to your issues. These disparate perceptions of time and cultural gaps can lead to missed deadlines, overshot budgets, and more.
However, it's not as bleak as it looks. If you know where to look, there are good eLearning vendors in India who have iterative design and development processes in place. They also double up as learning strategists who will relentlessly pursue cost reduction goals without compromising the quality of eLearning courses—all while staying true to the stipulated timelines. Also, you will often deal with industry experts who have robust project management processes in place; this ensures the solution is achieved through collaboration with the client—you—to ensure the outsourcing process is smooth, and the product meets your standards.
If you are looking for more insights on outsourcing custom eLearning, don't miss this eBook which offers tips and workarounds to make the collaboration a win-win partnership. It's not just custom eLearning design and development, you can even outsource translation services or Flash to HTML5 conversions. If you are looking for more insights on outsourcing custom eLearning, join this interactive webinar that offers tips and workarounds to make the collaboration a win-win partnership. RK Prasad, the CEO, and Co-Founder of CommLab India takes you through such intricacies and more in the webinar.
CommLab India Rapid eLearning Solutions
Working with multiple outsourcing vendors can be stressful, and a waste of time & money. With CommLab India Rapid eLearning Solutions, all your online training needs are taken care of, rapidly and economically.