The Science Of VILT Platforms And Their Features
Understanding the features of a VILT platform is not an easy task. One common question most organizations have when starting with virtual training is, "Of all the options out there—Zoom, Adobe Connect, Microsoft Teams, Cisco Webex—which one should we choose?"
Our response?
"It depends entirely on your training requirements."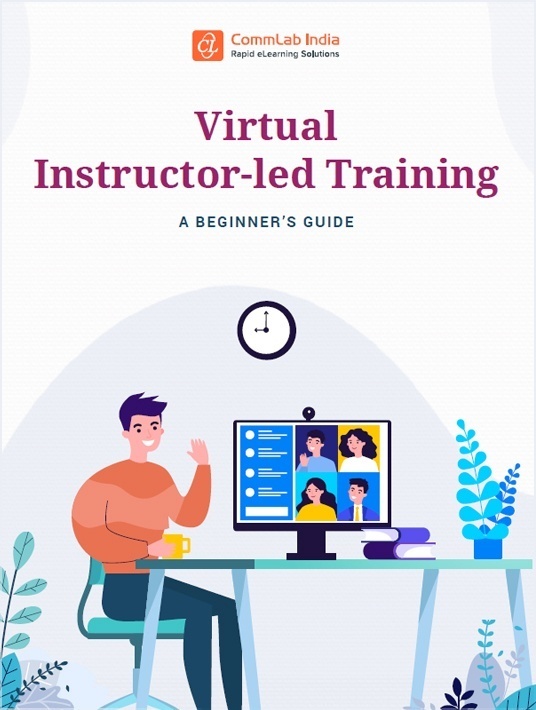 eBook Release
Virtual Instructor-Led Training: A Beginner's Guide
Explore the secrets behind successful Virtual Instructor-Led Training (VILT) or virtual classroom sessions.
That isn't the most straightforward answer, but it is what it is. All VILT platforms have some features in common—chat, video conferencing, polling, and recording. Beyond these essentials, most also offer whiteboards, breakout rooms, and integration with other platforms.
Adobe Connect
If you are looking for an engaging VILT platform with many features that also ensures information security, you can't go wrong with Adobe Connect. It offers an immersive virtual classroom environment and takes learner engagement to the next level through:
Persistent room
They can be best described as personalized virtual classrooms used for specific training topics by instructors. Each persistent room comes with its own content library where instructors can store media assets and files to be used during training sessions.
Breakout rooms
They allow learners to participate in group activities, facilitating interaction, brainstorming, and collaborative learning. Adobe Connect allows for 20 breakout rooms in a single VILT session.
Backstage tools
They are more for the instructors' benefit as they give them a "behind the scene" space to collaborate with other instructors, chat, share notes, files, and resources, prepare online polls and discuss the results of polls and activities privately.
Adobe Connect also allows the recording, editing, and streaming of live videos for on-demand learning. It can use API plugins to easily integrate with several LMSs and can work alongside Adobe platforms, such as Adobe Illustrator, to build quizzes, simulations, and other interactivities for the virtual classroom.
All these interactive elements can be easily accessed through mobile devices (both Android and iOS). Adobe Connect is a mobile app for both Android and iOS devices that can track learner activities during the VILT session and provide detailed analytical reports.
Cisco Webex
The Cisco Webex platform was designed on the simple yet powerful concept of "keeping your team connected and your work secure." It allows hassle-free video conferencing. More importantly, since it was designed to accommodate large scale virtual events, it places no limitations on the number of participants when used for a virtual classroom.
Apart from the usual chat and screen-sharing features, Cisco Webex has interactive whiteboards and file-sharing for collaborative learning. It also allows video-based breakout sessions. Being a mobile-friendly platform, it allows you to call and connect with other participants anytime, anywhere, through the device of your choice.
Perhaps the most important feature of Cisco Webex is its ability to integrate with a range of external platforms, be it cloud-based, file-sharing, social media, or sales management. It can effectively work in-sync with your Google Drive and Calendar, MS Outlook, Twitter, and Salesforce, to name a few.
But working with external platforms doesn't mean Cisco Webex lacks in data security. It provides end-to-end encryption of shared files and works with Data Loss Prevention (DLP) and Cisco Cloudlock to provide an uber-secure platform for VILT sessions.
Vedamo
One challenge organizations often face when they opt for VILT is making classroom trainers comfortable with using technology and navigating VILT platforms.
And this is precisely what sets Vedamo apart from the scores of VILT platforms in the market. While most of them focus on engaging interactivities and extraneous features, Vedamo focuses on making instruction easy for instructors. It is a platform designed by instructors for instructors and prides itself on having the most user-friendly interface of them all, being extremely easy to navigate.
And being user-friendly doesn't mean it lacks in interactive features. Vedamo has a set of easy-to-use tools including online whiteboards, screen sharing, and virtual breakrooms. It is also a responsive VILT platform that offers learners the flexibility of learning on the device of their choice.
You Need More Than A Great VILT Platform With Many Features
There are many different aspects in VILT beyond choosing the right platform. Download the eBook Virtual Instructor-Led Training: A Beginner's Guide and gain the ability to collaborate through technology, train trainers, and motivate learners.
CommLab India Rapid eLearning Solutions
Working with multiple outsourcing vendors can be stressful, and a waste of time & money. With CommLab India Rapid eLearning Solutions, all your online training needs are taken care of, rapidly and economically.