How The Elements Of VILT Can Help Your Organization
There are some important elements in VILT that can make the difference between the success and failure of your learning scheme.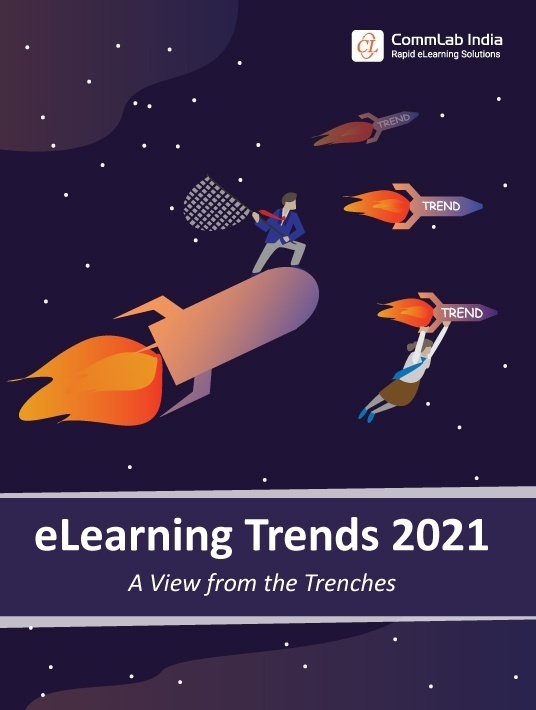 eBook Release
eLearning Trends 2021: A View From The Trenches
Explore 5 eLearning trends adopted by high-performing organizations you should be adopting to become an impact maker.
VILTs have emerged as a boon during the pandemic and their usage will only increase as they offer learners the benefit of direct human interaction, minus the logistics associated with the brick-and-mortar classroom.
From ILT To VILT
Instructor-Led Training can be delivered within a classroom or remotely through a virtual classroom, in which case it is called Virtual Instructor-Led Training. Instructor and learners are in different locations, and a classroom environment is replicated through online tools. This type of training can be delivered synchronously or asynchronously.
Instructor-Led Training can also be combined with eLearning in a blended learning scenario to achieve maximum effectiveness. In this case, some of the training is delivered live while online courses serve as refreshers between sessions. A growing type of blended learning is called the flipped classroom model, where students acquire information by watching lectures online and then engage in problem-solving, discussion, and group activities in class.
Training within the classroom can be also enhanced through a range of technology and collaborative tools such as video software and system to access content during the class.
Lastly, Instructor-Led Training back office management can be optimized through dedicated software that streamlines all processes (scheduling, logistics, costs and budget management, administration, reporting, etc.) such as a training management system. This allows training organizations to improve the efficiency of their VILT and optimize their training budget.
2 Elements Of VILT
Content and technology are crucial elements of VILT. While content has to be designed for the virtual space, technology needs to support the collaboration required.
1. Content
Content is the first of the VILT elements. Whether you are using existing content or building a new VILT program from scratch, here are some instructional materials you need to have:
Facilitator guides
Participant guides and handouts
Reference material
An introductory "Getting Started" webinar with hands-on practice
2. Technology
Technology is the second of the VILT elements. The choice of the technology platform will dictate the kind of collaboration activities you can have.
Decisions To Be Taken
Getting started with VILT will need careful planning and brainstorming with all involved stakeholders to answer these questions:
Format
Should you go for a blended curriculum?
Should you focus only on ILT to VILT?
Content
Should the ILT content be expanded or condensed?
How much of the existing content will need to be updated or reworked?
Activities
What modalities (polls, chat, annotation, workbook activities) do you want to use for activities?
How will you share breakout room instructions?
What kind of polls will you send up?
Best Practices
Scope your conversion project to organize the ILT content into appropriate chunks for eLearning or VILT.
Consider whether content can be consolidated/repurposed as job aids or reference material.
Conduct a pilot test to get input for enhancing the materials and activities.
Look for a vendor with a background in ILT and VILT.
Beyond The Basic Elements Of VILT
Would you like to explore even more 2021 eLearning trends? Download the eBook eLearning Trends 2021: A View From The Trenches.
CommLab India Rapid eLearning Solutions
Working with multiple outsourcing vendors can be stressful, and a waste of time & money. With CommLab India Rapid eLearning Solutions, all your online training needs are taken care of, rapidly and economically.