VILT In Blended Learning: Why Virtual Instructor-Led Training Is Essential
VILT needs different instructional materials for both learners and instructors and collaborative activities tweaked to suit the virtual space. It's not solely a webinar, online presentation with polls, or even conducting a classroom session using a conferencing facility. So, which materials do you need and what role does it play in a successful blended learning strategy?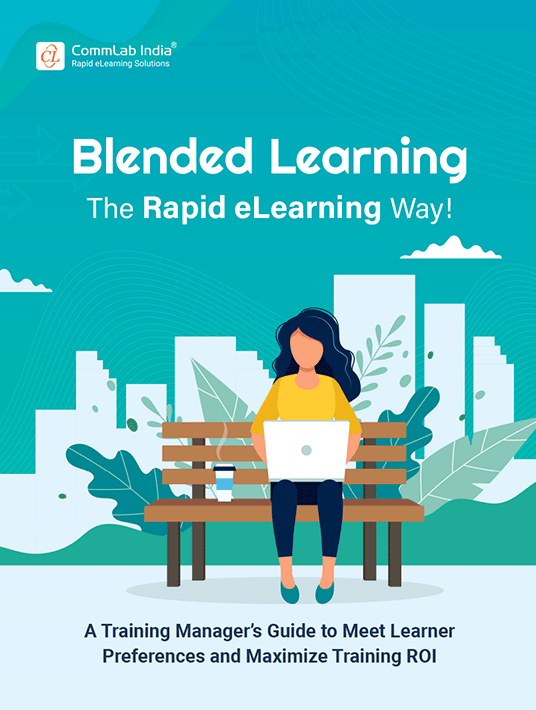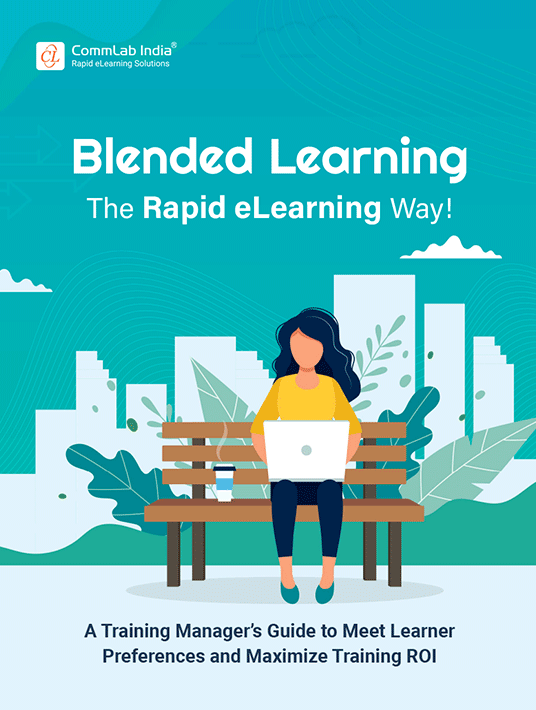 eBook Release
Blended Learning – The Rapid eLearning Way
Is rapid blended learning the best solution? Discover how blended learning can be leveraged to meet corporate training needs and address modern learning preferences.
Materials Needed For VILT
An introductory 'Getting Started Webinar' with hands-on practice to train trainers and learners
Facilitator PPTs that serve as visual cues
Facilitator guides with information on how to use the platform and conduct activities by providing detailed instructions – the duration, sequence, formats
Participant guides to help learners participate in the session seamlessly by providing clear instructions
Participant handouts such as worksheets to help learners complete individual/group activities. Handouts could also include checklists, to-do lists, infographics, PDFs, and other handy job-aids learners can refer to on the job.
Reference materials for activities/post-work/next steps
Top Collaboration Activities
Ensure your VILT session becomes much more than a one-way webinar or an online presentation with polls by using these collaborative activities judiciously.
Chats to enable communication between learners and instructors. Polls to collect learners' opinions/feedback, stimulate recall, or recap/summarize a learning point.
The raise hand option to help participants ask questions or bring something to the notice of the instructor.
Annotations to help learners type an answer or pick favorites from a pool of alternatives.
Whiteboards that allow instructors to draw, highlight certain parts, color code elements, and more. Learners can work on individual whiteboards and share with the group, or a group can work together on a whiteboard in the breakout room.
Breakout rooms replicate the collaboration and peer-to-peer interaction of a physical classroom. They are virtual rooms where small groups of learners can meet to discuss, share opinions, or participate in group activities.
Why Is VILT An Indispensable Part Of Blended Learning
VILT is being used increasingly to plug the vacuum created due to the lack of classroom training – the mainstay of corporate training. However, when you think of VILT, don't think of it in a silo – heres' why.
1. Works Well To Introduce Training Or Reassure Learners
Short VILT sessions work as good warm-up sessions for upcoming training programs. You can have learners discuss what they know and what they expect from the upcoming training. Since the facilitator is available, they can get their doubts clarified.
Facilitators too will get an accurate idea of learners' existing knowledge. When VILT is used pre-training, learners can share the challenges they are facing, leading to a feeling of camaraderie.
VILT also helps break the ice between learners and is especially useful if your learners are from different teams/functions and will need to collaborate on hands-on training they've been picked for – on topics such as leadership or project management training.
2. Facilitates Learning
VILT is one of the best ways to offer standalone training on topics where learners require the presence of an instructor or collaborative activities to gain proficiency. This is particularly useful for soft skills, sales skills, and onboarding.
Learners get to participate in role plays like they would in the classroom to experience how their actions will impact others. They can also meet in breakout rooms to discuss, strategize, and come up with solutions or solve cases – and findings can be shared in the main room.
3. Facilitates Continual Learning with Collaboration
With VILT, you can easily overcome the need to get all your learners in a single location periodically for training and collaboration. VILT sessions will let them collaborate and refresh/reinforce their knowledge without having to travel. Being in a single place, your instructors can also meet several groups of learners – saving you enormous amounts of time and money. VILT is therefore a good alternative for workshops and events that require learners to participate physically.
Your learners can have periodic VILT sessions and meet face-to-face maybe once a year. VILT is therefore great not just as a knowledge refresher but also to help learners practice skills in groups and share lessons learned and experiences.
Facilitators can share new updates, clarify doubts, and offer guidance. If you have a small group, the instructor can spend time individually with each learner, offering personalized feedback and support – making VILT a good means for coaching and mentorship.
What's The Difference Between VILT And eLearning?
At the peril of stating the obvious, VILT and eLearning are as different as chalk and cheese. While VILT requires learners and instructors to be present at the same time, albeit from different locations, eLearning is purely self-paced and an individual endeavor.
VILT
Many-to-many
Offers direct, in-person collaboration
Instructors can moderate the pace of delivery and clarify doubts
Instructors can share extra information, examples, and anecdotes
eLearning
One-to-one
No scope for in-person collaboration
Can only navigate between the slides and/or resources offered within the course
They however have two things in common – both are online training formats and work well across your blended learning strategy (for pre-training, training, and post-training reinforcement).
Conclusion
Download the eBook Blended Learning—The Rapid eLearning Way to get insights on how you can launch a successful rapid blended learning program. Also, join the webinar to learn how to design holistic blended learning solutions for your team.
References:
CommLab India Rapid eLearning Solutions
Working with multiple outsourcing vendors can be stressful, and a waste of time & money. With CommLab India Rapid eLearning Solutions, all your online training needs are taken care of, rapidly and economically.