How Can Sales Enablement Help You Seal More Deals?
A well-trained sales team can pitch products, keep customers coming back for more, and work together seamlessly. But how do you equip them with the right skills and bolster their self-confidence so that they're able to hit targets? The secret to business success is a training strategy that bridges gaps and supports your sales employees. This eBook shows you how.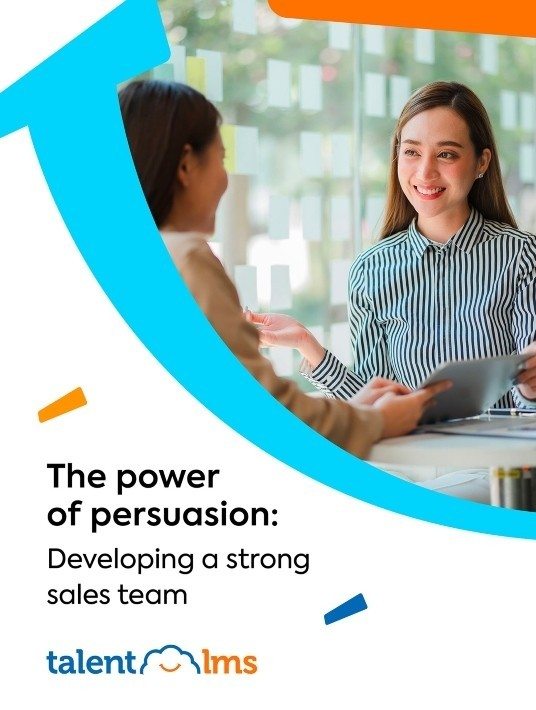 eBook Release
The Power Of Persuasion: Developing A Strong Sales Team
Discover how the right tool and strategy can help you develop a strong sales team.
Develop A Strong Sales Team With Ongoing L&D
Onboarding is only the beginning when it comes to cultivating top talent. You need a continuous sales training strategy that covers every stage of the employee journey to identify areas for improvement and hit KPIs. The key is determining which sales methodologies align with your needs, as well as which technology you should add to your stack to provide your employees and external sales partners with ongoing support. That's where this eBook steps in to help you create a sales training plan of action that achieves your business goals.
About This eBook
Which competencies and skills should you cover in your L&D initiatives? How can coaching improve workplace performance? Here's a brief glimpse of what you'll find inside this guide by TalentLMS:
10 Essential Sales Skills: Uncover the most important sales skills you need to add to your training program to build a strong sales team.
Popular Sales Methodologies: Find out which works best for your business needs.
9+1 Sales Tools To Seal The Deal: Discover the most crucial tools to support your sales teams.
Optimizing Sales Training Through Coaching: Explore 7 ways to build a sales coaching program that fits into the flow of work.
Tips For A Successful Sales Training Program: Learn proven strategies to elevate your sales training and make it an impactful learning experience.
Get Your Copy
Download The Power Of Persuasion: Developing A Strong Sales Team today to launch a sales enablement program that gets results.