Designing A Sales Training Strategy To Increase Profits
If you're in sales, it's your mission to generate as much revenue for your organization as possible. Because of that, it can be difficult to ask for a larger training budget, after all, your team is supposed to make money for your company, not spend it. What you might not know is that training can help you make money. A good sales training strategy can yield big results when it comes to your company's bottom line.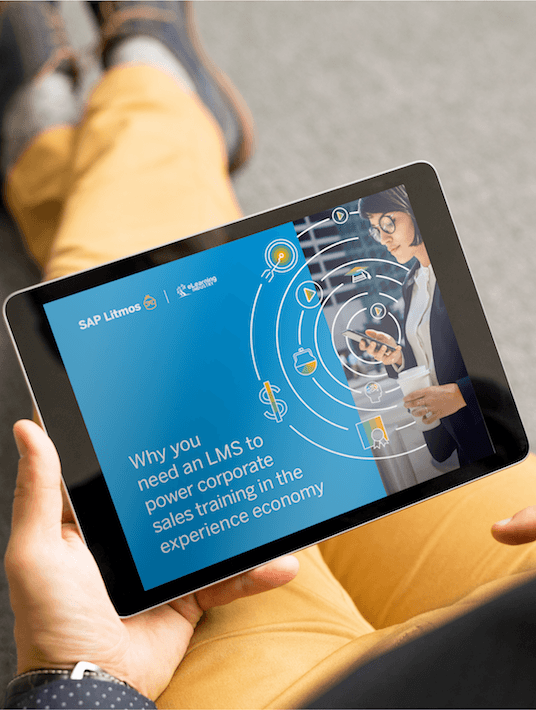 eBook Release
Why You Need An LMS To Power Corporate Sales Training In The Experience Economy
Discover the importance of training your sales teams with the help of an LMS.
Well-trained salespeople are better equipped to make sales, offer better customer service, and are more likely to stay with your organization. All of these things mean more targets met, more customers retained, and more deals closed. How can you boost revenue with sales training? Read on for 5 tips that will help you design a sales training strategy that will help you bring in more sales.
1. Invest In A Solid Sales Onboarding Program
If your company is like most sales organizations, you're not seeing an immediate Return On Investment when you hire a new salesperson. Most salespeople take a while to get up to speed when they're hired. Depending on the statistics you're looking at, it can take a new rep from 3 to 6 months to start hitting their sales targets [1] [2]. It might take even longer if your organization has a long sales cycle.
The reason for this lag? New salespeople are still learning the ropes at your organization. They're learning your products, your systems, and your sales process. This will slow down even an experienced sales rep who has worked at other companies. For sales newbies, the lag time can be longer because they're still learning how to make sales, and chances are most of your new hires are brand new to sales. Increased demand for salespeople means the average necessary experience for a new hire is on the decline [1].
While it might be understandable that your new hires aren't hitting targets as soon as you hire them, the 3 to 6 months it takes them to get up to speed is costing you revenue. A strong onboarding program is critical if you want to get your reps up to speed quickly and move them toward hitting their sales targets.
An onboarding program should include anything reps need to know to do their jobs well, and it should be engaging and easy to check back with when new hires forget important information.
You might choose to include any of the following:
Information about the company (policies and procedures, for example)
Training on the software you use
Basic sales training
Product training
Information about your team's sales methodology
Customer service and people skills
While it's unlikely you'll completely eliminate the newbies' training lag, an onboarding program can help them hit the ground running. According to research, good onboarding programs increase performance by 11.5% [3].
2. Train Your Best Salespeople
There's another way to avoid the high cost of waiting for new salespeople to get up to speed: keep your existing reps happily working for you.
Sales is a high-stress, high turnover job. A report from CSO Insights found out that the annual attrition rate for salespeople was 16% in 2018 [4]. There's a range of reasons reps quit, running from compensation to problems with company culture, but one reason cited often in articles about turnover is a lack of support [5].
Without the training and resources to do their jobs and advance in their careers, even your most successful salesperson may feel as though they're figuring out their job on their own, without any help. If they get it wrong, they may worry that they'll be fired.
They may also feel left out of the development loop as sales training usually focuses on struggling reps. Your top performers need training too, whether they simply need support or they're looking for coaching or development. When unhappy reps quit, it will cost you to replace them; it costs about $2 million to hire and onboard a brand new sales rep [6].
Employees of all kinds crave training. Not only is it a practical way to let salespeople know exactly what you expect of them, but it's also a sign you've invested in their careers. You might also consider adding management courses to your program to help your salespeople develop skills they'll use later in their careers. According to LinkedIn's Workplace Learning Report, 93% of employees say they'd stay with a company if that company provided development [7]. By providing training, you keep your existing reps working for you meeting targets, instead of hiring new workers.
3. Build Those Sales Skills
Sales isn't an easy job. It involves making a lot of calls, hearing a lot of "nos" and trying to convince reluctant prospects that they want to buy something. Reps have to be persistent, thick-skinned, and they have to know how to keep prospects from hanging up, how to overcome objections, and how to be polite when dealing with potentially rude leads.
These are difficult skills to learn—especially for brand new reps—but the good news is that they are skills and when your salespeople master them, chances are your team will profit.
It's important to make sure you're training for these basic sales skills all the time. Your training program should be consistent and delivered to your entire team—from your newbies to your most experienced reps. Why? Because sales can be tiring, and it's important to reinforce good sales skills for everyone.
Training sales skills pays off revenue-wise according to the Rain Group [8], which found out that sales organizations with the highest overall sales training rating experienced an average win rate of 58%. There's another financial benefit to sales training; you often don't have to develop these courses in-house. Because sales skills are applicable across a wide range of industries, modules teaching sales skills are available off the shelf.
4. Invest In Sales Methodology Training
Sales can seem like a magical, mysterious art. Either a rep is naturally very good at sales or they're not. But this isn't the case. Sales is a series of steps and it can be codified into a sales process, sometimes also called a sales methodology.
When your organization has a clearly defined sales process, the dark art of closing is demystified. When you've provided training around that sales process to your team, you're likely to see a financial return. According to a study by the Miller Heiman Group [9], sales organizations that take advantage of a dynamic sales methodology can improve their quota attainment by 8.3%.
A sales process means that every sales rep, even your newest, knows exactly what they need to be doing in order to make a sale. While sales processes differ depending on the organization, a sales process might include:
A first contact
Overcoming objections
Setting a meeting
Making a presentation
A proposal
Closing
Despite the importance of a sales process, many sales organizations don't train their salespeople on processes, and some organizations don't even have one. Miller Heiman's report found out that 11% of sales teams were operating without one. Those that make training sales methodology part of a strong training program saw returns; they reported a 15.4% better win rate than other companies.
5. Build Your Team's Customer Service (People) Skills
Successful sales leaders know that the prospects most likely to buy are customers you already have. According to the Harvard Business Review [10], acquiring a new customer is anywhere from 5 to 25 times more expensive than retaining an existing one, so it makes sense that you'd want to keep your existing customers happy.
One of the best ways to do this is by building customer service training and people skills into your training program. Your sales team is the first human contact most of your customers will have with your organization, so it's important to train them so that they will provide the highest level of customer service from the very first phone call.
Sales reps haven't always been on the front lines of Customer Experience, but training can help sales reps learn how to be good brand ambassadors. With continuous learning based on customer feedback, reps can learn how to listen to customer concerns and offer advice on new products while building quality relationships with your customers.
A Good Sales Training Strategy Boosts Revenue
Your salespeople are constantly working to make money for your company. It's only fair that you make it a priority to invest in them as well, making sure they have the tools to do their jobs well. A good sales training program can ensure that their needs are met while bringing in even more revenue for your organization. Download the eBook Why You Need An LMS To Power Corporate Sales Training In The Experience Economy and keep your sales team up to speed on product and process changes as they happen. Also, join the webinar to find out more about how to have them selling at their best.
References:
[1] The 2018 SDR Metrics Report is Here
[2] Here's How Long it Should Take for Your Sales Reps to Be at Fully Ramped Quota
[3] Extreme Onboarding: How to WOW Your New Hires Rather Than Numb Them
[5] THE 8 BIGGEST REASONS WHY SALESPEOPLE QUIT
[6] Hiring the Wrong Salesperson is a $2-Million Mistake
[7] The path to opportunity is changing
[8] Making the Business Case for Sales Training: New Research on Supporting Top Performance
[9] The Business Case for Sales Methodology Training
[10] The Value of Keeping the Right Customers
Litmos
Litmos develops eLearning solutions for top-performing companies. Litmos offers the world's easiest-to-use LMS with 30 million users in 150 countries, across 35 languages.