Sales Training Strategies To Achieve Goals And Bridge Gaps
Let's cover key sales training strategies and JIT support resources to foster continual learning for your sales reps, whether they're full-time team members or partners who work on commission. This guide also sheds light on how to custom-tailor sales training courses based on employee/partner gaps, goals, and expectations.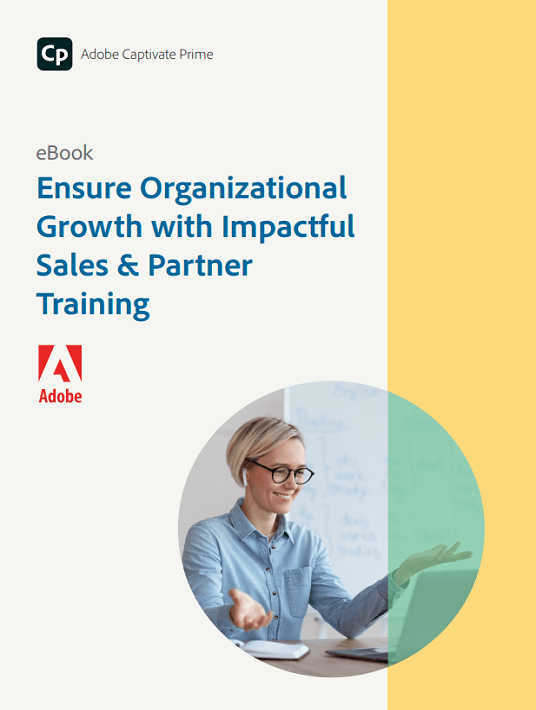 eBook Release
Ensure Organizational Growth With Impactful Sales & Partner Training
Bolster sales stats and staffer self-confidence with a solid sales & partner training strategy.
Top Sales Training Activities And Support Tools To Empower Partners
Many employees and external partners feel the pressure mounting as their deadlines approach and they're still short on sales. Fortunately, you can deploy sales training strategies that bridge gaps and instill self-confidence on the spot. Here are a few inspired sales and partner training ideas to consider for your L&D program:
Task Simulations
Task simulations let employees and external partners get in on the action and learn from their mistakes. After all, everyone's allowed to make errors, as long as they regard them as life lessons and gain experiential know-how. Simulations are ideal for sales reps who need to master the POS process or learn how to complete orders remotely. However, they can also use these immersive training activities to tackle other challenges, like dealing with customer complaints or buying apprehensions.
Persona-Based Scenarios
Branching scenarios are a great way to build real-world experience without risking your CX scores. Sales reps must navigate their way through the situation using their skills, expertise, and past experience. For example, the first scenario features a customer who is on the fence about purchasing your product and needs a little nudge. Maybe the sales employee chooses to pitch a variety of products instead of actively listening to the consumer's needs, which leads them down a less favorable decision path. The key is to highlight not only fresh situations but personalities so that employees and partners are exposed to unique traits and buying habits.
Product Knowledge Checks
One of the top sales training activities for self-evaluation is product pop quizzes. Sales reps get to test their knowledge of product specs, features, and benefits, as well as practical uses. Best of all, since it's a self-assessment they don't have to worry about losing face in front of their peers. In short, it's a quick and effective way for them to identify gaps and bridge them with JIT support resources autonomously. For instance, a member of your external sales team realizes that they know very little about your new app or service plans. As a result, they click through to the microlearning library for tutorials, checklists, and demo videos to fill in the blanks.
Sales Skill Demos
Demos are also the perfect solution for employees and partners that need to hone their skills and competencies. These videos explore the essentials, from communicating effectively with clients to empathizing with customers on a tight budget. First and foremost, sales skills demos show sales reps how to apply these talents in the real world instead of just reading about theories or tips. For example, they can see what active listening looks like in action and which techniques to use, like rephrasing the customer's question and deciphering nonverbal cues.
Match-Up Serious Games
Who can resist a well-crafted serious game that imparts vital skills and builds self-confidence? These match-up games give sales reps the opportunity to pair customers with the perfect product or service. Every round includes a brief description of the customer's buying behaviors, history, and pain points. Then employees and partners determine which product is a good fit based on their product knowledge and consumer backstory. You can also use this approach for other sales-related tasks, such as matching products with the correct features or selling points.
Micro Policy Checklists
These microlearning checklists include a handful of steps or rules that employees must follow. As an example, a checklist about the dress code so that employees know which attire is appropriate before heading into a client meeting. Or, maybe one that highlights your store's return policy for each type of item and what sales reps should do if customers try to exchange items beyond the deadline. Another great use for checklists is daily reminders, like how to set up their sales workstations every day or helpful pointers to prep for remote sales pitches.
SME Live Events
Invite your resident subject matter experts to host a live event to share their insights and advice. Managers and experienced reps are ideal candidates, especially if they possess niche skills your team needs to cultivate. For instance, your external sales team leader for the North American division has hit their targets five years running. They're in a unique position to offer insider secrets and techniques to help the rest of the team hit their targets. You can also invite industry experts if there's room in your budget for their hosting fees or even provide marketing opportunities in exchange for their time.
Conclusion
Hitting monthly or quarterly goals takes more than just one-off courses or onboarding events. Your sales reps need continual support to bolster their self-esteem and bring their A-game every day, regardless of their experience or skill set. Adobe Captivate Prime gives you the power to keep your teams trained and equip them with all the self-confidence they need to boost sales. It features granular reporting and analytics as well as social learning support so that you can tap into the power of big data and remote knowledge sharing.
Download the eBook Ensure Organizational Growth With Impactful Sales & Partner Training to learn the ins and out of sales online training and discover industry secrets. It's a must-read for organizations of all sizes, especially those looking for cost-effective ways to improve on-the-job performance.