Steps L&D Managers Should Follow For A Sales Training Strategy
As the world is changing, the sales industry is changing as well. More sales teams are shifting to virtual sales in order to sell safely during the Coronavirus pandemic, according to LinkedIn's most recent State of Sales Report [1]. Sales departments are also relying more on data to identify leads, navigate changing markets, and close deals. Thus, carefully implementing a successful sales training strategy is essential.
Managers faced with the challenge of managing teams through change are aware of the growing need to train their sales teams. They know what skills they need (problem-solving, confidence, and relationship building, for example) and they likely have training planned already.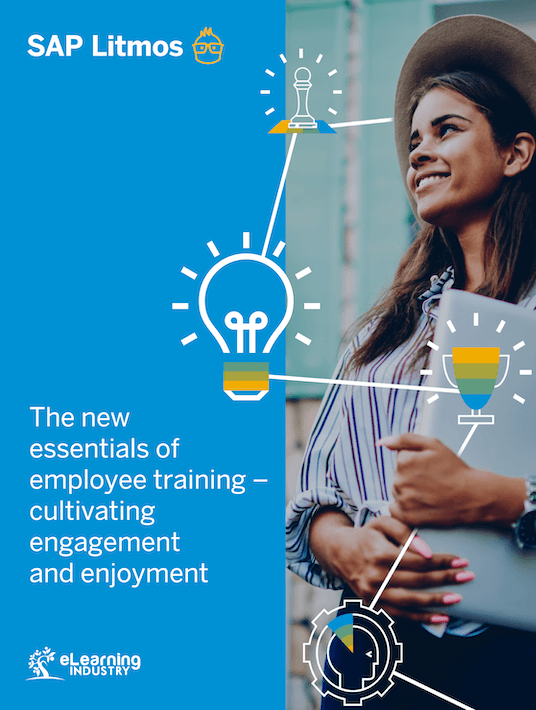 eBook Release
The New Essentials Of Employee Training: Cultivating Engagement And Enjoyment
Learn how to increase employee engagement and how to get learners to enjoy the experience of learning.
But how can Learning and Development managers implement sales training strategies quickly so that sales teams can get skilled up and start meeting goals quickly? Here are 5 steps that will help your team jump-start a sales training strategy.
1. Decide Which Content Can Be Developed In-House And Which Can Be Purchased
Building good training modules in-house is time-consuming and expensive. According to a long-running study published and occasionally updated by The Association Development [2], it takes between 42 and 130 hours to create one hour of eLearning. That sort of learning can cost you; custom modules require a host of experts: Subject Matter Experts, Instructional Designers, graphic artists, and developers all work together to create courses and modules. All that expertise costs money. Training Magazine's most recent Training Industry Report found that in 2019 [3], it cost an average of $1286 to train each learner.
Fortunately, not all courses need to be built from scratch. There is a range of off-the-shelf courses that can be purchased and incorporated into your sales training program so that you can make the most of your budget. Courses and modules that teach the basics of selling, for example, should be widely available, as should courses on Customer Experience, certain compliance modules, and soft skills.
This doesn't mean you shouldn't develop custom content—you should. But you should also make sure your sales training strategy budget is being used wisely and you're spending your money to develop the content that makes the most sense.
2. Identify The Sales Training Strategy Your Team Needs Right Now
Before you worry about pathways, just-in-time learning, or any other overarching strategies, what skills have you identified that your team needs right now? Are there compliance issues that your team needs to be brought up to speed on? Do they need to learn a new Learning Management System? Do you need to train them on customer service or Customer Experience in order to make sales targets for the quarter? Before you can address long-term goals, address your short-term goals.
3. Put Your Onboarding Training In Place
Getting onboarding training in place early in your sales training program is important for two reasons. First, training for your new reps won't interfere with your existing training program, so it's easy to build and implement an effective sales onboarding program without worrying about how it ties in with the older training your existing team is getting. (These new hires will be getting your new training program anyhow.)
The second reason to focus on onboarding is that you need your reps to ramp up as quickly as possible after you've hired them, something that's probably not happening. According to data from The Bridge Group, it takes a new sales rep an average of 3 months before they are ramped up to full productivity [4], although some industries report a ramp time of six months before new salespeople are hitting their sales targets [5]. That's a loss; when you hire a new sales rep, you need them to hit the ground running as quickly as possible, so putting a good onboarding program in place quickly is a good start. A report from LinkedIn shows that training programs can increase the performance of new hires by 11.5% [6].
4. Identify Training Pathways For Your Team Members
Not all salespeople should be given the same sales training. Think of your current sales team. Do they all have the same strengths and weaknesses? Probably not. In fact, your sales team probably has some of the following reps on it: one or two sales stars, new hires, middle-of-the-pack salespeople, and a couple of reps struggling to make their quotas.
Not all of these reps have the same strengths and weaknesses, and not all of them need—or should receive—the same kind of training. If you try to split the difference by creating training for the average salesperson, it won't meet the needs of the reps on your team.
Instead, work on ways of personalizing your learning, creating learning paths to meet the needs of your reps.
Your learning pathways can be structured in a few different ways; a manager might take a coaching approach, designing a customized pathway for a specific team member who is either excelling at sales or needs a lot of additional help. Or, you might choose to develop a variety of learning pathways aimed at parts of the sales process that reps tend to struggle with. A sales process-based set of pathways might look like this:
Managing the pipeline: how to make sure a pipeline is filled with good leads
Pitching: perfecting pitches and nurturing clients
Closing: how to ask for a deal
A sales manager might also choose to build learning paths based on seniority — after all, senior reps may want to move into management, which requires new and different skill sets.
5. Create A Plan To Design Training Moving Forward
LinkedIn identified a problem in its State of Sales report: sales managers and buyers don't agree about what the most important skill for a sales rep actually is. Most sales managers, for example, think problem-solving is the most important skill a salesperson can have, but 42% of buyers believe active listening is the most important skill for a salesperson.
The problem? Because sales managers don't think it's important they aren't hiring for it, and possibly they aren't training for it, something that may damage sales when buyers talk to sales reps who are not active listeners.
Develop a plan to listen to your customers and fine-tune your training so that you're meeting their needs as well as the needs of your sales team. Your salespeople are often the first human contact your customers will ever have with anyone at your organization, so it's important that you train them based on your customers' values as well as your organization's needs if you want to close more deals.
Dig in the eBook The New Essentials Of Employee Training: Cultivating Engagement And Enjoyment to discover more about sales training strategies and what employee training has to offer when implemented correctly, focused on engagement and joy!
References:
[1] The LinkedIn State of Sales Report 2020
[2] How Long to Develop One Hour of Training? Updated for 2017
[3] 2019 Training Industry Report
[4] The 2018 SDR Metrics Report is Here
[5] Here's How Long it Should Take for Your Sales Reps to Be at Fully Ramped Quota
[6] Extreme Onboarding: How to WOW Your New Hires Rather Than Numb Them
SAP Litmos
The SAP Litmos learning platform enables thousands of global companies to deliver training for transformation.