Success Stories Of Impactful Sales Training Programs
We've entered the Experience Economy and there's no turning back. Brand loyalty is now built primarily on the experiences a company delivers. Today, more than two-thirds of companies compete mostly on the basis of Customer Experience—up from only 36% in 2010 [1].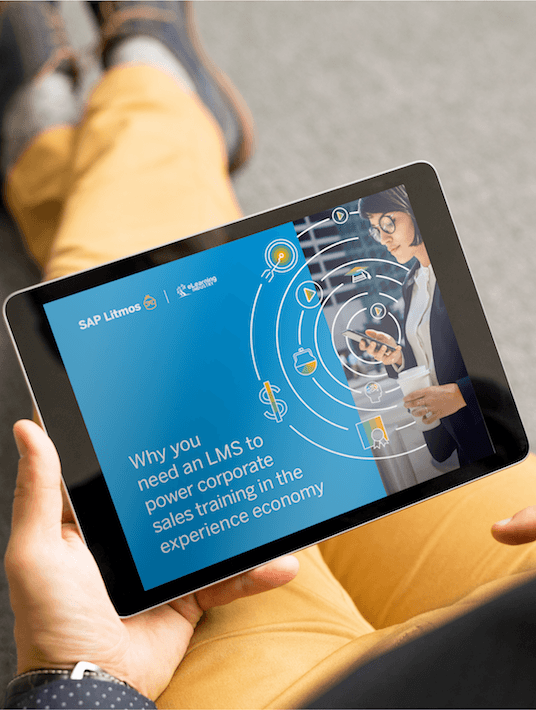 eBook Release
Why You Need An LMS To Power Corporate Sales Training In The Experience Economy
Discover the importance of training your sales teams with the help of an LMS.
And, while Customer Experience (CX) used to be viewed and assessed primarily through the lens of Business-To-Consumer (B2C) markets, Business-To-Business (B2B) buyers also now purchase, re-purchase, and recommend based on how a company makes them feel—above all else.
In fact, a recent survey discovered that 90% of B2B leaders say Customer Experience is crucial to their companies' strategic priorities [2]. Further, Zendesk reports that 66% of B2B customers have stopped doing business with a company following a bad experience [3].
These days, CX may actually have an even more lasting effect in B2B because the parties speak in terms of building partnerships and "doing business," rather than just making isolated purchases. In B2B, sales cycles tend to be longer and more complex with higher price points, so there's even more at stake in terms of effort and time commitment.
For certain, whether in B2B or B2C, Customer Experience now is a more powerful driver even than the quality and/or cost of products, as proven by study after study [4]. And, a large percentage of customers feel justified in switching brands if the experience disappoints.
Salespeople On The Frontlines Of CX
When you think of Customer Experience, you likely think of engaging with a salesperson. Yes, later in the relationship you may transition to a customer service agent or an account manager, but your first impression of the experience a company delivers is often based on your interaction with sales.
Salespeople shoulder this burden day after day, setting the tone for what customers think of the company. Sometimes the results aren't so good and the outcomes have lasting, negative ripple effects. As Esteban Kolsky reports, 72% of customers will share a positive experience with 6 or more people. But, in the case of unhappy customers, 13% of them will share their experience with 15 or even more. So, while a smaller percentage take action, the echoes of dissatisfied customers ring louder than those of satisfied ones.
On the flip side, when the experience is great, salespeople and the company directly benefit. A study reports that the positive impact of CX on sales was clearly seen with CX leaders showing an annual growth rate of 17%, compared with a mere 3% for the CX laggards [5].
These positive experiences don't happen by accident. People train for them.
It is rigorous training that enables companies to develop salespeople who delight each and every customer. Strategic, centrally managed training programs enable leading companies to deliver consistent, continuous learning to sales staff anytime, anywhere, on any device. When a customer approaches with a question, they're armed with the very latest product and company knowledge. They're prepared to speak to competitive points and industry happenings. They're groomed on critical "soft skills" for sales and customer service, such as active listening, communication, problem-solving, etc.
What Do Successful Sales Training Programs Have In Common?
One thing that every successful sales training program has in common is a Learning Management System (LMS). The days of manually managing and reporting on training are over. Business moves too quickly and changes too frequently for salespeople to keep up without 24/7 access to online learning.
Within the LMS, many leading sales training programs take advantage of certain features:
Integration with CRM
Putting the learning platform "inside" the CRM system makes it that much easier for salespeople to access training. They don't need to log into a separate training system to get the latest courses that will aid their ability to sell.
Gamification
Salespeople are competitive by nature, so up the ante by gamifying training and letting them compete for who's highest on the leaderboard, most current on new courses, or scoring highest on tests and quizzes.
Off-the-shelf content
Companies will always require some amount of proprietary information that's conveyed via training courses. However, for universal skills within the realm of sales mastery, for example, there's no need to recreate the wheel. Sales training content should be bought off the shelf and loaded into the LMS for easy access.
Video assessments
A feature that should be included in the LMS, video assessments enable salespeople to record videos of themselves performing critical actions, such as delivering a product pitch and post them to the LMS for assessment via both AI and human feedback.
Reporting
Know who has completed which training and when, and who needs further coaching to get caught up. Built-in reporting makes it easy to regularly track progress on learning paths, test scores, and stay on top of anyone who's falling behind.
As you'll see in the following examples, leading companies take advantage of various combinations of these features to maximize the results of their sales training programs.
The Walking Company executes on what some may perceive as a lofty Customer Experience promise—they aim to improve customers' lives. They want people to walk into the store to shop for a new pair of shoes and walk out changed by the experience of personalized service, fit, and comfort.
And they're successfully doing it. As Forbes recently reported [6], the company sells leading comfort shoe brands, but differentiates itself by offering what it calls "experiential retail." They train salespeople to deliver customized service based on individual footwear needs so that every customer feels the experience has been tailored to their unique expectations. Consistent, outcome-driven training is the key to ensuring this happens homogeneously across more than 200 stores throughout the US.
Further, the retailer is taking retail sales training to new heights by using gamification to increase employee engagement, retention, and performance.
The company applies a behavior-based training model, which relies heavily on gamification to reward employees with points when they participate in learning activities and translate that knowledge into new behaviors. As an example, salespeople receive points when they engage with training content, which they can then redeem for prizes. This incentive has transformed formerly disenfranchised employees into sales superstars who look forward to new training modules because of how it benefits them, their customers, and the company.
Example 2: Sabre
Leading technology solutions provider for the travel industry, Sabre went from having no consistent method of training sales teams to having a centrally based LMS that enabled them to shorten sales cycles and close more deals. Prior to implementing the LMS, they trained sales reps with monthly conference calls and shared documents in static content repositories. These methods weren't effective for several reasons, including the fact that they couldn't track participation, engagement, activity, or completion.
After putting the LMS in place, they can now create on-demand eLearning courses, which all sales reps can launch anytime, from anywhere in the world, on any device. What's more, the Learning and Development (L&D) team can run instant reports to track the progress of their learners. The company has saved a significant amount of time, resource hours, and cost by replacing outdated methods with a leading-edge LMS. The company's performance continues to improve by strategically aligning training activities with the organization's broader mission.
Proponent, the world's largest independent aerospace distribution company, sells parts to airlines, maintenance and repair facilities anywhere in the world. Because they are responsible for making sure the parts they put on airplanes are safe, they have a large focus on quality and providing fast, efficient, on-demand training to global workers.
Prior to implementing an LMS, they had no training department and spent thousands of dollars each year on training-related travel and third-party compliance, as well as Instructor-Led Training (ILT) expenses. This was not a sustainable model for a global organization. The answer was a centralized, online training program accessible 24/7 from anywhere.
They implemented a cloud-based learning platform and right away gamified the system so that sales, service and operations teams could compete with points and badges. It was not only a cost-effective solution that eliminated the need for in-person training, but it also provided access to professionally created, video-based, off-the-shelf content, rather than bringing in outside consultants to create courses. Learners are more engaged in continuous learning that fuels their ability to perform well at their jobs, while not disrupting day-to-day activities by having to travel for training.
Download the eBook Why You Need An LMS To Power Corporate Sales Training In The Experience Economy and keep your sales team up to speed on product and process changes as they happen. Also, join the webinar to find out more about how to have them selling at their best.
References:
[1] Key Findings From the Gartner Customer Experience Survey
[2] A NEW FOCUS ON B2B CX SPURS GROWTH
[3] The business impact of customer service on customer lifetime value
[4] 18 Customer Experience Stats to Know in 2019
[5] MEMORABLE CUSTOMER EXPERIENCE DOESN'T JUST HAPPEN BY ITSELF
[6] The Walking Company Steps Up Customer Experience Using Gamification for Employee Training
SAP Litmos
The SAP Litmos learning platform enables thousands of global companies to deliver training for transformation.