What Are The Essentials Of A Sales Training Program?
There's no doubt that sales training is essential for B2B and B2C businesses. It helps your employees become more efficient, increases productivity, and transforms the customer experience. And finding the right sales training program can truly make a difference. But what should you include in it to make sure that it adds value to your organization? In this article, we share 5 essential ingredients you can't omit from your sales training program checklist.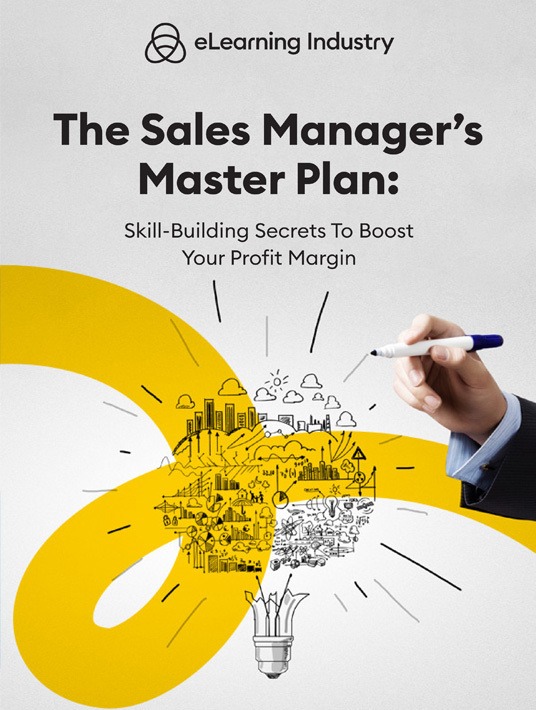 eBook Release
The Sales Manager's Master Plan: Skill-Building Secrets To Boost Your Profit Margin
Discover insider skill-building secrets to improve team performance and the health of your bottom line!
5 Crucial Elements You Need In Your Sales Training Program Checklist
1. Essential Skills Assessment
For a sales training program to be effective, you must make sure that it goes over essential sales skills. This is useful for new hires as well as for more experienced sales reps who want to refresh their knowledge. When we talk about essential sales skills, we're usually referring to the ability to find prospects, draft cold emails, prepare a report, draw up a proposal, close a deal, maintain communication with clients after closing a deal, etc. A good sales training program helps you assess which of your employees already possess these skills and at what level. Afterward, it's that much easier to create personalized training programs that best accommodate each employee's training needs. Additionally, it allows you to figure out whether you have assigned the right people to the right positions.
2. Sales Processes And Product Training
Another element to cross off your sales training program checklist is training employees on your business's individual sales process. If they already have experience as a salesperson, it's likely that they use different methods. Therefore, your sales training course is an excellent opportunity to let them in on your preferred ways of approaching prospects, pitching a product, guiding customers through the sales process, upselling, and cross-selling. The most effective way to do that is by utilizing activities that resemble real-world experiences, such as role-playing exercises.
Don't forget that product knowledge is another crucial part of the sales process. Even if your employees have mastered the art of persuasion, a sale won't go through if they fail to answer questions about the product. As part of your training, allow employees to delve into services and fill them in on all the features that make them stand out from the competition. It would be helpful to provide them with a JIT product information library that they can access whenever they need it.
3. Customer Buying Experience
Customers are the cornerstone of your business. As a result, your sales training program must touch on customer experience through all stages of the sales process. Sales representatives must know how to guide customers through the sales funnel, recognize various customer personas, and know which approach to take with each one of them. Role-playing activities allow salespeople to practice empathy by getting in the shoes of their customers. During training, sales reps can also practice active listening, a skill that can determine the success of a sale. Often, salespeople get so passionate about their products that they end up talking over their customers. While it's important to believe in what you're selling, it's also crucial to know when to stop and listen.
4. Alignment Between Business And Training Goals
Your sales training program checklist will not be complete without this feature. Whatever you're doing in your business, whether it is a training program or a marketing strategy, you must always have an end goal in mind. Therefore, don't just make your employees sign up for a bunch of training courses if they don't directly correlate with their professional goals. Assessing your employees' abilities and knowledge gaps, as well as your business objectives beforehand allows you to handpick training programs that will add value to your organization. Not to mention that employees will be even more motivated to expand their knowledge if they see that it actually makes an impact on their performance.
5. Assessments And Reporting
A comprehensive sales training program must include features that facilitate progress evaluation and reporting. Specifically, it should incorporate regular assessments in the form of quizzes and knowledge tests, as well as self-evaluations. If you provide employees with the same assessment at the beginning, the middle, and the end of their training program, it will be very easy to gauge their progress throughout the program. In addition, reporting is going to take a fraction of the time it used to, as you will have the necessary data readily available.
Conclusion
You might think that the success of a training program only depends on the quality of the training material. But, in reality, leadership is the element that can make or break it. When leaders are engaged and express their enthusiasm about Learning and Development, employees tend to follow suit. Therefore, if you want to succeed in training your employees and adding value to your organization, you should start by picking out a management team that will inspire others to grow. Adding this, as well as the other elements mentioned in this article, to your sales training program checklist will help you transform your business.
Download the eBook The Sales Manager's Master Plan: Skill-Building Secrets To Boost Your Profit Margin to instill self-confidence, hit targets, and improve the health of your bottom line.