Prepare Your Sales Team With These Sales Training Best Practices
Corporate sales is a high-burnout job, filled with rejection and the stress of looming quotas, yet it's crucial that sales reps are on top of their customer service game for each and every contact with customers. They have to be knowledgeable, pleasant and provide an excellent Customer Experience every time—that can be difficult for a new sales rep, or for someone who is just feeling overwhelmed with a big workload, or a wealth of new product information.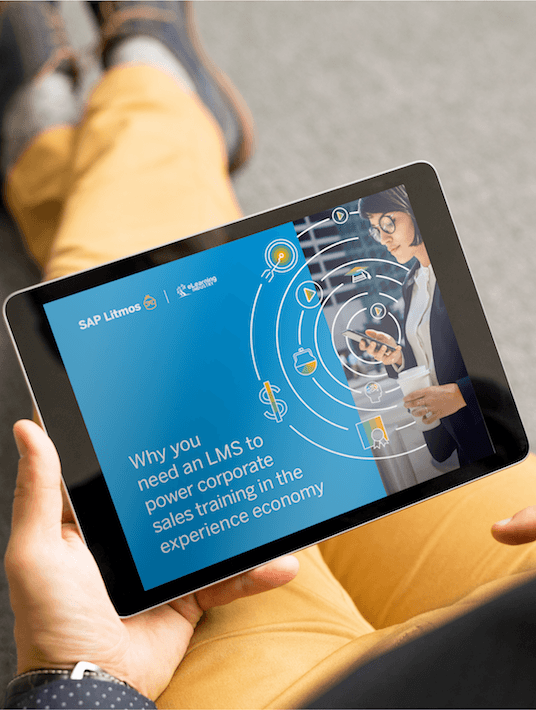 eBook Release
Why You Need An LMS To Power Corporate Sales Training In The Experience Economy
Discover the importance of training your sales teams with the help of an LMS.
Training can help give a salesperson the tools they need to do their job well, but training can pose its own set of challenges. For one thing, reps are busy and may not think they have time to complete training when they're focused on meeting revenue targets. For another, not all reps may need the same training—almost every sales team is a mixed group of newbies, sales stars and middle-of-the-road sellers.
It may seem overwhelming, but fortunately, there are some best practices that will allow you to design a corporate sales training strategy that will serve all your salespeople's needs.
Start Training As Soon As You Hire
Once you hire a rep, you need them to start hitting their sales targets as soon as possible. It's pretty rare, however, for salespeople to hit the ground running immediately. According to The Bridge Group [1], it took the average salesperson three months before they were ramped up to full productivity in 2018. Some industries can take as long as 6 months before reps are up to speed [2].
Having a thorough, well-designed onboarding program in place to train new salespeople as soon as they join your team is an important step toward helping new reps do their best as soon as they're hired; research from The Recruiting Roundtable shows that a good onboarding program can increase performance by 11.5% [3].
This doesn't mean throwing your reps into work until a company training date rolls around; new hires need to be onboarded immediately. It's important that your best training content is online and accessible so your newest hires can get up to speed as soon as possible.
This is especially crucial because many new reps are completely new to sales. Rising demand for salespeople means that the required experience for a new hire is on the downslide [1]. New salespeople are greener than ever and need strong onboarding programs for them—and your organization to be successful.
Know That Sales Training Isn't One-Size-Fits-All
Can you name the star salesperson on your team? What about the newbie? What about the rep who doesn't always make their sales quota?
Your sales team is filled with reps with different skill levels, and they don't all need the same training. Your top salespeople might be looking for leadership training as they are considering moving into sales manager positions. Your struggling reps may need help brushing up on the basics. Your newest reps may need to review their onboarding materials for the first few months.
By creating a variety of modules, you can offer learning for reps of every skill level, and if you've invested in an LMS that allows you to create learning pathways for individual reps, you'll be able to prescribe learning for each salesperson.
Take A Coaching Approach
While prescribing training allows for some one-on-one interaction with your sales team's training, you may want to take this approach a little further by offering sales coaching to your team.
Coaching is one of the most effective approaches when it comes to sales teams—CSO Insights discovered that in top-performing companies [4], sales managers spent a significant amount of time coaching their teams. There is a strong link between sales coaching and great sales performance— CSO Insights found that some coaching can deliver up to a 27.6% improvement in win rates.
However, despite the significant impact sales coaching can have, just less than a third of sales managers are spending sufficient time on coaching. This may be because the approach is so high-touch; managers of large teams may not have the time to sit down with each salesperson individually, and those managing remote sales teams may not be able to sit with employees face-to-face. In that case, sales managers may find video assessments useful.
Video assessments are modules that can be added to online courses if a training manager needs to actually see learners' progress in a course. For example, if a salesperson needs to demonstrate that they can effectively overcome a buyer's objections, the sales manager can add a video assessment to their course.
The salesperson will have to upload a video of themselves overcoming an objection. Their manager, reviewing the video, will be able to see where the rep is doing well and where they're struggling. The manager can then leave specific, personalized feedback for the salesperson.
Don't Forget Soft Skills
Your salespeople are doing more than closing deals. Because they're often the first contact a customer has with your company, your sales reps also on the front line of the customer experience wars; a recent LinkedIn study shows that buyers and decision-makers are much more likely to consider a brand's products or services when the sales representative they talk to understands their role and their specific pain points [5].
Part of offering up good Customer Experience is being pleasant as well as knowledgeable about the products you sell. The best salespeople are the ones who really want to help their customers; they listen, are pleasant, and are honest about whether a product or service will actually help their prospects. They build relationships with their customers and get to know them.
While some sales reps are naturally good with people, it's important to train soft skills like listening, communication and good phone etiquette.
Salespeople often get a bad rap as being pushy and abrupt. Training these skills will help your reps soften their approach, so they're a pleasure to work with—for customers and for you.
Gamify Your Training
Salespeople are naturally competitive and sometimes that competition comes out in ways that aren't productive for a sales team, like fighting for the same leads or hostility in the office. Harness that competitive drive by gamifying your training.
Gamification is the introduction of game mechanics into non-game situations, like work or training. By adding points, badges, and a leaderboard to your training, you can encourage friendly competition among your sales reps to see who can take the most training. You can even offer a prize to the rep (or team) that's learned the most.
Gamified training also helps with motivation. Sometimes a rep might be reluctant to train—they may feel they don't need training, or they might worry that they don't have time. Gamification uses techniques like offering points, rewards, or recognition to encourage learners to log back in and take their modules.
A.B.C. (Always Be Continuously Learning)
It's tempting to think of training as something that happens once, or maybe once a year, but that's not the way learning and development works, especially not in sales, when things change often: new products come out, old products are updated, reps hear new objections from prospects, and marketing may change the way it generates leads.
If you train your reps once, they're unlikely to retain that information. You want them to constantly be learning for their sakes, and for yours: according to Aberdeen Group, 20% more reps achieve quota when post-training reinforcement is implemented [6].
It's important to remember—to impress upon your sales team—that training is a continuous cycle. They should be learning all the time, by using microlearning to boost their skills when they need help, by checking in with old modules if they need a refresher, or by taking new courses.
Know That Good Salespeople Can Be Trained
It's an old misconception: good salespeople are born, not trained.
Because sales can be such a difficult, high-burnout profession, this is an easy trap to fall into. It's easy to tell yourself that some people are natural sales stars and some people just can't cut it. But that's both unfair to your reps and not true at all.
While some salespeople do come to the job with natural skills, most (even your sales stars) need to be trained. Many are new and need to understand how sales work. Those who aren't new to sales may come from other sales organizations where they were subjected to that company's training—which may or may not align with your own sales strategies. And yes, your sales team superstars need training, too. They may want to rise to a managerial role, or they might be doing things their own way instead of yours.
The right training program can boost reps' productivity, improve onboarding time, help with burnout and keep reps engaged. It's also cost-effective—by training a struggling rep rather than replacing them, you can save your company an average of 2 million dollars [7]. That's how much it costs to hire and onboard a brand new salesperson.
Your sales team is one of your biggest assets. By training them, you're investing in them and in your company. Download the eBook Why You Need An LMS To Power Corporate Sales Training In The Experience Economy and keep your sales team up-to-speed on product and process changes as they happen. Also, join the webinar to find out more about how to have them selling at their best.
References:
[1] The 2018 SDR Metrics Report is Here
[2] Here's How Long it Should Take for Your Sales Reps to Be at Fully Ramped Quota
[3] Extreme Onboarding: How to WOW Your New Hires Rather Than Numb Them
[4] 2017 CSO Insights Sales Enablement Optimization Report | Summary
[6] Experience the Power of Data: Identify In-Market Opportunities and Accelerate Your Sales Funnel
[7] Hiring the Wrong Salesperson is a $2-Million Mistake
SAP Litmos
The SAP Litmos learning platform enables thousands of global companies to deliver training for transformation.