Is Custom L&D The Right Choice For You?
Is bespoke the best choice for your bottom line? Or should you stick with off-the-shelf solutions? If you opt for custom content development, you must then determine if outsourcing or in-house is more cost-effective, which leads to an entirely new series of concerns and potential risks. To put it mildly, online training planning, design, and implementation are not for the faint of heart. Tough choices need to be made as quickly as possible to bridge performance gaps and avoid compliance violations.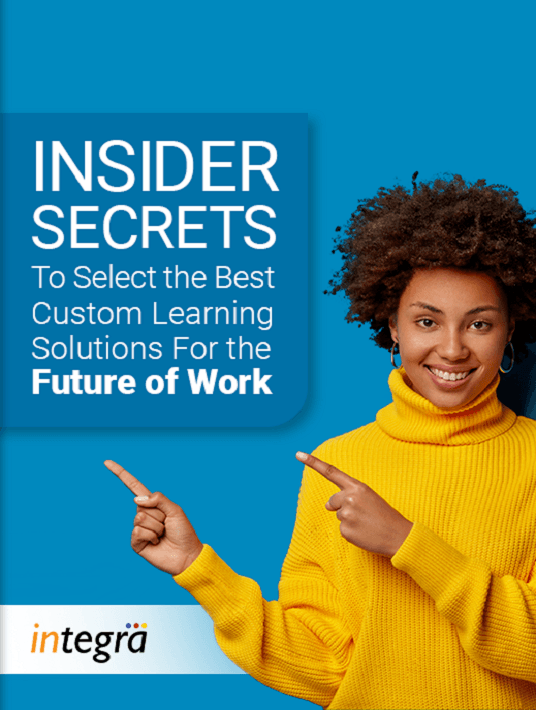 eBook Release
Insider Secrets To Select The Best Custom Learning Solutions For The Future of Work
This eBook walks you through every aspect of the evaluation process so that you can easily choose what is the appropriate solution for your organization.
7 Questions That Will Help You Decide If Custom L&D Is Right For Your Business
1. Which Route Is Best For My Business: Pre-Built Or Custom-Tailored?
You may find that pre-built will suffice for certain aspects of your training strategy, while others require custom content. For this reason, it's crucial to separate off-theshelf from bespoke tasks when developing your timeline and budget. Evaluate the pros and cons of both approaches for every phase of the project. Then decide which is best for your bottom line, employee engagement, and resource allocation.
2. Does My Team Have The Necessary Experience?
The mistake that many organizations make is overlooking the human element. They focus on crunching numbers and reducing implementation time. But they don't account for their team's workload, skills, or experience. Is your team able to take on the extra development assignments? Do they have the necessary tools and resources? Have they designed similar training tools in the past, or can you expect a significant learning curve? These are all questions you must answer to determine if in-house is even an option, to begin with.
3. Which Approach Is More Cost-Effective?
Now that you've considered human resources, you must move on to the figures. Does it make financial sense to develop content internally, purchase pre-built solutions, or outsource content? Hiring a bespoke eLearning company may seem like the most expensive option but look at the complete picture. It reduces your L&D payroll and results in faster implementation times. Plus, the outsourcing partner lends their expertise and talents, which improves the quality of the deliverables.
4. What Is The Scope Of The Project?
Large-scale projects that involve multiple training activities, modules, and JIT support tools may require a division of labor. For instance, 50% of the project is handed over to the custom content company, while the other half is handled in-house. However, smaller projects could be entirely outsourced, depending on the objectives and deliverables included. Defining the scope allows you to get a more holistic overview of the tasks and which approach will deliver the best ROI for each.
5. Which Tools Do I Need For The Task?
Bespoke eLearning providers typically have all the tools they require. They've built up their software library over the years, periodically replacing platforms that are outdated. However, you must bear the brunt of this expense if you decide to develop content internally. Which tools do you need to achieve the best outcomes? What are the setup and licensing fees involved? How long will it take for your team to master the features and improve functionality?
6. What Is My Online Training Budget?
Of course, you must create a realistic budget to determine if there's room for custom content development. However, if you want to be ready for the future of work, this is something you should be looking into. You may have to invest in off-shelf solutions for the time being. Or try to internally repurpose assets you already have. That said, outsourcing companies can help you improve resource allocation through training needs analysis and their niche expertise. They've worked with other cash-strapped clients. Thus, they know how to stretch it out and pinpoint the budget-breakers. For instance, the JIT repository is usually the culprit because employees are unable to bridge gaps quickly. Thanks to outdated resources and L&D negligence. The bespoke eLearning company helps you identify the trouble areas and improve the design to make your library more relevant and learner-centered.
7. How Much Control Does My Team Expect?
Your staffers may not want any say in the online training content. They already have enough on their plate, and they trust the outsourcing provider implicitly. Then again, your team may want to offer their feedback at crucial stages. The thought of stepping away makes them uneasy because they want to contribute to the design process. Here are a few tips to ensure that you retain control without stepping on anyone's toes (i.e., the experienced bespoke eLearning provider):
Spell out everything in the contract to ensure you have the level of creative input that you desire. For example, you're able to revise the content after each phase to incorporate your ideas/suggestions.
Set up regular meetings to share project updates and recaps. This also gives you the opportunity to verify the outsourcing partner is on track and is faithful to company values (and your design vision).
Choose a custom eLearning development company that prioritizes customer service and support. These online training designers understand that their clients have valuable info to offer. Thus, they welcome your ideas and utilize them to improve the finished product.
Conclusion
These questions can help you determine the best approach for your business. Meet with your team to disclose their concerns and see if custom-tailored solutions are the best L&D approach.
There are numerous benefits associated with custom eLearning development outsourcing, but only if you know how to navigate the challenges and avoid the most common obstacles. The key is finding the best custom learning solutions for your future workforce. This guide can help you find an eLearning content provider that specializes in your niche and understands your business needs.
Download the eBook Insider Secrets To Select The Best Custom Learning Solutions For The Future of Work for tips to find the ideal external partner for your program.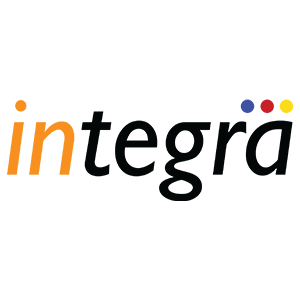 Integra
Powering Content and Technology Transformation