Should L&D Managers Opt For Custom Or Off-The-Shelf Remote Learning?
For many businesses, choosing to invest in custom remote learning is risky. Andres, director of L&D for his corporation, understands that risk. His company hires two thousand seasonal employees each year, and ILT was no longer a viable option. Fees for lodging, transit, venues, personnel, and per diems were devouring significant resources that would be better allocated elsewhere. The C-suite, while not experts in digital learning, looked forward to providing the same quality of training at a fraction of the annual cost. Some company leaders were completely on board with Andres. Others had serious reservations.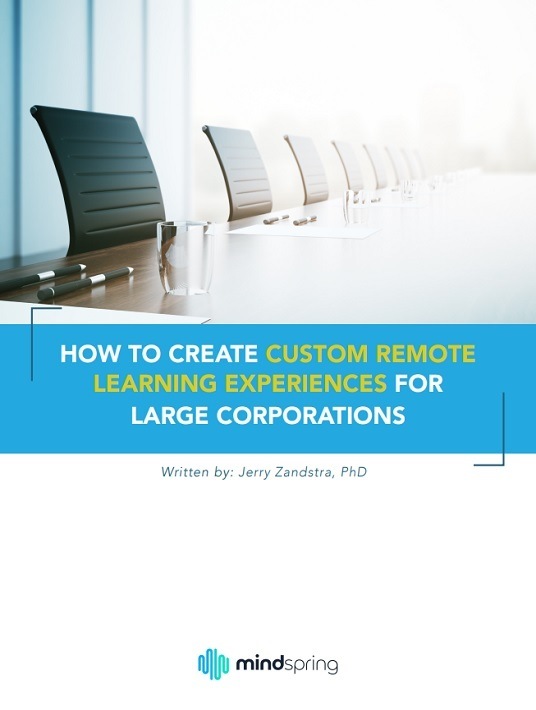 eBook Release
How To Create Custom Remote Learning Experiences For Large Corporations
Learn how to deliver quality training in the shifting sands among onsite, completely remote, and blended learning.
Decision Time
Were there other options available besides investing in custom remote eLearning? Absolutely. Andres could have sought out ready-made software training to incorporate with ILT instruction. And in all probability, this solution would have resulted in greater efficiency while also reducing classroom hours. But wait a minute. This wasn't just a matter of efficiency. Branding mattered. Their learners would be client-facing, so mastering material quickly and becoming excellent brand ambassadors were equally important. Andres needed the company's brand front and center, and he needed to convince a hesitant C-suite that his custom eLearning solution was the right choice. There was a lot at stake.
Timing It Right
Exactly when is the right time to invest in custom remote learning? Perhaps it would be better to ask the reverse question instead: When does it not make sense to invest in custom eLearning? Businesses usually don't invest in custom eLearning when the content is generic, low-priority, or concentrates mostly on compliance and check-the-box-when-completed type training. Smaller businesses can deliver this type of training with classroom presentations, often using outdated slide after outdated slide followed by a short quiz. The quiz results are tucked in a folder, the team member's record is updated as compliant, and the company can show the mandated training had been provided. Bigger companies or those with a workforce spread across the map can effortlessly and economically obtain courses on topics like first aid or conflict management, which can be accessed electronically, with records being saved in an LMS.
It stands to reason that learning which is more complex requires a more complex solution. Going beyond general compliance will require the mapping of learning objectives and determining if digital learning is the best choice, and if so, which form should be utilized. Blended learning, a mixture of ILT and digital content, might be the best option. The right digital tools may be microlearning, Augmented Reality (AR), or digital scenarios. Gamification could also play a part.
Deciding Details
It's not simply a matter of choosing between custom remote learning and something else. The audience will inform many of the decisions on the format. For example, differences exist between the way millennials learn versus baby boomers. Do language barriers exist? Are there international learners? Is localization included? What's the level of education of participants?
Driving Value
It's common knowledge that eLearning is budget-friendly. From decreased instruction costs to regained employee productivity, eLearning is the clear hands-down winner when compared to ILT from the standpoint of expense. But when it comes to learning, there are certainly other factors to consider. So, setting cost aside, let's look at some of the other value drivers of eLearning.
Choosing to create custom remote learning means learners have continual access to engaging content built around your specific materials. Let's walk through some of the benefits:
Your team members are learning the proper instructions geared specifically to their position, not general information that may not even apply to your company.
You can print less—or zero—hard documents, such as binders or manuals, saving on material expenses. Modules are more effective when they can be designed around your industry, business, and learners, increasing your ROL.
Another benefit? Branding and messaging will remain consistent companywide when you customize your organization's eLearning. Training materials should reinforce the same image your company is conveying to the world. Employees who know your brand inside and out can ensure consumers do too.
Golden Flexibility
Customizability seems great, but the thought of laying out individualized learning paths might call to mind these two things; cost, and rigidity. What happens when additional materials need to be added, when brand messaging needs to be tweaked, or if some piece isn't working as expected? If you're going to eventually outgrow it, is it even worth the investment? Far from static, custom eLearning modules allow for flexibility, which is worth its weight in gold.
Modules built for your business can be translated, supplemented, altered, and updated without starting from scratch, saving precious time and money. Because of this, your valuable investment can be extended for years. The learner also gains flexibility with eLearning. Modules stored in the cloud can be accessed from various devices at a moment's notice, giving team members the ability to learn without disrupting productivity whenever it's convenient for them. When a question arises, they can refer to the eLearning modules and quickly find the answer on the spot.
Insightful Trackability
The loss of accountability and personal interaction is a common argument heard against eLearning when compared to ILT. Here are two reasons why this argument just doesn't hold up; point A, eLearning and ILT are by no means mutually exclusive. Point B, an eLearning module that's well designed should offer greater accountability and insight into a participant's learning than an instructor could offer alone. Just like any delivery method, eLearning does not exist in an information vacuum. We constantly learn from each other, our environments, and our own activities and initiatives. Digital modules are adaptable, enabling learners to dive further into topics they find most relevant by allowing them to test out of content they've already mastered. As for tracking efforts, eLearning assists L&D and management with the follow up of problem areas, and it helps factor learning into their performance. Without the available data at their fingertips, instructors wouldn't gain the insights eLearning can offer.
Valuable Scalability
The scalability and flexibility of eLearning modules are related, but when focusing on value, it offers a glimpse into the ROI that's more easily calculated. Let's say you wish to create a module for your American-based office of two thousand team members. Your business then grows and hires another thousand or expands to a different location with three hundred more. Or you begin to search internationally and add fifteen hundred employees who conduct business in another language. Classroom-style instruction for your employees would be a logistical and financial nightmare. With custom remote learning, you can ensure learners receive the same information in the same manner. As your company grows, employee development remains seamless across the board. If you look at it solely from a numbers standpoint, the long-term value is tremendous.
A Round Of Applause For Custom Remote Learning
When the first finished modules were presented to Andres's HR team, he received a round of applause (true story). The right choice had been made. He reached his targeted KPIs, saved his organization a lot of money, and persuaded some skeptical C-suite managers that, in the right situations and with well-defined objectives, custom eLearning was the best solution.
Your own round of applause begins with an analysis of how the factors and timing for your business weigh against the benefits of custom remote training. The value of eLearning isn't completely economical. Far beyond the numbers, its true value lies in the ability to develop a companywide culture of learning, a culture of learning that ignites the power to help everyone succeed.
The modern corporate environment undeniably needs to implement remote learning practices. If you're wondering how to deliver quality training in the shifting sands among onsite, completely remote, and blended learning, download the eBook How To Create Custom Remote Learning Experiences For Large Corporations, and find out all you need to know! Also, join the webinar Why Curriculum Mapping Is The Cornerstone Of Custom Remote Learning Success, and discover more about the subject.

MindSpring
MindSpring is an award-winning agency focused on delivering engaging and transformative digital content. We create digital experiences using exceptional creativity, the best of learning science, and innovative technology. (Previously Inno-Versity)