Delving Into Custom Remote Learning Solutions
COVID-19 is a paradigmatic shift. Its true scope is an overused word but fits here: global. It's difficult to look at any industry segment or organizational size and find anything untouched. From large corporations to small shops, city-sized institutions of higher education to preschools, trade associations to nonprofits, every organization's model for what they've done in the past is on the move. What do top business leaders say about custom remote learning solutions needed to survive such shifts?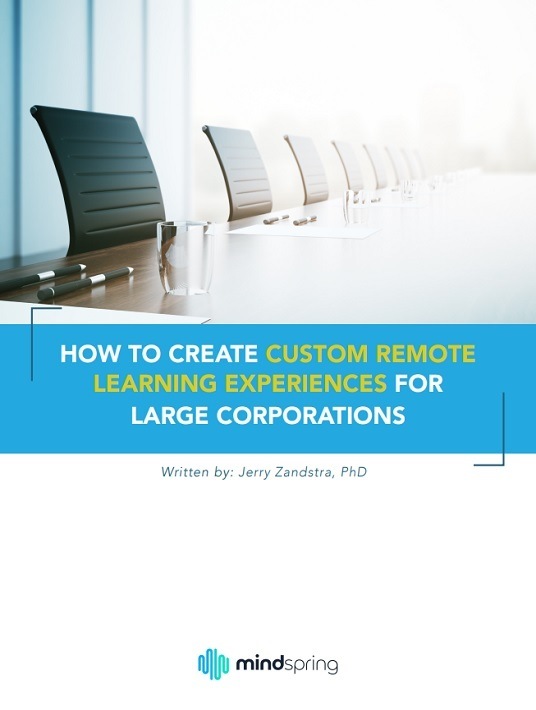 eBook Release
How To Create Custom Remote Learning Experiences For Large Corporations
Learn how to deliver quality training in the shifting sands among onsite, completely remote, and blended learning.
The Source To Inform Paradigmatic Shifts
Paradigmatic shifts are rare, unexpected, and chaotic. There's little predictability as to when they'll come or what to do in the middle of one. Information and actionable intelligence normally available to leaders are wrong in the best cases or missing in the worst.
Incremental change can be controlled because it's common, expected, and manageable. There's some variability in the metrics of prediction, but the margins are small. Often, the information by which decisions are made is readily available and based on a simple question: What happened in the past?
Considering the future in the context of incremental change is a matter of looking backward and projecting what's to come. In paradigmatic shifts, the past has little meaning. It's not being supplemented; it's being replaced with something that's yet unknown. For guidance on what's to come, the past might actually be the least useful place to look.
When paradigms shift, the best source for information is the present. It can be found in what peers are doing in response to what you're experiencing. True, it may be possible that all are heading off the same cliff. But there's often wisdom to be found in crowdsourcing the solution to a difficult problem or in listening carefully to peers facing the same challenge.
Looking To Business Leaders
The thoughts that follow are those of learning leaders from three industry sectors: hospitality, manufacturing, and retail. I'm grateful to those who were willing to stop amid chaotic days and spend some time with me, reflecting on and sharing some of their challenges, opportunities, and successes. All of them are experiencing pandemic-related L&D shifts. Some are booming. Others are scrambling. A few believe that they're facing a threat so significant that their organization might not survive it. Everyone knows that their responsibilities and tasks will never quite be the same again.
Business Leaders' Concerns And How To Tackle Them With Custom Remote Learning
When asked to identify their "big question," everyone interviewed shared some version of a question about trajectory and future states. What they all had thought was coming incrementally no longer seemed to be doing so. What's the five-year picture? Where's this going? What will be my role? The other concern common to all was this: What am I missing? Or put more generally—what is everyone missing about what L&D will become?
What follows is a list of problems identified by those interviewed. Many will ring familiar for those involved in learning, development, and training, and while not everyone had the same concerns, the cumulative list is illuminating.
The Unknown
Almost every learning leader interviewed expressed concern about what's to come. Some were worried about where things stand with the virus. Will it get worse? Better? What happens when winter comes again? Will we ever be able to do in-person training? Will this shift to remote work be permanent? How pervasive will it be? How do we prepare for a future we can't predict? Should we implement custom remote learning solutions?
Custom Remote Learning Solutions For The Community
What happens to a well-developed learning culture when remote learning is surely the short-term model and possibly also the long-term one? So much learning happens organically when inexperienced workers spend time in the presence of experienced colleagues. These informal but essential moments are simply not captured in web-based video-conferencing calls. Beyond the transfer of skills and knowledge, relationships that would occur naturally are weakened by a lack of proximity. People who are rarely together don't build strong ties to one another. It would be wise to start thinking about custom remote learning solutions that fit the business needs.
Hands-On Competency
How will hands-on knowledge and skills be transferred? Team members can be taught all the physics, chemistry, and best practices of welding, but they don't really know how to weld until they stand next to a person with twenty years of experience.
Internal Leadership Training Through Custom Remote Learning
The companies of everyone interviewed have some version of a path to leadership. People with strong potential are identified, trained, and given experiences that build their capacity. Some leaders had thousands of people at various stages of their well-developed training platform. With these programs having ground to a halt, the fear is that people with strong potential for leadership positions will look to move laterally but incrementally up where the opportunities are greater. This loss might not be felt immediately, but it's inevitable. The good thing is that custom remote learning solutions can save the day.
Onboarding
Retail, hospitality, and segments of manufacturing are consistently challenged with turnover rates above 50%. Occasionally, it's over 100% annually. Business leaders in these companies have worked hard to develop programs to keep current employees and onboard new people, bringing them up to speed as quickly as possible. Can that really happen remotely? Ineffective retention and onboarding can result in significant revenue loss.
Business Leaders' Solutions
The challenges identified are known to professionals dedicated to learning and developing team members. Seeing them listed might bring a tinge of despair, but those interviewed were more interested in discussing possible solutions—specifically custom remote learning solutions—than focusing too long on problems common to them all. Here's an organized collection of the resulting custom remote learning solutions.
Agility
The ability to provide any type of training via multiple delivery methods is key. In one sense, this is nothing new. What's new is the speed at which models like the newly coined HyFlex model are implemented. See the article Corporate Learning: The Shift To Custom Remote Training Delivery In Unprecedented Times for more information on the delivery options.
Creativity
Now isn't the moment to rely on methods that worked in the past. Creativity must drive how learning assets are built and how they're delivered to learners. Keep what works and quickly discard what doesn't. The best solution is to invest in custom remote learning solutions.
Stronger Instructional Design
Simply moving learning assets from in-person delivery to digital delivery isn't enough. Solid Instructional Design theory and practice is needed to determine what can be delivered online and what can't. Decisions about blended, mobile, ILT, vILT, and more should be made at the Instructional Design stage, considering the needs of the organization and the realities of the learners.
Custom Remote Learning Solution: Gamification
The prevalence of gaming experience among learners means their tolerance for page-turning eLearning will be extremely low. Those interviewed acknowledged that this was already the case pre-pandemic. Now it's even more, so companies scramble to create additional delivery methods, like custom remote learning solutions. Straight conversions from slide decks to page-turners aren't going to be acceptable to most leaners.
Augmented Reality, Virtual Reality, Mixed Reality, Artificial Intelligence
A few business leaders were well down the path of enhanced technology methods for delivering custom remote learning solutions. Most were well-versed in the options, and some had experimented. That said, they knew they needed to make better use of technology but, pre-pandemic, couldn't get budget approval for what was certainly better but not essential. The interest in expanding technology into these areas was almost unanimous among the business leaders.
Curriculum Mapping
While this isn't a term used by those interviewed, they each expressed concern for what should be done and in what order. With so many requests, they have to decide what to do first. Which assets can easily make the transition to digital? What are the costs? What's already available that could be plug-and-play?
Training For The Trainers
Those who relied in the past on in-person training put effort and time into retraining their trainers. Trainers who've spent ten or more years in a conference room, in front of a live audience, certainly know their subject. What's unfamiliar is teaching online. Those interviewed stressed that they're doing what's needed to ensure that those doing the training have the skills and are familiar with the tools needed to teach online through various custom remote learning solutions.
The paradigm of the L&D world is shifting. What's coming is at least partially unknown. It's my hope that these reflections from learning leaders in some of the world's largest companies are helpful to you as you plan for the short-term and long-term future.
If you're wondering how to deliver quality training in the shifting sands among onsite and completely remote and blended learning download the eBook How To Create Custom Remote Learning Experiences For Large Corporations and find out all you need to know! Also, join the webinar Why Curriculum Mapping Is The Cornerstone Of Custom Remote Learning Success, and discover more about the subject.

MindSpring
MindSpring is an award-winning agency focused on delivering engaging and transformative digital content. We create digital experiences using exceptional creativity, the best of learning science, and innovative technology. (Previously Inno-Versity)