LMS Customer Experience: 7 Reasons Why It Really Matters
There's plenty to think about when you're in the market for a new Learning Management System. From reporting capabilities to price points, you must find a tool that meets all your requirements without going over budget. But one of the most important LMS selling points is often overlooked: the LMS customer experience. This crucial factor has a direct impact on every other aspect of the tool, including the user experience and overall functionality. Let's explore the basics of the LMS customer experience and why it's such an essential component of the LMS buying process.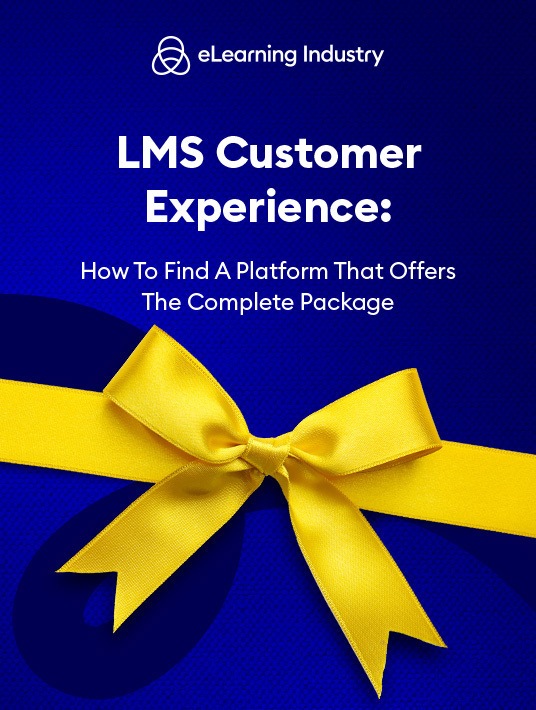 eBook Release
LMS Customer Experience: How To Find A Platform That Offers The Complete Package
Find out why LMS Customer Experience really matters, the benefits of delivering a Superior CX for your organization, and how to set your LMS expectations before purchasing a new platform.
What Is The LMS Customer Experience?
The LMS customer experience encompasses every interaction you have with the vendor and their software. From the moment that you start researching a Learning Management System by clicking on their landing page or website, the LMS customer experience with their brand begins. This includes their follow-up after you submit an RFP, how they engage with it during the sign-up process, and their overall support services. The LMS customer experience usually begins long before you actually purchase the product. For example, you might visit their social media page to gain more insight about their software, or look up online reviews to see what past users have to say about the company and its offerings.
However, LMS customer experience isn't just about how the LMS vendor treats their customer base, but the customer's perceptions. As such, the experience is different for anyone, and is largely based on their expectations and needs. For instance, an organization may have a negative customer experience with the LMS software if it fails to address their current pain points. Or doesn't deliver the ROI they were anticipating due to lack of functionality or support resources.
One of the most popular indicators of LMS customer experience is the Net Promoter Score (NPS). This indicates how likely a customer is to spread the word about the Learning Management System. Participants are asked "how likely they are to recommend the product to a friend or colleague" on a scale from 0 to 10, with 10 being the most likely to recommend. Those who enjoyed a superior LMS customer experience and are satisfied with the software are known as promoters (a score of 9 or 10).
LMS Customer Experience vs. Customer Service
LMS customer service and LMS customer experience are often used interchangeably. However, there is a distinct difference between them that LMS buyers should consider. The LMS customer experience (CX) covers every interaction or "touchpoint" in the customer cycle, while customer service can be distilled down to the actual service the LMS vendor provides. For example, how quickly they respond to a trouble ticket or handle a billing issue. It is a more targeted term, that is just one component of the holistic LMS customer experience. Instead of a net promoter score, LMS customer service is rated through a customer satisfaction score (CSAT).
There is yet another term that is confused, when speaking of customer experience and customer service: customer care. This is another piece of the customer experience puzzle. LMS vendors who provide exceptional customer care go above and beyond to build relationships with their customers. They don't merely offer service, but make a point to identify their needs and address their concerns.
Examples Of A Superior LMS Customer Experience
LMS customer experience can be difficult to quantify, as it involves so many factors that all come together to form a customer's perception. Even emotions come into play. But here are some prime examples of what a superior LMS customer experience looks like in the real world at various customer touchpoints:
Pre-Purchase (Research Phase)
The LMS vendor's website is easy to navigate and provides the customer with all the information they need to make an informed decision. There's full transparency in everything from the selling points to the terms of the LMS free trial. Visitors can quickly contact the LMS vendor for more information or to set up a consultation. During the LMS free trial or demo, users can speak with the vendor or join their active online community to address any issues that arise.
Purchase
The sign-up and download process is simple and straightforward. Customers can call the toll-free number if they have any questions along the way. There are plenty of online training tutorials and FAQs to help them through the process and set up the Learning Management System. LMS vendors also send a follow-up email or confirmation to let the new customer know about the support services available.
After Purchase
The customer experience doesn't stop when you click the buy button. In fact, that's just the start. LMS vendors have ample opportunity to provide a positive CX post-purchase. Ranging from personalized support services to soliciting customer feedback, to continually improve their product. For example, customers are encouraged to visit the vendor's social media page to get helpful tips and updates. As well as share their insights about the latest version of the LMS tool.
The bottom line is that LMS customer experience is a crucial component of the LMS buying and implementation process. The CX has a direct impact on the functionality of the LMS tool and your online training ROI. If the CX is lacking, you won't receive the support you need to get the most from the platform. Or you may be unable to overcome programming glitches or login errors due to poor customer service, such as long response times or insufficient knowledge. The LMS customer experience lays the groundwork for the entire LMS implementation process, given that the LMS vendor must play an active role in order to maximize the benefits of the system.
Do you need a new LMS that can live up to expectations and deliver an amazing customer experience? Download our free eBook LMS Customer Experience: How To Find A Platform That Offers The Complete Package for tips on how to vet the vendors and identify your expectations beforehand. It also features insider secrets to find an LMS company that offers the ideal level of support services.