Employee Onboarding Training: 8 ROI-Boosting Tips For SMBs
SMBs often have limited resources and a tight-knit team that's small but excels at multitasking. Thus, when you do add someone to your staff, you want them to have all the training tools they need to do their part. Investing in employee onboarding systems might seem counterintuitive, since there's not much room left in your budget. However, these platforms have the power to stretch your resources even further and benefit your bottom line. These 8 tips can help you improve ROI and new hire engagement with the help of onboarding training software.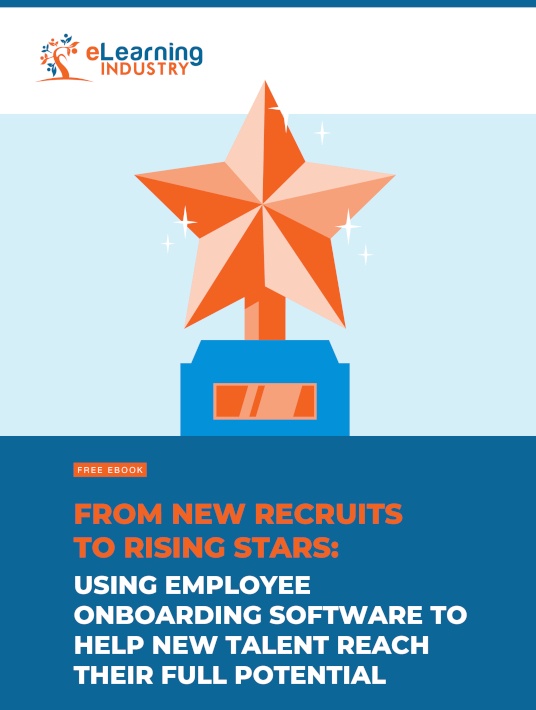 eBook Release
From New Recruits To Rising Stars: Using Employee Onboarding Software To Help New Talent Reach Their Full Potential
Discover how to choose the ideal new hire training software and identify your rising stars!
1. Plan Ahead When Choosing Your Onboarding LMS
You may not need a robust platform now, but what about when you hire 50 new employees next year to meet the growing demand? When investing in your onboarding LMS, plan ahead to save yourself the time and expense of choosing a new tool in the near future. Evaluate your current needs and objectives, then determine which features you require and how many users you must add to your plan. For example, some LMS vendors offer different price brackets for 50 versus 100 employees. Thus, onboarding training for a new wave of recruits may push you into a different tier to avoid overage fees.
2. Find A Tool That Meshes With Your Team's Talents
The employee onboarding training software you ultimately choose must be intuitive for every member of your team. Not just the tech-savvy ones who know their way around an LMS. You need to evaluate your team's talents and skills, then find a system that meshes. For instance, they may need a platform with more templates and straightforward customization options. While more experienced developers might prefer a more flexible tool, so they can personalize every aspect of the interface.
3. Put Advanced Reporting At The Top Of Your Priorities List
SMBs may not have as much data to sort through, but you still need employee onboarding training software with advanced reporting features, such as reports that help you determine which employees are falling behind and which are your rising stars, or metrics that reveal the most common sticking points so that you can fine-tune your online training content. Data visualizations are another must-have because you can identify patterns that lead to meaningful change (and a healthier bottom line), like tracing an outbreak of low assessment scores back to the source. Or figuring out why your latest online training tutorial isn't connecting with new hires and helping to reduce compliance violations.
4. Include A Good Mix Of Training Resources
Some new hires prefer audio podcasts that impart quick compliance tips, while others are looking for more visual training tools, such as video tutorials and infographics. Therefore, it's essential to mix things up and offer diverse onboarding training resources to improve engagement and ROI. Survey your new hires to identify their expectations, then develop support online training resources that cater to their personal gaps and preferences.
Ensure Success From The Start With The Right Onboarding Solution!
Discover, choose and compare the top Employee Onboarding Software!
5. Never Assume New Hires Know How To Use The Platform
Many organizations assume that every new employee is familiar with online training. After all, it's been around for years. However, some new recruits might be used to traditional training and the whole LMS 'opportunity' might be more of a nightmare. The key is to give them training resources for the training platform. For example, online training tutorials that show them how to log in or access the onboarding training library.
6. Launch A Peer-Based Coaching Program
Online onboarding also gives you the ability to tap into peer-based knowledge sharing. Launch a peer coaching program that allows your more experienced team members to show new hires how to perform tasks and improve performance. Even if they are thousands of miles apart. They can use built-in video conferencing tools to hold weekly or monthly meetings and catch up. As well as offer advice on how to address emerging gaps and offer personalized praise to boost motivation.
7. Pre-Assess To Custom Tailor Your Online Training Content
Conduct pre-assessments to find out what your new hires know and what they need to cover in their onboarding online training. It doesn't have to be a multiple-choice exam. In fact, qualitative assessments are your best bet, as they test practical application. As an example, a simulation helps you determine if a new hire can use their communication skills to deal with a customer issue. Or if they're able to apply their product knowledge to upsell a client. Then you use the data to personalize their paths and make targeted recommendations. Thereby, improving online resource allocation and onboarding ROI for your SMB.
8. Provide Real-World Training Opportunities
One crucial selling point that makes onboarding training software a viable investment for SMBs is the real-world experience-building. It exposes your new hires to situations and challenges they'll have to face in the workplace. Thereby, reducing risks and enabling them to benefit from their mistakes. Many platforms even feature built-in templates and online training resources to help you create real-world activities. For instance, you can create a branching scenario or serious game with minimal programming or graphic design experience. You should also consider a rapid authoring tool with a vast online asset library to reduce costs and speed up the development timeline.
SMBs must ensure that their recruits have all the skills and knowledge they require to fulfill their new job duties. Training software is no longer reserved for big companies with resources to spare. Smaller organizations have the opportunity to improve workplace performance and reduce the new hire learning curve with an LMS, even if you're working on a tight budget and implementation timeline.
How can you make sure that an onboarding software includes all the must-have features, needed for your in-house and remote employees? How can you use onboarding software to figure out which fresh recruits are going to advance up the corporate ladder? Get our eBook From New Recruits To Rising Stars: Using Employee Onboarding Software To Help New Talent Reach Their Full Potential to learn how an onboarding LMS can help you retain your top talent and improve ROI. It also features tips on how to train employees with special needs and how to go global by catering to your multicultural workforce.