How To Evaluate Sales Enablement Technology (Management Tool)
In my previous article, we discussed evaluation of sales enablement training. Here, we'll talk about evaluating sales enablement technology.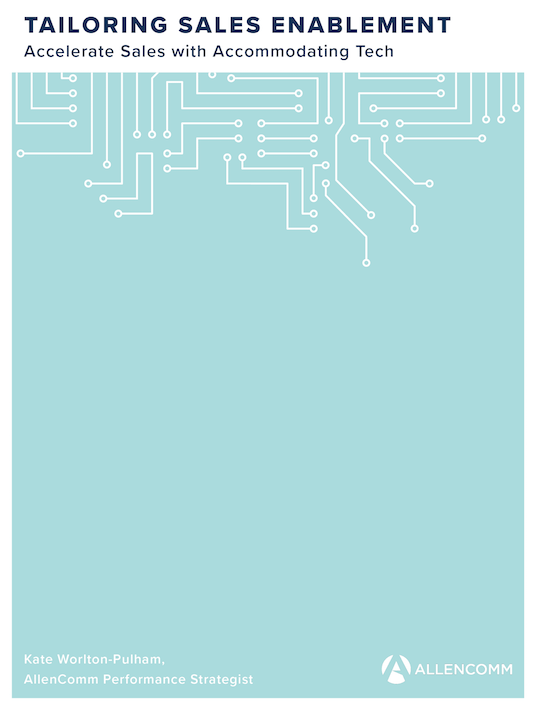 eBook Release
Tailoring Sales Enablement: Accelerate Sales With Accommodating Tech
Discover how to create a sales enablement program that will meet the needs of your organization.
In the sales enablement technosphere, newest tech is not necessarily the best. Technology must serve the organization's business goals, otherwise it's tech just for the sake of tech. Sales enablement technology must, therefore, serve the desired change in behaviors. A strategic needs analysis surfaces, recommends, and then designs tech that will drive these behavior changes.
A sales enablement technology needs analysis will work within an open and tailored "either/or/mix" approach. That is, the recommendation might reveal that the sales enablement provider should use the client's existing technology, new technology, or a blend of the two, dependent on the client's needs. The solution should be fueled by how to improve performance. A decision is then made to accommodate the situation: whether that requires integrating with or leveraging strengths of existing technology, augmenting it, or offering more flexible tech. The rules that govern the tech: It must be intuitive, efficient, and business-driven to result in improved revenue.
Speed And Access
With a sales enablement management tool, the mandate is to maximize the seller's productivity. It does this by providing two things: speed and access. The user should be able to find the most relevant information in two clicks or ten seconds. Assets are readily available, up-to-date, and organized into meaningful categories such as use case, industry, business cases, etc. The sales enablement management tool allows for a robust, faceted search, and can incorporate machine learning to recommended content. The user can access content on any device and while offline.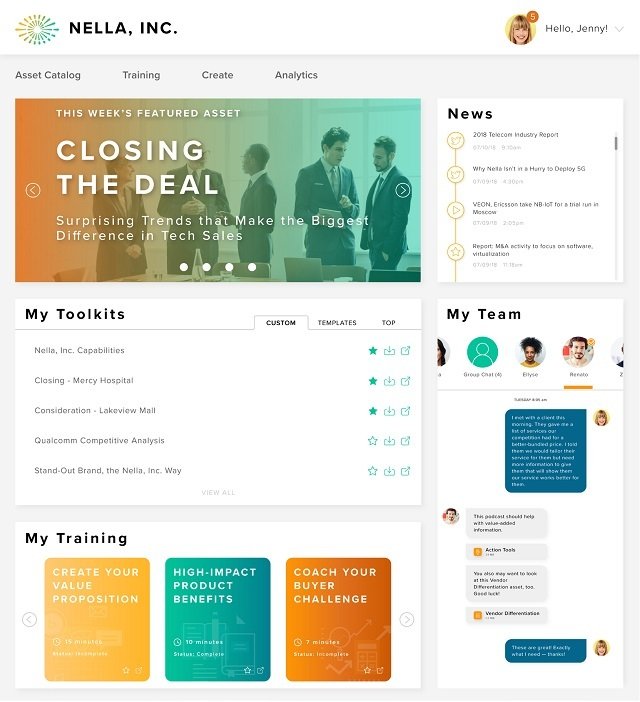 Buyer-Personalized
In the example sales enablement management tool, note that the dashboard is configured for the seller, and the content is personalized for his or her buyer. The tech environment is optimized for the seller's experience with the buyer, in this case, mobile-friendly with a variety of just-in-time training and bundled assets. The user can personalize assets using a library of templates and web pages that can be edited. The user can also organize content for specific use cases by creating toolkits.
Relevance
The platform provides up-to-date, relevant, and effective assets. The community of sellers and client users can rate and input comments from sales and client users and can benefit from asset consumption analytics.
One Place With Many Access Points
Sellers expand a lot of time by needing to be in many places at once—whether those places are physical or virtual. A needs analysis of the technology a sales team is currently using can reveal if they have all the information they need in one place, reducing time wasted by switching between platforms.
For example, are sellers able to access the latest industry news, competitive intelligence, product updates, and market insights from several devices, but all in one place? This likely means that they should be able to integrate with several platforms in which they spend much of their time. You can see from the management tool example that these resources are housed in one place to maximize resource efficiency for sellers.
Collaboration
No next-level needs analysis is required to determine that seller collaboration forums are a good idea. The methods by which they function, however, can yield different results. In this sales enablement management tool example, the collaboration forum can be tailored to what the analysis suggests will produce the greatest innovation and efficiency.
For example, collaboration regarding asset use, training, resource sharing, best practices, tools, performance supports, and so forth can be among sellers, among teams, and/or among departments. In addition, even broadly distributed sales teams can benefit from feeling connected. Because the collaboration forum can exist in real time, it is also a useful hub for real-time coaching and mentoring so sales leaders can increase their visibility with sellers.
Integrations
A tech needs analysis can reveal which integrations will boost sales performance the most. The analysis would emphasize how to make the integrations seamless and maintain all functions of the sales enablement solution and any existing systems.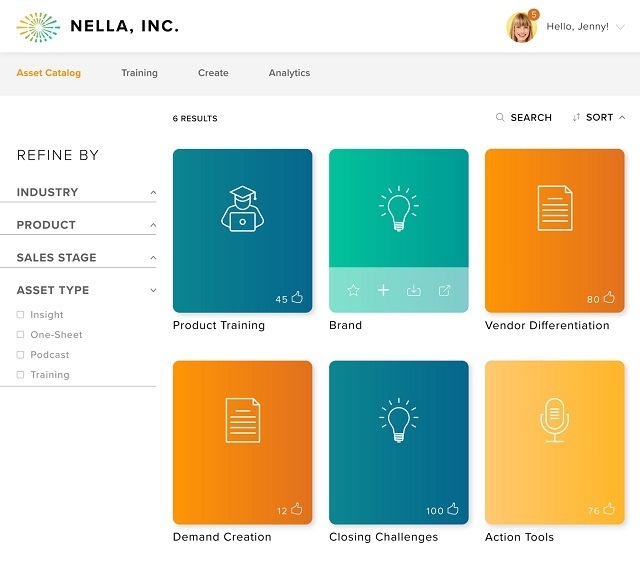 Remember, one mandate defines the design: Keep sales teams as productive as possible. As a best practice, the solution should integrate with these systems:
LMS (Learning Management System)
The analysis would suggest tech that augments the current LMS, not necessarily provide a new LMS. With an integrated LMS, sales managers can track the usage of content and each step of training.
DAM (Digital Asset Management)
Again, technology can integrate with or enhance existing DAM platforms. The integration should support as many systems and devices (desktop and mobile) to allow for any seller situation—bundling assets as she prepares for a meeting at her desk, or grabbing an asset on her phone as she's walking into a meeting.
CRM (Customer Relationship Management) (like Salesforce or Microsoft Dynamics)
The integration should allow for smooth content interactions.
MAPs (Marketing Automation Platform) (like Marketo and Eloqua)
This can manage not only content but also persona building, list segmentation, lead scoring, campaign reporting by capturing content engagement analytics for each lead who is using the content.
Email to record activities automatically
About 80% of sellers spend over two hours a day communicating via email (Salesforce.com)
Other data sources and content repositories
To retrieve external data and content (Google Drive, Dropbox, Sharepoint, etc.) so the repository can land in one place for ease of use.
Analytics
The admin view of the sample sales enablement management platform demonstrates a few uses of content analytics, including rated content, usage rates by modality, buyer engagement rates, and tracking training against sales outcomes.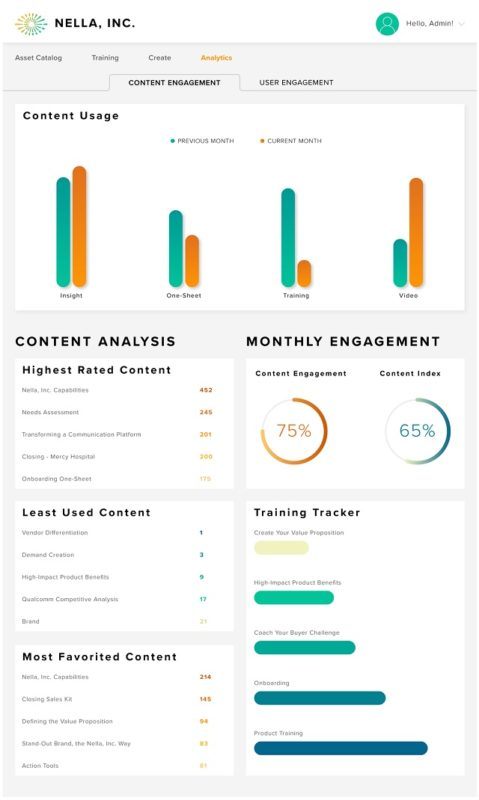 Scalability
Whatever the asset management tool, the technology solution should tailor itself to the scale of the organization. Maybe it's focused, as with one AllenComm client who needed a small-scale portal for a job-aid repository. Or maybe it's broad, as with a recent sales skills training client who needed us to develop tech that would support the whole buyer's journey. Whatever the scale, the needs analyzed technology solution will accelerate the seller and the buyer through the purchase pathway and return the best revenue.
If you want to learn more about successful sales enablement training programs, download the eBook Tailoring Sales Enablement: Accelerate Sales With Accommodating Tech.
AllenComm
The experts at AllenComm solve business problems with beautiful custom learning solutions. We bring creativity into instructional design. We change behaviors and influence choices. We build better training.