Top-Notch New Hire Orientation Ideas For Your Remote Employees
The importance of good orientation and a strong onboarding process can never be overestimated. This is why it is essential to brainstorm new hire orientation ideas. According to a study by Glassdoor, employee retention rates are increased by as much as 82% by great onboarding programs [1].
Another study finds that first experiences are imperative. Most new workers determine within the first three weeks if they feel at home in a new workplace, and it all starts with the orientation or the employees' first interaction with the company. The price of bad onboarding does not only need to be paid by your workers. It also has a tremendous effect on your bottom line. In terms of keeping new talent, businesses that leave on-boarding to chance encounter failure rates equaling 50% [2].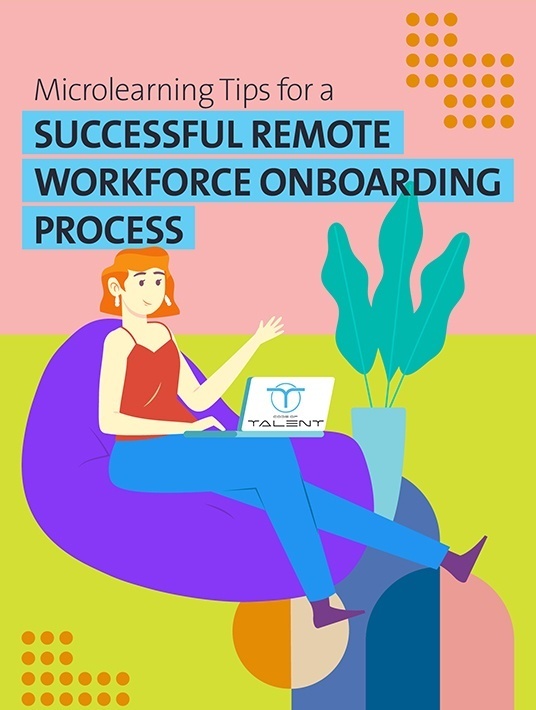 eBook Release
Microlearning Tips For A Successful Remote Workforce Onboarding Process
Get to discover all the best microlearning tips that will help you succeed in your remote workforce onboarding process stress-free.
The above facts and stats point to the same thing—there is a great need for organizations to come up with new hire orientation ideas that make both the orientation and employee onboarding a successful event. This is especially important when onboarding remote workers.
How To Ensure The Success Of Remote Employee Orientation And Onboarding
Even in a rapidly changing world, the value of acquiring and keep high-quality talent remains constant. Post COVID-19, this has meant finding and retaining remote workers for a lot of companies.
In 2019, Upwork predicted that 73% of all teams would have remote staff by 2028 [3]. However, with COVID-19 restricting many people to their homes, the number of remote employees is rising much faster than anticipated. It is no wonder that more and more HR teams today are now actively looking for effective ways to onboard new employees remotely.
These HR teams know that being prepared with a remote learning plan will allow them to meet the immediate talent needs of their companies and deal with any employee-related contingencies that may require their attention.
Remote staff needs support and learning just as on-site employees do, and an important part of their growth is online corporate training. An HR team can significantly improve work productivity by leveraging comprehensive learning solutions while maintaining a flexible schedule for both new remote workers and the company.
Since they are busy getting new hires on board, authorized orientation supervisors often fail to perform their duties with full effect. By offering new hires the ability to learn as they go, online learning tools can greatly enhance new hire orientation and the onboarding process.
It's possible to minimize the orientation time and take the burden off the managers by developing an immersive online learning/training program. Today, an employee remaining with an organization for more than 5 years is rare.
A Bureau of Labor Statistics survey found that the average time spent by an employee spent at a business in 2014 among workers between the ages of 55 and 64 was three times greater (10 years versus 3 years) than amongst workers between ages 25 and 34 [4].
Companies are powerless when it comes to keeping workers from fleeing for perceived 'greener pastures,' but there are methods and means to stop the inevitable. Factors including lack of training, poor leadership, and coordination between workers can all set the stage for early employee exit. Therefore, to be competitive in the long run, businesses must change their attention to workers. This begins with their proper training and onboarding. Carefully designed online training programs that can be tailored to the individual needs and preferences of each new remote employee will increase the satisfaction levels of the new hires and take some frustration out of the onboarding process.
There are various ways in which you can use the online training platforms and programs to help new remote workers stay up-to-date with the advances in their field and then use this to their benefit. The following are some innovative new hire orientation ideas that will increase the chances of successfully onboarding new remote workers and assimilating them into your company culture.
1. Focus On Microlearning
It is often the case that new employees are fed with far more information than they can handle during orientation and the onboarding process. Not only does this overwhelm the new employees, but it makes an impression on them that the company is there to 'burn them out'. Not a very good impression to make!
The good news is that you can avoid overwhelming the new employees by concentrating on integrating microlearning into their orientation and onboarding. This is basically providing the learning material in short, manageable chunks. Due to the short attention span of humans, new remote workers are more likely to retain the information that is fed to them if it is provided in small chunks—such as three to seven minutes learning modules—rather than all at once.
You can also establish learning as an iterative effort by introducing Just-In-Time training, which will provide the new remote workers with new abilities as they face challenges within the working environment. You also improve their information retention by not overburdening them with too much information at once.
2. Keep Emphasis On Soft Skills Development
Your new remote employees may have specific skills, but in all probability, you recruited them because you respected the workers from a holistic viewpoint. You know the benefits of working with clever, competent, hard-working, and well-rounded individuals.
The same characteristics that prompted you to recruit new employees should encourage you to equip them with skills that can't be replaced by technology. Skills like problem solving, leadership, or communication need a personal touch, which is not likely to change in the foreseeable future, if ever.
Offer the new workers the ability to develop their soft skill set and broaden their job opportunities in ways that are yet to be replicated by technology. You're not only making them more appropriate for your work environment; you're also setting them up for any possible future employment or career prospects they may have. The new employees will appreciate this and will value their new abilities, allowing them to become important members of your organization.
3. Foster A Culture Of Curiosity
The third and final new hire orientation idea to help remote workers blend into the company culture is fostering a culture of curiosity amongst them.
Over the next ten years, we are likely to witness major changes in the work environment. For this reason, cultivating a culture of curiosity amongst your remote workers is critical. At some point, your new remote employee may ask about improvements, even outside their own roles, in the devices or systems you're using.
You can stay one step ahead of the game by integrating knowledge of these new platforms into the orientation and onboarding process of your company. You reinforce employee interest in your overall company when you demonstrate that you are receptive to the inquiries of your employee.
Empower your new remote workers to make relevant inquiries. Evaluate the learning platform and material of your company regularly to provide the answers to specific questions of these employees. This can be done easily with a microlearning platform that allows you to personalize learning journeys.
Conclusion
Companies will continue to innovate in the workplace as we enter a new decade of the 21st century. All of this is meant to help new and existing workers do their jobs better while boosting productivity. This offers a huge opportunity for both staff and management to improve the way they look at organizational learning.
By incorporating elements of a technology-driven future into the training processes of your company, you can equip new remote workers with the ability to enhance their skill set and transition into the roles in a way that effortlessly blends them into your company culture and sets them up for success. Onboarding remote workers isn't so difficult after all!
If you are wondering about the benefits microlearning has to offer to your remote workforce onboarding process, download the eBook Microlearning Tips For A Successful Remote Workforce Onboarding Process. Discover the best microlearning tips that will help you succeed in your remote workforce onboarding process stress-free. Join our webinar and learn which microlearning platform features will boost your employee onboarding process!
References:
[1] The True Cost Of A Bad Hire
[2] Onboarding New Hires
[3] Third Annual "Future Workforce Report" Sheds Light on How Younger Generations are Reshaping the Future of Work
[4] Median employee tenure unchanged at 4.6 years in January 2014