How To Avoid 7 LMS Customer Experience Challenges
Learning Management Systems have made online training a global endeavor. They have also made online training more cost effective and time efficient for organizations. However, when purchasing an LMS, most buyers are not aware of the LMS customer experience challenges that they are likely to face. While some Learning Management Systems are easy to use, some lack robust features, which presents a huge challenge to users. Fortunately, awareness of these challenges can help you tackle them head-on and choose an LMS that works with you, instead of against. Here are 7 LMS customer experience challenges and tips to avoid them.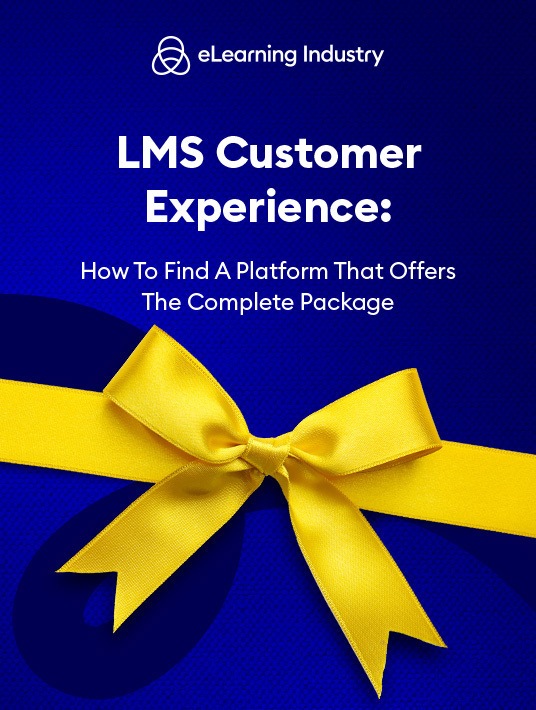 eBook Release
LMS Customer Experience: How To Find A Platform That Offers The Complete Package
Find out why LMS Customer Experience really matters, the benefits of delivering a Superior CX for your organization, and how to set your LMS expectations before purchasing a new platform.
1. Lack Of Personalized Support
Imagine purchasing a new LMS and later finding out that your LMS vendor's support is fully automated. Worse yet, they rely solely on online resources that lack the human element, which forces your team to rely on FAQs and user communities to learn how to operate the LMS or fix technical issues and eliminate bugs. You can avoid this kind of headache by digging deeper into the LMS vendor's support options. Find out if they have a human customer service that can walk you through technical issues. Do they help new users master the feature so that they get the most from the tool? Also, find out which bugs they fix and if they can send someone to your organization to repair more advanced issues.
2. Poor Communication
An LMS vendor should inform customers whenever new updates hit the market. The customer should then decide if the update adds value to the online training they offer and if it's worth the investment. Some LMS vendors fail to give this crucial information to customers, leading to obsolete and ineffective LMS platforms. How can you avoid buying from LMS vendors who demonstrate poor communication? Look at reviews that enable you to measure customer satisfaction. See how often they share information about new updates on their official pages. Where possible, obtain contact info of past customers and inquire if the vendor gives timely updates.
3. Unknowledgeable LMS Staff
Buying from inexperienced or unknowledgeable LMS vendors can be quite a stressful experience. You need an LMS partner who can help you overcome challenges and troubleshoot issues rapidly so that your team can get back to expanding their knowledge base and building vital skills instead of trying to figure out programming glitches or sign-in errors. Look at how many years the LMS vendor has been in business and the quality of the services they provide. A few years in business means that they have stood tall despite the challenges. It also indicates that they offer great services that keep customers happy and earn them new ones.
4. Uncooperative Support Teams
Their team has the experience and LMS know-how. They simply aren't willing to work with you in order to improve the functionality of the tool. You must ensure that your LMS vendor is cooperative and focuses on customer care. You can put this to the test by contacting their support team to see how they field your questions. For example, do they take the time to address all your concerns or try to rush through the conversation? Do they use terms you understand in their emails, or pack in as much technical jargon as possible?
5. Inadequate Information
Experienced LMS vendors have ample sales information for buyers in all stages of the cycle. For example, they provide online LMS demos to show new customers how the LMS works. This information moves buyers through the process and allows them to make informed buying decisions. It also equips them with information that they can pass down to their administrative team. Ask the LMS vendor questions about various features or functions they offer and how these selling points can help your organization.
6. Lack Of Transparency
The LMS vendor must be fully transparent on what their level of support involves and how it's priced. For example, do they charge extra for phone support? Is there a limit to how many times per month you can contact them via chat or email before they start charging extra fees? The best way to avoid this LMS customer experience challenge is to speak with the LMS vendor beforehand to address your concerns. You can also turn to online reviews to see if past users have encountered transparency issues with the LMS vendor. For instance, multiple reviewers mention that they received an unexpected bill for support services.
7. Ambiguous Support Packages Or Terms
From the get-go, the LMS vendor should specify exactly what the support package includes and the terms of those services. There should be no ambiguity regarding the level of support you can expect and how assistance is provided. For example, every time you call their IT team, a knowledgeable rep will walk you through the troubleshooting process. If that doesn't remedy the situation, they will schedule an appointment with an on-site specialist. At the very least, someone will contact you personally to follow up or set up a video conferencing chat.
Using these 7 tips, you can find an LMS that provides the best customer experience and avoid the most common LMS customer experience challenges. Keep in mind that the LMS vendor should be able to partner up with you to help you achieve your training objectives. They should help you allocate your resources more effectively and give your team the ongoing support it needs. All this requires a superior customer experience that allows you to improve LMS ROI and avoid having to vet replacement vendors in the future, which is a time consuming and resource draining process.
Are you looking for an LMS that delivers a top-notch CX without going over budget? Download our free eBook LMS Customer Experience: How To Find A Platform That Offers The Complete Package for tips on how to vet the LMS vendors and use ratings/reviews to find the perfect platform. We also highlight the most notable benefits that a customer-friendly LMS can bring to your online training program.