How To Create A Stress-Free Online Training Experience For Your Employees
There are only so many hours in a day, and only so much one person can handle before stress strikes. Your employees need to build their skills and knowledge base. However, their mental and emotional state may stand in the way. Thankfully, there are 9 tips that can help you create perfect online training conditions for your stressed staff members. This gives them the opportunity to absorb and assimilate the information, even when they're under pressure.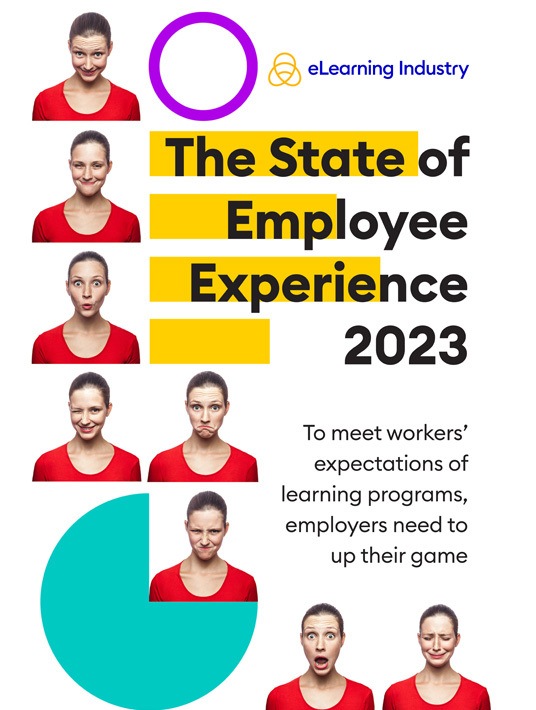 eBook Release
The State Of Employee Experience 2023
Explore upcoming corporate culture trends and how employee experience can be improved via improving onboarding, training, and employee engagement.
1. Clarify Online Training Expectations
The last thing stressed employees need is unexpected surprises. You should clarify online training expectations and tell them exactly what they need to do to complete the online training course. In fact, you might consider a detailed online training course overview or progress bar. This allows employees to track every stage of the process and see what's up next. That way they can plan accordingly and make room in their schedule. It's also a good idea to highlight the benefits of your online training course to increase their drive and motivation. They may be stressed, but they still want to continually improve their practical skills and knowledge.
2. Include Social Learning Activities
Sometimes your stressed employees just need to chat with their colleagues and collectively problem solve. Social learning activities give them the power to interact with their peers and work together on group projects. Incorporate online group collaboration activities, social media groups, and online forums into your online training strategy. Give employees the chance to create their own online materials, upload them to the blog, and receive peer-based feedback. It's all about getting them involved in the online discussion.
3. Develop An Online Training Checklist
Stressed employees always benefit from organization and planning. It helps them stay on track, especially when their thoughts begin to wander. As such, you should integrate an online training checklist that allows them to monitor their progress. They have the ability to see which modules they've already completed and what lies ahead. This fuels their motivation and personalizes the online training experience.
4. Create A Stress-Free Online Training Atmosphere
Your online training course should be a place of inspiration and motivation. This is particularly important for stressed employees who already have a lot on their minds. A stress-free online training atmosphere has a calming color scheme, background music, and relatable characters. The narrative voice is conversational and personable, so that employees feel right at home. You can also use images to convey the right tone. For example, inspirational photos of successful employees in the workplace.
5. Cut The Clutter
Stressed employees need to maintain order among the chaos. Thus, they are looking for a clutter-free online training environment that gives them the information they require. This means that you have to cut the clutter and create a cohesive online training course. Omit unnecessary images and graphics, and use bullet lists to highlight the key takeaways. Opt for fonts that are easy to read and sub-headers to break up text blocks. Lastly, the navigation of your online training course shouldn't cause even more stress and anxiety for employees. Keep it simple and straightforward by using familiar icons that stand out. The same rule applies for hyperlinks and social media buttons.
6. Offer Self-Paced Online Training Paths
Employees are more likely to focus and fully engage when they're in control of the online training experience. But how do you create an online training course personalized for everyone? The solution is self-paced online training paths that put employees in the driver's seat. They have the option to choose their own online training activities, modules, and supplemental online resources. This is based on their personal performance gaps and online training goals. Conduct surveys and pre-assessments to learn as much as you can about your staff. Then custom tailor the online training content to meet their needs.
7. Provide "Just-In-Time" Online Training Resources
One of the most common stress triggers on-the-job is being ill-prepared. Employees who don't have the necessary skills or knowledge struggle to complete work duties. Thus, they experience a mixture of discouragement and disappointment. This leads to workplace stress. Fortunately, you can help prepare them for every eventuality through your online training program. Create a microlearning online repository that features just-in-time online training to refresh their memory during their "moment of need". For example, a 3-minute task demo that offers visuals for each step of the process.
8. Put Yourself In Their Stressed Shoes
One of the most effective ways to create stress-free online training courses is to step inside your employees' shoes. Analyze every aspect of your online training course design and consider the emotions and mental processes involved. For example, does the timed online training simulation create too much pressure? Is the color scheme calming or chaotic? See your online training course from the perspective of your corporate learners, and then make the necessary modifications. It's also wise to do a test run with a select group of employees. Conduct surveys and focus groups to gauge their emotional state before and after the online training course.
9. Host A Monthly "Catch-Up" Webinar
Schedule a monthly webinar that allows stressed employees to address concerns and catch up on the latest company news. Send a list of discussion topics beforehand and invite them to submit questions. Be sure to record the live event so that everyone can benefit from the online training experience. Even those who are too busy to attend. Additionally, in social learning activities to make it even more interactive. For example, create a hashtag for the webinar and ask employees to tweet comments during the online training event.
Stress can wreak havoc on your employees. Use these 9 tips to create a supportive and motivational online training environment that puts them at ease. Your employees get more from the online training experience and you get the desired results.
Does your online training program have all the essentials? Read the article 10 Online Training Activities To Include In EVERY Corporate eLearning Course to discover the top activities that every online training course should have.