How To Estimate Your Mobile Training Program Expenses
Budgets are notoriously difficult to stick to. Maybe you overlook a significant expense or encounter a roadblock along the way that forces you to "borrow" from other business operations. In the case of mobile learning solutions, calculating costs can be even more daunting because some elements are out of your control. Such as rising monthly LMS subscription fees and longer-than-expected LMS software learning curves. However, there are some tricks you can implement to develop a realistic mobile learning budget that's still flexible. Let's look at 8 top tips to help you create a spot-on estimate for your responsive LMS implementation.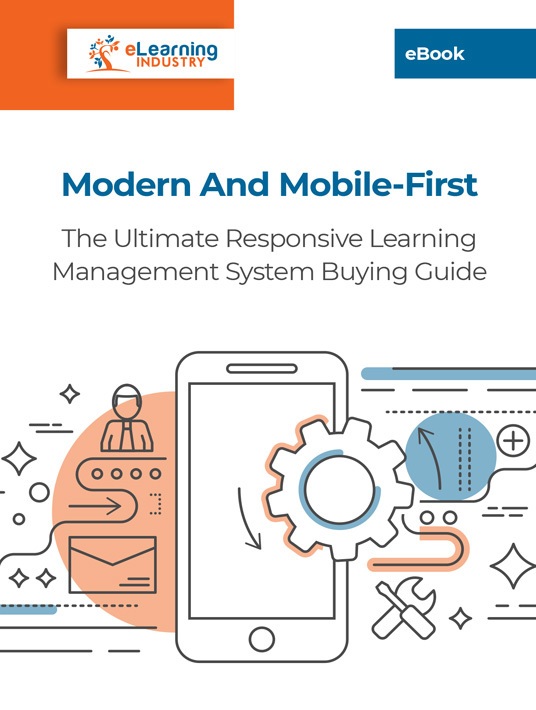 eBook Release
Modern And Mobile-First: The Ultimate Responsive Learning Management System Buying Guide
Discover how investing in mobile training solutions will help you stay ahead of the competition.
1. Analyze Your Current Online Training Asset Library
Most organizations have established an online training resource library, even if it's relatively small at the moment. The same is true for your eLearning authoring toolbox. You can reuse these assets to reduce mobile learning costs. But you need to account for them in your mobile learning budget to avoid redundancies, as well as prevent compatibility issues. For example, your new responsive LMS may not mesh with your existing eLearning authoring tool. This forces you further outside your financial comfort zone thanks to unexpected delays and replacement tool costs.
2. Factor eLearning Outsourcing Into Your Budget
If you're outsourcing any aspect of your mobile learning strategy, include an itemized breakdown of LMS vendor expenses. How much do they charge for this activity and how long will it take? Is it more cost-effective to handle this task in-house because you already have the necessary eLearning tools and expertise? Meet with the eLearning content provider to clarify the pricing and what's included in the package, then adjust your mobile learning budget accordingly.
3. Evaluate LMS Vendor Pricing Plans
Online directories usually feature a brief pricing overview that includes the model, starting costs, etc. However, you should visit LMS vendor sites to evaluate their full pricing plans and selling points. As well as to sign up for free trials so that you can determine if it's really worth the investment. What does the membership or licensing fee entail? What is the frequency of payments? Do they offer add-ons or upgrades that might maximize the functionality of the product, even if it expands your mobile learning budget?
4. Set An Accurate Implementation Schedule
Time is money and the only way to accurately gauge responsive LMS costs is to create a solid implementation schedule. Include any and all tasks that impact payroll and deployment times. For example, you need to allocate this amount to administrative tasks or content creation. Then another set of expenses for revisions so that you're able to roll out the mobile training program on time. Again, it's important to be somewhat flexible when setting due dates and milestones.
5. Calculate Mobile Training Content Creation Costs
Mobile training content creation is a broad umbrella that covers everything from rapid eLearning authoring tools to hiring your dream team. All these take a bite out of your mobile training solutions budget. Do you already own the essential LMS software? Is it going to support your interactive and immersive mobile learning content? Do you need to hire additional L&D employees with niche expertise? How long is the process and do they require additional resources to get the job done?
6. Use Free Trials To Fine-Tune Your Expense Sheet
A reason to sign up for free trials and demos is that they give you a mobile learning budget reality check. Did you include all pertinent costs? Are there apps or integrations you overlooked? Is there a higher membership plan that may be more cost-effective? Does the mobile training tool deliver everything it promised or will it negatively impact your ROI? Ask for team input to gauge which platform is best for your bottom line.
7. Factor In LMS Vendor Support
Basic vendor support services are usually included in the deal, like FAQs and product demos that showcase the main selling points. However, some LMS providers charge extra for advanced support. Such as 24/7 phone assistance or live chats. Now, you might automatically write-off these added expenses. Your team is experienced and knows their way around a responsive LMS. But you never know when disaster might strike and it's always best to have a backup plan. The exception being products with active user communities and extensive online training resource libraries. For instance, virtually every troubleshooting topic is covered in the message thread. Or they have numerous videos and tutorials to help you navigate the implementation process.
8. Don't Forget About Ongoing Maintenance And Upgrades
Last, but not least, there's the matter of mobile training content maintenance and LMS software upgrades. Set aside resources for upkeep so that you can offer your mobile users a cutting-edge training experience. That includes fresh support training tools that target modern challenges as well as eLearning authoring tools and LMS integrations—and newer versions. Some LMS vendors include regular updates in the price which can reduce ownership fees. Discuss long-term costs with the service provider before you choose the right responsive LMS. For example, how often do they update the platform? When do they release new versions or expand the features list? Ratings and reviews also give you a good indication of how well the LMS vendor keeps up with tech trends.
Re-evaluate your responsive Learning Management System implementation budget periodically to include unexpected fees and audit current expenses. For example, your eLearning outsourcing costs may be lower than planned, which leaves more room for other mobile training activities. It's also a good idea to conduct a Training Needs Analysis to look for underperforming assets and online training resources that need some work to achieve the desired outcomes or should be removed from the online training library altogether to make way for fresh content.
If you want to provide quick, convenient, and meaningful learning experiences to your workforce, download the eBook Modern And Mobile-First: The Ultimate Responsive Learning Management System Buying Guide. You will find insider secrets that will enable you to choose the ideal mobile training platform in order to provide top-notch mobile training and JIT support even when your employees are away from the office.