How To Use A Change Management Plan To Establish New Leaders In Your Organization
Employees hold their managers in high regard. At least, that's the goal. They rely on them for ongoing support and honoring the company values. But what happens if that trusted team leader leaves your organization and another takes their place? Uncomfortable introductions, new work practices, and personality clashes may ensue. Unless you launch an effective change management plan to prep the employees for fresh leaders within the organization. They might not like the idea of a "stranger" stepping into the role. However, breaking down the barriers and removing negative preconceptions can change all that.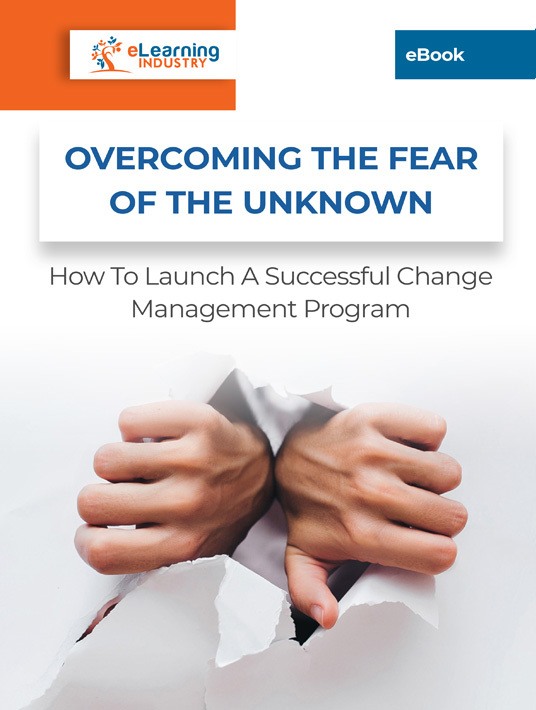 eBook Release
Overcoming The Fear Of The Unknown
Launch a change management program that is destined to be a roaring success.
1. Recognize The Emotional Impact Of Change
Even celebratory events in life tend to cause some degree of apprehension. Getting married, the birth of a child and job promotions should be exciting. But they also bring a tinge of fear because we're naturally resistant to change. As such, you must consider the emotional impact that change has on your employees, how they will respond to new practices or team leaders. It's not simply a matter of creating an online training strategy and asking them to blindly follow along. Recognize their feelings during the process and understand that change takes time.
2. Identify Key Stressors
One of the reasons why leadership change is so nerve-wracking is because employees understand it's stressful. They know that they'll have to familiarize themselves with the new manager's work habits and quirks, as well as their personality. So, identify the key stressors and incorporate them into your change management plan. For instance, staffers will probably stress about the new manager because they have a different leadership style. You can mitigate this stress by keeping things fully transparent and hosting a meet-and-greet. This gives them a chance to get to know the new leader and their motives.
3. Evaluate Online Training Expectations
Employees have a certain perception in their minds about change management online training. They assume that your organization will provide all the info they need to acclimate and prepare for the new leadership, as well as continual support after the fact. Conduct surveys and interviews to identify their personal preferences and expectations so that you don't disappoint them.
4. Pre-Assess To Identify Existing Gaps
Their opinions are important, but you must also identify the hurdles your organization must overcome to implement meaningful change. Namely, gaps that stand between the employees and the desired outcomes. New team leaders can help them remedy areas for improvement so that everyone plays their part. Another reason to pre-assess is to identify limiting beliefs or falsehoods that may cause clashes down the line. For example, the "old" leader taught employees how to perform the task their way. It was efficient but bent the rules. The new team leader must be aware of the issue to enforce the policies and improve performance habits.
5. Welcome Employee Contributions
Invite employees to develop their own online training resources for change management online training to cut costs and utilize their insider expertise. This also gets them actively involved in the process. You're not simply handing them mandatory online training tools to complete before the new team leader steps in. You're giving them an opportunity to create support online training resources for peers and better understand the change through personal reflection. They must evaluate past performance habits and behaviors and learn new concepts in order to develop fresh content. This also gives the new leader a glimpse into the work practices and organizational protocols when they enter the picture.
6. Host A Kick-Off Team Event
There's no time like the present to break the ice and build a stronger team infrastructure. Host a kick-off meeting to introduce the new leadership and clear the air. That way, no one has to deal with uncomfortable silences after the transition. Employees know that there's no power vacuum to contend with and that the new "higher-ups" are willing to reach out. They're not some mythical force behind a curtain who only appears when it's time for a reprimand. Live events make managers more approachable so that employees aren't afraid of what's to come because they know what to expect and how the leader fits into the new organizational structure.
7. Frame It With A Collaborative Online Training Culture
Ultimately, employees worry about having to go through it alone. That the organization will simply drop them into the middle of a management change and see what happens. This fear can be avoided with a collaborative online training culture. A community that makes staffers feel like they're part of the group and their talents are valued, regardless of who takes the reigns. Launch a social media group where they can share ideas and concerns. Host frequent online events so that everyone can catch up and interact with remote peers. Ensure that employees know which online training resources are available to them and that there are advancement opportunities. You can also start a peer coaching program for those who need personalized support. Team leaders might even step into the role of the mentor, if they feel comfortable, without blurring the line between friend/manager.
Of course, new team leaders must be open to the change management plan, as well. They may enter the organization with ideas or habits that don't mesh with the departmental or company values. There may even be personality conflicts they need to attend to before things escalate. For this reason, it's important to provide managers with support online training tools of their own to mitigate the risks and potential stressors. They're human too, after all. Fear is still a force to be reckoned with before they get the job done.
Every organization must endure change from time to time, and this can be frightening. Download the eBook Overcoming The Fear Of The Unknown: How To Launch A Successful Change Management Program to discover how to launch a change management program that is destined to be a roaring success.