How To Include Certification In Your Online Training Strategy
Nobody really likes the term "compliance." It takes us back to grade school, being reprimanded or sent to the "naughty corner." This is because compliance often comes from a regulatory standpoint with the potential for fines. That's not how they're intended though. They're designed to assure the safety and protection of all parties involved. So, when you choose to design an online training course of your own, you're exhibiting concern for your customers and your staff. How can you pass this positive message to your team while erasing their misconceptions? One of the most viable solutions is launching an in-house certification program to track performance and boost employee motivation.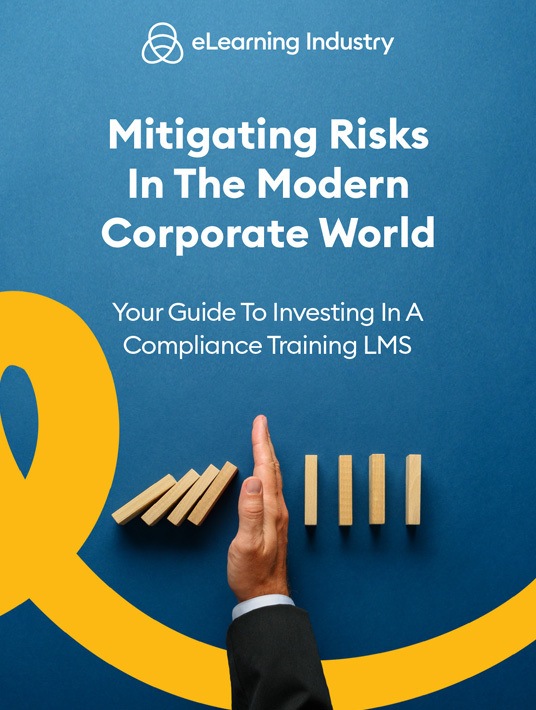 eBook Release
Mitigating Risks In The Modern Corporate World: Your Guide To Investing In A Compliance Training LMS
Revamp your compliance training strategy by implementing a compliance training LMS.
5 Top Tips To Develop Corporate Compliance Training Certification Courses With A Compliance Training LMS
1. Invest In Tools With Built-In Certificate Management
It's one thing to decide you're going to DIY your compliance certification course. It can save time and money, as long as you have the right talent in-house. But you need a compliance training LMS that has all the features you require for online course development. Some tools you can purchase include analytics and grouping. The latter is crucial when you need distinct corporate compliance training courses for various departments.
Each department can have its own sign-up cluster, though the compliance training LMS should also allow individual sign-ins. It needs the ability to set deadlines and disseminate notifications, reminding learners to finish their online course on time. And, of course, it needs quick and simple design tools for the certificates themselves. You don't want to spend a week making them. Last, but not least, search for a compliance training LMS with built-in certificate management tools so that you can keep track of employee completion rates and automate renewal notifications.
2. Make The Certificate Part Of Your Metrics
Because this is an in-house corporate compliance training course, your certificates won't necessarily need external validation. They'll probably be certificates of completion instead, branded with your logo and signed by your CEO. You can automate the system to issue certificates as soon as corporate learners finish their course. Assign a designated office printer loaded with parchment paper.
Corporate learners can download their certificates and print them out if they like or simply display them on their social media page or LMS dashboard. Because the certification process is automated, you can use it to gauge how many corporate learners complete the course. Note how long they take. Corporate learners who are dragging may need extra coaching, so you can check on them and offer the necessary assistance. You can use this metric along with your other LMS reports ensuring that everyone's up to your in-house standards.
3. Break It Down Into Targeted Topics Or Separate Courses
Mandatory compliance training courses often cram everything into a single curriculum. This makes online training materials dense and difficult to learn. Just think of all those clauses and subclauses! Of course, if it's an external requirement, you're restricted to whatever format that external authority selects. But since you're developing and deploying it using your own compliance training LMS, you can split it into bits. Each subtopic or semiclause can have its own certificate. This gives you more scope to parse the content, ensuring corporate learners gain a deeper understanding of the online training material. Besides, you can never have too many certificates. And since you're designing and printing them yourself, there's no extra cost or additional labor involved.
4. Design A Storyboard And Workflow
A mistake a lot of us make is logging in without a plan. While digital tools are time-saving devices, they can also be time-wasters when you don't have a distinct direction. Before you ever log in, draft an online course design path. You could make sketches in a physical notebook, scribble ideas on loose notecards, or lay it out on PowerPoint. Your storyboard will designate topics, identify chapters, and define the layout of your corporate compliance training course. Use your storyboard to source online training content and confirm reference requirements. It can also be a useful guide for online training course development timelines and labor division—coding, design, and curriculum.
5. Align Certificates With Corporate Compliance Training Pain Points
The ultimate goal of a corporate compliance training certification program is to avoid penalties and keep everyone safe. To do this, you must target the gaps to mitigate risks. Namely, compliance issues that have caused you trouble in the past or may be problematic in the event of an audit. For example, on-the-job injuries have been steadily rising over the past year. As such, you might consider a certification course that's based on practical safety protocols and wearing the proper gear. Every certificate should align with a high-risk compliance topic to maximize ROI and minimize incidents.
Part of the task involved in the compliance course design is getting your corporate learners interested in the first place. Many see it as a boring necessity. But by building it yourself using in-house tools, you can sufficiently spice it up. Make it more fun for your corporate learners. What are some of the ways to do that? Start by ensuring you have the right LMS for your online training course designing needs.
Automate the issuance of certificates and monitor your corporate learners' completion pace. That type of tracking can be automated too. Since you have carte blanche, you don't have to squeeze everything into one corporate compliance training course. You can split it into separate certifications for every compliance aspect. Use a storyboard to ease your development process and ensure you don't overlook anything, both in terms of online training content and design-related tasks.
Are you ready to invest in a new corporate compliance training system that holds employees accountable and increases active participation? Download our eBook Mitigating Risks In The Modern Corporate World: Your Guide To Investing In A Compliance Training LMS to find out how to mitigate your risks with a corporate compliance training LMS. It has tips on how to create an accurate budget and avoid the most common implementation mistakes. As well as how to enforce compliance through gamification.