6 Tips To Choose The Best Microlearning Platform For Compliance Training
Penalties, on-the-job accidents, and high employee turnover are just a few of the noncompliance issues your organization might face. How do you keep employees in the know without boring them to tears or overloading their already stressed minds with long manuals and marathon presentations? The secret is to break it into bite-sized bits and let them go at their own pace. But first, you need to choose an LMS that supports short bursts and social learning support. These tips can help you find the right microlearning platforms for compliance online training and mitigate those risks.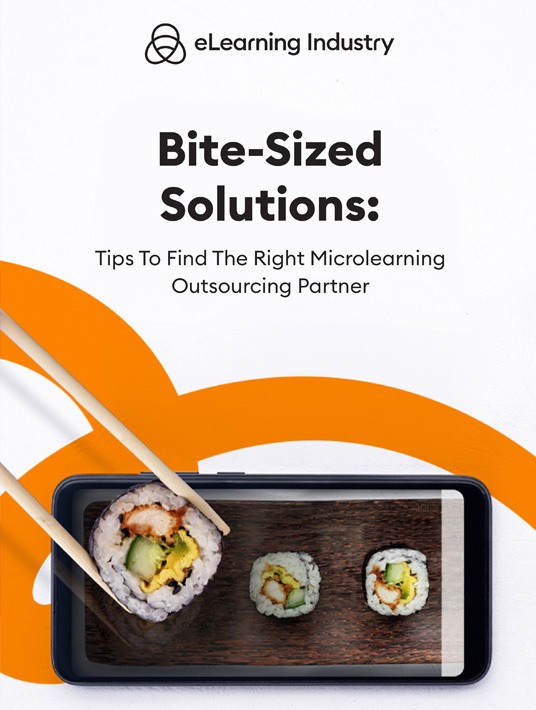 eBook Release
Bite-Sized Solutions: Tips To Find The Right Microlearning Outsourcing Partner
This guide will help you find the best microlearning outsourcing partner for your L&D program, even if you're racing the clock!
1. Use An Online Directory To Start Your Search
One of the most time-consuming aspects of finding the perfect compliance online training platform is research. You usually have to search the web (after nailing down the right keywords) and ask everyone for recommendations. However, a credible online directory cuts out the middleman and provides you with a list of targeted solutions. Namely, LMS companies that specialize in microlearning and compliance training. Sure, you should still ask around to get team input, but a directory gives you a great starting point. It even features ratings to help you choose a tool that's up to par and suits your organization's needs.
2. Find A Tool With Certification Paths To Improve Accountability
One of the common myths about microlearning is that it's a standalone activity—that it's just for their JIT support and it doesn't really fit into the grand scheme of your L&D strategy. However, microlearning can be a crucial component in compliance training because it fills in the gaps. And a platform with certification paths allows you to hold employees accountable and make microlearning recommendations that tie into the topic. For example, employees should consider these ten bite-sized resources to supplement their knowledge and achieve the desired outcomes. It may be skill simulations or task tutorials that improve their understanding of the safety protocols.
3. Consider Platforms That Support Learner Uploads To Cut Costs
Microlearning platforms should give employees the opportunity to contribute their own content. After all, bite-sized resources are more convenient and cost-effective to create for your in-house experts, as opposed to full-length courses or presentations that take a month to develop. Your team can design microlearning support tools based on their personal interests or areas of expertise. Then add them to the LMS (pending admin approval, of course). This facilitates knowledge sharing within your company and helps to cut compliance online training costs. It's a win-win. You can even give them a list of topics to cover to avoid redundant resources.
4. Robust Reporting Is Essential
Microlearning isn't an all-in-one solution. Employees use these brief bursts of knowledge or real-world experience to bridge gaps on their own. But you still need to monitor their performance and identify areas for improvement. That's where robust reporting enters the picture. You must be able to detect sticking points along the way and determine if resources are up to par. For example, a microlearning asset with low user engagement and participation scores may indicate a deeper issue. It's no longer relevant, too long, or simply doesn't cater to employees' needs/interests. Thus, you may want to "trim the fat" and replace outdated materials with new and improved versions, such as tutorials and serious games that align with current objectives and goals.
5. Read Reviews To Get An Insider's POV
Microlearning platforms that have proven their worth will have high user satisfaction scores. But it goes further than that. A truly standout tool has positive reviews that highlight all its selling points, from an amazing CX to its user-friendly interface. Users take the time to leave these reviews because the system outshines the competition. They don't just leave a star rating and call it a day. LMS owners know that other potential buyers are looking for an intuitive microlearning training platform with all the essentials. So, factor these reviews into your selection process to avoid buyer's regret. These opinions give you an unbiased insider's perspective, which is rare these days. They aren't paid testimonials sponsored by the vendors, but reliable reviews that help you determine if the tool is best for your bottom line.
6. Offline Access Should Be A Top Priority
Most of your employees probably access the compliance online training system on their mobile devices. They're busy meeting with clients or helping customers on the sales floor. So, they usually don't have time to sneak back to the training room and access the PC platform. However, there are times when Wi-Fi isn't feasible, but they still need microlearning compliance support. This is why offline access is so crucial when choosing a new system. Look for microlearning platforms with native apps and download content. They should be able to get those tutorials, demos, and infographics on the spot, even when their internet suddenly goes out or they venture out of the Wi-Fi range. This is particularly important for remote workers who travel frequently.
Conclusion
Microlearning platforms require unique features to break down accessibility obstacles and stretch available resources. Especially if you want to save money and spark employee engagement; not to mention reduce compliance risks that put lives in danger and compromise the health of your bottom line. So, start with a directory and read the reviews to get a new perspective. Then identify which solutions have advanced reporting, cert paths, learner upload support, and offline access for maximum (micro) results.
You've found the perfect platform, but now you need content to populate it. Use our eLearning content provider directory to find a company that specializes in bite-sized training. It also features reviews, ratings, and company info to choose an outsourcing partner for your next project.
Download our eBook Bite-Sized Solutions: Tips To Find The Right Microlearning Outsourcing Partner to find the ideal microlearning content provider for your organization.