5 Tips To Repurpose Existing Resources For Microlearning
Microlearning may be shrouded by an air of mystery for some organizations. Those who assume that it's only for large companies with global teams who need JIT support. Or that it only leads to more employee confusion, thanks to fragmented training experiences. However, L&D in small doses is suitable for EVERY organization and it can actually improve trainee engagement and knowledge retention. Our guide can help you stretch resources without scrimping on bite-size support. Read this article to learn how repurposing can cut costs and shorten your development timeline.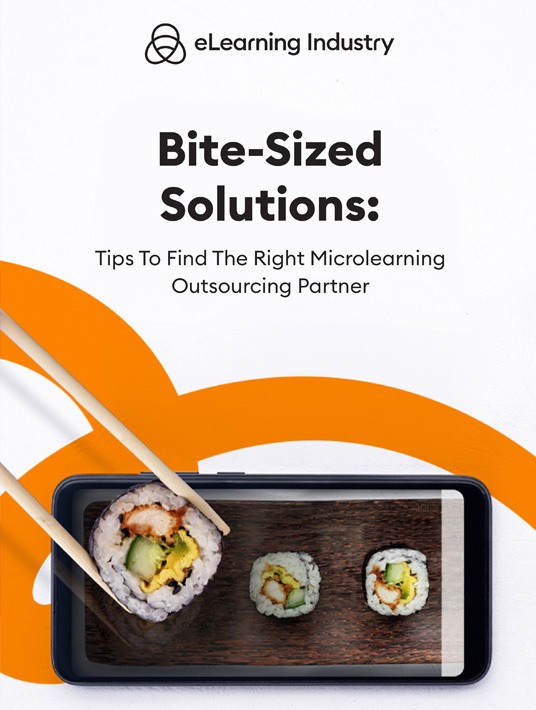 eBook Release
Bite-Sized Solutions: Tips To Find The Right Microlearning Outsourcing Partner
This guide will help you find the best microlearning outsourcing partner for your L&D program, even if you're racing the clock!
Tips For Repurposing Assets To Cut Microlearning Costs
1. Rapid Authoring Tools Are Your Best Bet
The key to repurposing eLearning without losing your mind or breaking the bank is to invest in a rapid authoring tool. They allow you to revamp existing materials by adding effects, voiceovers, images, and a wide range of other assets. Particularly software with impressive multimedia libraries. They have cut-out characters, templates, and video clips to enrich your microlearning resources. Some even have video and audio editors that allow you to transform recorded live events and full-length tutorials into bite-size support tools.
2. Develop Full-Length Resources From A Micro POV
Preparation can save you a significant amount of time when it's time to repurpose existing resources for microlearning training. For example, create timestamps in your webinar scripts so that it's easier to break them into smaller sessions. Create simulations and serious games with distinct levels that cover specific sub-topics or skills. If you already have a library packed with full-length training content, it's time for needs analysis. Prioritize gaps and goals, then evaluate the repository from a microlearning perspective.
3. Create Storyboards To Strategize
Create a storyboard for every microlearning resource to map out the individual elements. For example, you need a quick recap of the topic to kick things off. So, take a closer look at your training courses, webinars, and other content to find suitable candidates. Storyboards give you better oversight because you can outline all the 'moving parts' instead of being overwhelmed by the distillation process. Sure, you have to break the topic down to its most basic components for the sake of time. However, a visual map makes the process more manageable, as you can see how every part makes the whole.
4. Go Beyond Your Online Training Library
The training library isn't the only asset pool you can draw from. Vendor support tools, employee contributions, and video sharing sites are also worth considering. For instance, your product vendor has a wealth of demos, tutorials, and simulations you can use in your microlearning training strategy. You can also hire a microlearning content provider to develop resources on your behalf. They have unique expertise to make information easy to digest for your team. Meet with providers to determine the best match for your industry, specialization area, use case, and budget. You can also use directories, online reviews, and social media recommendations to find the right partner for your project.
5. Consider Every Screen Size
Many organizations repurpose eLearning without thinking about employee preferences or requirements. They may be on the go or need to access microlearning training support in their downtime. In which case, they're using mobile devices to get JIT support and bridge those gaps immediately. You must develop bite-size tools that are accessible on all devices, not just the PC training terminal. As an example, make buttons larger so they're easy to tap. Optimize videos and images so that they download quickly.
Implement A Successful Employee Training Program On A Tight Budget
Microlearning is often perceived as being too costly or that you need a vast pre-existing library to make it work. However, any organization can deploy bite-size training support, regardless of their budget, industry, or size of their workforce. Granted, it does take careful planning, training analysis, and employee input. Our guide explores everything you need to know to launch a successful microlearning strategy with limited resources.
Conclusion
Microlearning failures are usually caused by two common mistakes. Either organizations assume that you can simply break up existing assets and call it a day. Or they don't even attempt to launch a microlearning strategy because of common misconceptions. Both do a great disservice to your team and your company's profit margin. Download our eBook Bite-Sized Solutions: Tips To Find The Right Microlearning Outsourcing Partner to find the ideal microlearning content provider for your organization.
Now you know where to find more information on launching microlearning training for your business. But how do you determine which microlearning content provider is ideal for industry and training requirements? We've got you covered there too. Use our online directory to choose a provider that understands your niche and falls into your price bracket.