How To Use LMS Reports To Improve Onboarding Online Training
An effective onboarding online training course gets your new hires off to a successful start, but only if you offer them personalized online training content that caters to their goals and addresses their skill gaps. How do you disclose areas for improvement so that you can continually customize your online training strategy for every new member of your team? The key is relying on the same tool you use to develop and deploy your onboarding online training course to monitor performance, progress, and profitability. Here are 6 tips on how to use LMS reports to improve your new hire online training.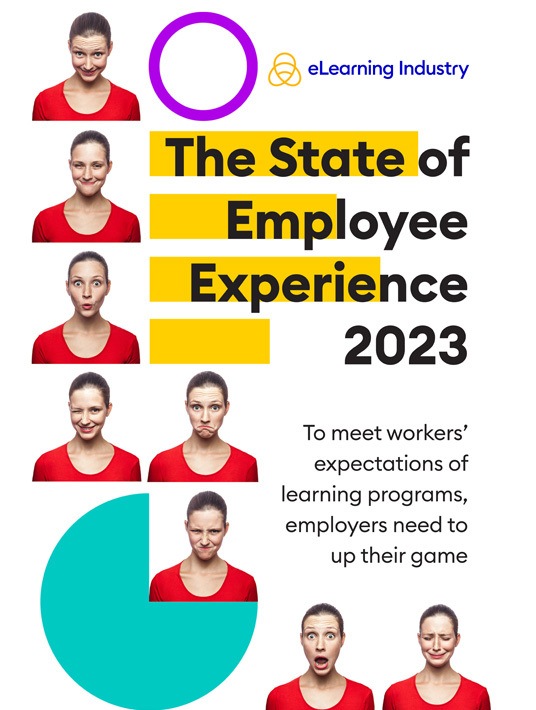 eBook Release
The State Of Employee Experience 2023
Explore upcoming corporate culture trends and how employee experience can be improved via improving onboarding, training, and employee engagement.
Insider Tips To Maximize LMS Metrics For New Hire Training
1. Use Engagement Reports To Identify Standout Online Training Activities
There will always be some online training content that is more engaging for some employees than others. An LMS will allow you to determine which online training activities are completed with more enthusiasm and at a much quicker rate. Then you can adjust your approach accordingly to personalized onboarding materials. For example, your safety simulation is surging in popularity among your new warehouse staff. Thus, it may be wise to give your employees more of the same since it caters to their learning preferences.
2. Analyze Training Time Logs To Offer The Right Amount Of Challenge
Time logs allow you to determine how long it takes corporate learners to complete their online training. Why is it important to pay attention to this? If your new hires take longer to finish certain online training activities, there are two common culprits. The first is that the online training content isn't engaging. Employees are unable to connect, which diminishes their motivation. The second is that the learning curve is too steep. Keeping both of these in mind, you can restructure your onboarding online training strategy to expedite the learning process without compromising your learning objectives.
3. Evaluate Learner Feedback Reports To Shore Up Your Onboarding Strategy
Inviting learner feedback presents you with first-hand opinions on what is right in the online training course and how you can improve moving forward. You can conduct polls or a small survey at the end of each online training activity. You should also leave an open-ended comment section in the survey so that employees can elaborate. Think of it as constructive criticism that will help you improve your onboarding online training strategy and increase ROI.
Ensure Success From The Start With The Right Onboarding Solution!
Discover, choose and compare the top Employee Onboarding Software!
4. Gauge Learner Proficiency And Competency To Set The Benchmark
These LMS reports allow you to determine how much your new hires know at the beginning. Later, you can track their progress as they gain on-the-job experience and complete the necessary online training courses. You're able to set the benchmark to track their performance and give them an added dose of motivation, since they'll be able to see how far they've come since they first joined your organization. It's best to use qualitative assessments that test their practical application of the knowledge.
5. Analyze Login Reports To Improve Accessibility And Disclose Employee Preferences
Login reports disclose how often employees access the system so that you can gauge their level of participation, as well as which resources they use most often and which devices they prefer. This means you're able to custom tailor your delivery methods to suit their needs. For example, a high percentage of your new hires use their mobile phones to access the system. Therefore, you might consider a responsive LMS and a microlearning online training library that offers them moment of need support anytime, anywhere.
6. Evaluate Assessment Results To Identify Undisclosed Skill Gaps
Assessment results are another crucial LMS report to evaluate for your onboarding online training course. They give you the power to identify undisclosed skill gaps and adjust your online training strategy accordingly. For example, a new employee lacks a specific skill that they need to complete a daily task. This is revealed through their branching scenario or serious game performance, which is all outlined in the assessment report that points out their strengths and areas for improvement. You should also give employees the opportunity to identify skill gaps through self-assessments and pop quizzes. This requires an LMS that provides personalized feedback based on their performance and test results. For instance, the system automatically takes note of task steps they struggled with and recommends suitable learning material. Consider giving them access to their own assessment reports so that they can view the results and take a proactive approach.
Bonus Tip: Customizable LMS Reports Allow You To Track Personal KPIs
Many LMSs feature customizable reports in addition to the out-of-the-box reports the come standard. As such, you're able to monitor key indicators to improve online training ROI and fill relevant skill gaps. For instance, you can assign all your new hires to a certain group and then track their simulation performance to see how they apply their skills. Or keep a close eye on how they're faring in the certification online training program and offer additional support when necessary. Another LMS selling point to look for is an intuitive User Interface so that you're able to pin noteworthy reports to your dashboard and set up automatic delivery. For example, managers and supervisors receive automatic email reports regarding their subordinates so that they can follow up right away.
Conclusion
If you haven't already, it is time you start utilizing these LMS reports to fine-tune your onboarding online training strategy. Big Data can help you provide more personalized and goal-centered learning material to your new recruits. Check them on a weekly basis so that you're able to intervene when necessary and adjust accordingly. For example, low engagement stats indicate that it may be time to rethink your current eLearning course design or conduct more audience research. You should also ensure that your LMS is up to the task and offers access to this essential analytics. If not, you might consider investing in a replacement with more robust reporting features.
Which features should you look for in your new onboarding systems? This 6-point software checklist can help you choose the best tool for your team and bring new hires up to speed.