Onboarding Systems: 9 Must-Have Features For Your Employee Onboarding Software Checklist
Very few of us enjoyed our first day at school, whether it was a new town or a new year. And this extended before that first toddler tantrum, all the way to college. It's the sense of being small and unimportant, of feeling invisible and conspicuous, all at the same time. Starting a new job can seem like a new level of that same newbie discomfort. And as an employer, you can ease these beginners' blues using the right onboarding software. So what tools and features can make this process as painless and productive as possible? Here are 6 crucial selling points to look for in your new employee onboarding systems.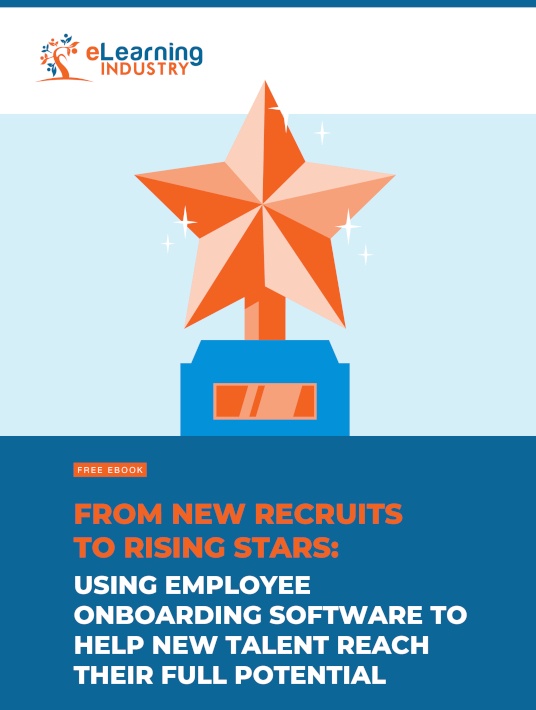 eBook Release
From New Recruits To Rising Stars: Using Employee Onboarding Software To Help New Talent Reach Their Full Potential
Discover how to choose the ideal new hire training software and identify your rising stars!
1. Remote Access
Many new hires will get to work hours early on their first day. They'll spend their entire commute facing their own nerves and butterflies. Then they'll sit in the reception area feeling alienated and unwanted. Onboarding apps help. They might use it to recognize colleagues as they walk in. Or to identify someone that can let them into the office. If nothing else, it helps them look more serious, because they can appear busy without resorting to Facebook or online gaming. It's also crucial to invest in a mobile-friendly platform that allows them to access prep content on any device.
2. Integration Tools
If your onboarding app is built in-house via LMS, you can ensure it works well with existing systems. But if you're buying pre-packaged commercial software, you need to be sure it's compatible with internal tools. Specifically, measure its performance and synchrony with accounting systems, timesheets, and corporate assets. Can new hires use it to call an office car or review their email? Can they upload documents or open office files? Does it sit well with their existing device, or will you have to buy them a new one?
In addition, if the onboarding app also works on smartphones, you want to be sure it cuts across all smartphones. It only takes a few seconds to send an office-wide memo requesting staffers to text you their phone model and OS. You can then build a comprehensive list and send out a safe download link to each phone/OS category. Have your team members test accessibility and user interface. Your training software also needs to be compatible with other office software. For example, employee training participants might have to log training hours. Their online training software must fit seamlessly with your job planning apps, your clock-in system, and your time-sheets calendar. Making a checklist and marking it as you go can save you grief and unnecessary costs.
3. Multimedia Compatibility
It's easy to assume every software supports video and audio playback. After all, what device can't play YouTube? What we forget is these applications have been around for decades and have been optimized for reach. Your online training course, on the other hand, doesn't use public resources. So, it may host its own video and audio clips … or it may have omitted them to make it lighter. That said, many employees are visual or aural learners, so they can only take so much from text blocks and infographics. Ensure your software gives them alternative, interactive training options, and that these add-ons work.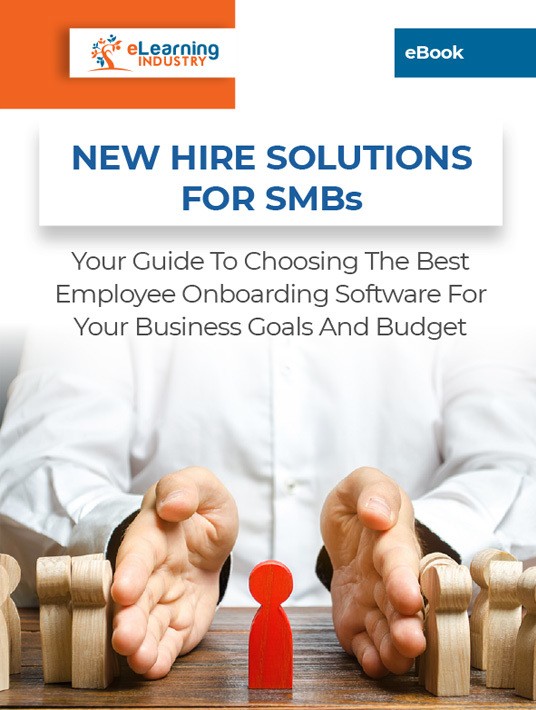 eBook Release
New Hire Solutions For SMBs
Discover the essential steps to implement a successful employee onboarding program for your diverse workforce.
4. Mobile Optimization
These days, you're missing the mark if you buy any online product that doesn't have mobile functionality. Yes, there's an app for everything. But your chosen onboarding system doesn't have to be in the form of a mobile app. Depending on your needs, you could buy employee online training software that's adaptive or responsive. As long as they can be accessed via smartphone, tablet, or laptop, both with and without live Wi-Fi. Extra points if your L&D team can populate the course via mobile. If the employee training LMS you're exploring happens to be 'free' open-source, do your research to verify its true cost. Your 'free' software could end up being more expensive than paid employee onboarding software solutions.
5. Feedback Modules
At every meeting in existence, someone invited queries with the grinning mantra '…there are no stupid questions.' And at every meeting, that platitude was immediately disproven. New employees know this, so they're unlikely to lure the spotlight with a question – any question. And yet they have so many! Check that your software has a safe, confidential, easy-to-use avenue for this. They can seek guidance or offer perspective on their experience as a newbie. This makes them feel heard and improves the online training course for colleagues that come after them. It could be an email feed to an anonymous chat board or a friendly all-knowing chatbot.
6. Social Learning Support
Studies suggest 20% of all our learning is informal and social. Think about it. You probably didn't set out to memorize your favorite song or movie monologue. You might not even be aware you know all the words until it plays, and you sing along verbatim. In the online learning space, this social component encompasses social media groups and chat threads. They've become the modern way of passing along information. They're also useful tools for collaborative online learning. Therefore, whichever employee onboarding software you buy, it needs to be social media integrated. Or have its own internal chat rooms and messaging apps built-in. This allows new hires to gather insights from more experienced peers, as well as discuss challenges with fellow fresh recruits who are going through the same obstacles.
7. Targeted Analytics
Every onboarding system worth its salt has built-in metrics and data collection measures. But orientation software needs a special kind. It needs automated progress reports to keep track of employee training. Keeping that in mind, you must find employee online training software with built-in report templates. One option is lesson reviews that indicate pain points and knowledge gaps. Another is self-assessment modules that can help you place employees in the right department. All these little things enhance job satisfaction, so your new employees feel at home sooner and are less likely to leave. More importantly, you can call up different metrics for a customized report and automatically view/print it in seconds.
8. Certification
Internal award systems may not seem that important. And you may be reluctant to offer the type of online training that cuts across organizations. After all, you don't want to equip your staff with the skills they'll use to get another job. In that sense, office-wide certificates are more for staff motivation and bragging rights. They're also a good data source because you can see how long it took your employees to earn each certificate. And how many people showed an interest in the course, vs. those who started and those who dropped out. Designing and printing these documents can be costly and time-consuming, so training software with in-built certification tools is a must. Preferably, those that allow employees to post them to social media or at least proudly display them on their LMS home page.
9. Goal-Setting Features
Onboarding sets expectations for new corporate learners, both individually and as a group. Your software should let them set their own daily and weekly targets. It should also have an external tool for creating and measuring objectives. It allows their supervisor to map out their targets for the day, week, month, or year. Automatically reviewing and checking off these targets makes the appraisal process easier. This is especially important during their probation period. It helps new employees assess their own impact, giving them a sense of growth and progress at this new job. It gives them hope when they're dealing with onboarding snafus and stops them from giving up/quitting.
Ensure Success From The Start With The Right Onboarding Solution!
Discover, choose and compare the top Employee Onboarding Software!
Conclusion
If you have the right new employee onboarding program, new hires can settle in weeks. In a month, visitors to the office can barely tell them apart from veterans with decades of experience. This helps customers feel confident in your organization's abilities. So, what tools and features ensure a professional customer-facing façade for new hires? Remote access lets them study before they start, and continue at any location, even off-site. Integration tools and multimedia settings enable immersive working and learning. Feedback options and analytics help you improve and smoothen the online training experience for newbies. Goal-setting tools help everyone, from bosses to new hires themselves, see how they're really doing. This facilitates ongoing adjustment and ensures there'll be no surprises at staff review. You should also consider onboarding systems with multilingual features if you're catering to a global workforce.
How can you make sure that onboarding software includes all the must-have features, needed for your in-house and remote employees? How can you use onboarding software to figure out which fresh recruits are going to advance up the corporate ladder? Download our eBook From New Recruits To Rising Stars: Using Employee Onboarding Software To Help New Talent Reach Their Full Potential to discover tips and tricks that can help you identify top talent and avoid the most common onboarding mistakes. It also includes a fool-proof plan for training new recruits with limited tech know-how so that everyone gets the same benefits.