Heartfelt Gratitude To Our eLI Community
Like all great things, eLearning Industry started with a big idea and an even bigger passion for lifelong learning. Since then, we've created an online community where educators, L&D professionals, and other eLearning enthusiasts can share their ideas and insights. It's also a place to discover emerging tech, trending topics, and actionable tips. As this community has grown, so has our eLI team. Though we may be scattered across the globe, we're united in our love of all things eLearning, which is evidenced by our most recent accomplishment: eLearning Industry has been certified as a "Great Place To Work" by The Great Place to Work Institute in Greece.
Our Origin Story
eLearning Industry (eLI) began back in 2012 as a personal blog, based on the principle of democratizing the eLearning field. Everyone with a thirst for knowledge is welcome, regardless of their background or level of expertise. By 2013, the blog had flourished into an online community, and in 2014 the platform as we know it today was introduced to the eLearning world. Even though we're now a globally recognized leader in the industry with hundreds of thousands of visitors, we still stay true to our roots.
A Culture Of Collaboration, Compassion, And Resilience
Even during the COVID crisis, eLearning Industry has continued to grow and stay committed to our passionate pursuit of making learning accessible to all. We work with integrity, quality, commitment, passion, and we're proud to challenge the status quo every day.
Passion is the spark behind everything we do. It is what keeps us going, whether we're helping clients to achieve their goals or reaching out to new authors to expand our community. Our entire organization is based on the principle that you have to love what you do and do it with authenticity, even in the face of adversity. When it comes to the status quo, we understand that venturing outside of our comfort zone is when real innovation happens. In fact, we even rebranded during the pandemic to create a fresh, modern look for the site, as we wanted to give the community a more user-friendly experience.
Those of you who've had contact with any member of our team will have probably noticed that we truly enjoy our work. Some might even say that our excitement is contagious. We always strive to have optimistic mindsets, and personal wellbeing is a focal point for each of us. Fulfillment leads to better working relationships, which is evident in everything that we do.
But there's another piece to the puzzle that's essential. eLearning Industry wouldn't be what it is today without you.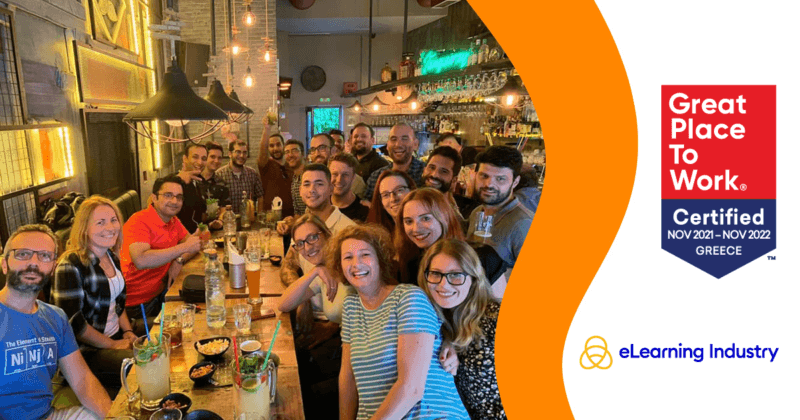 What Our Community Means To Us
Sharing knowledge is the foundation of eLearning Industry. We believe that everyone should be able to gather the information they need to overcome challenges, broaden their skillsets, and achieve their full potential. For nearly a decade, eLearning professionals have chosen our platform to offer their expertise and connect with like-minded members of the industry. We feel honored that so many of you have trusted us to showcase your work and build awareness.
On the business side of things, one of eLI's primary goals is to be a fully transparent and proactive partner. We're genuinely passionate about how products and services impact our clients, and our consultations are just one key differentiator. Instead of "pitching" products, we work with each and every client to ensure that they find the best solution for their needs.
What The Future Holds For eLI
We may not have a crystal ball, but we see big things for the future of eLearning Industry. From gamification initiatives for guest authors to new services to help eLearning companies build even more buzz, eLI has amazing things in store. Most importantly, we'll continue to make this a great place to work for every team member, as well as a great place to explore all things eLearning for our visitors.
Helpful Links
Part of our commitment to community growth is author outreach. Guest posting gives you the chance to build your personal brand and establish yourself as an industry authority. But that's not the only opportunity that eLI offers: