All About IDEA Public Schools
Founded in 1998, IDEA Public Schools has transformed from a small school with 150 students in Texas to become the fastest-growing network of tuition-free, K-12 public charter schools in the United States. Their mission is to send 100% of their graduates to college, offering a high-quality college preparatory curriculum to their students.
Today, IDEA Public Schools serves more than 88,000 students in 143 schools across Texas, Louisiana, Florida, and Ohio. With over 12,000 staff members, IDEA has been recognized as a "Great Place to Work" and received national rankings on The Washington Post and U.S. News & World Report's Top High Schools lists.
The IDEA Public Schools L&D Team
Richel Raich-Cantu, Director of Talent Development and Innovation
Johnathon Kruger, Dean of Instructional Preparation Programs
Liz Jackson, Senior Director of Instructional Leadership Programs
The Challenges
IDEA Public Schools continues to grow rapidly, and every year they onboard between 1000 to 1300 new teachers and co-teachers. To keep up with the demand for high-quality instruction (and a growing number of students and staff), their employee training needs to be rolled out quickly and consistently in several geographic regions across the United States.
But prior to 360 Learning, IDEA Public Schools were delivering most of their employee training in person, and getting new hires up to speed across all the different regions was taking a lot of time and resources. Because of this, IDEA had major challenges with:
Consistently and efficiently onboarding new teachers at different times throughout the academic school year, without sacrificing quality or engagement in the learning experience.
Creating at-scale developmental and compliance training programs that are standardized, up to date, and interactive—even when conducted remotely and asynchronously.
"Before 360Learning, having to develop all of those different learning experiences for different regions led to a lack of quality control, and we couldn't ensure that the facilitators were properly trained." – Johnathon Kruger, Dean of Instructional Preparation Programs
As a result of this complicated and oftentimes confusing system, IDEA also found that:
Teachers and learners weren't engaging with IDEA's old LMS platform.
It was hard to track learning outcomes and difficult to keep track of compliance requirements.
"In the past, we might have to wait and do onboarding training every three months or every six months throughout the year to catch up our new hires." – Liz Jackson, Senior Director of Instructional Leadership Programs
IDEA Public Schools knew they needed to get faster at creating and distributing flexible training materials that gave their growing staff the essential knowledge and skills to do their jobs well and support their students to reach higher.
But they were struggling with processes that didn't scale and a heavy reliance on in-person training.
Something had to change.
The Solution: 360Learning's Comprehensive Learning Platform
"The first training I was brought on to IDEA to run was our New Teacher Institute training. With COVID, we had to move that training virtually to the 360Learning platform. We saved over half a million dollars versus doing it in person." — Richel Raich-Cantu, Director of Talent Development and Innovation
Here are 3 ways the 360Learning platform has transformed IDEA Public Schools' Learning and Development processes—and helped them achieve massive cost savings while driving even better training outcomes for teachers and staff.
1. Empowering More Than 200 SMEs To Create Engaging Content
"We have more than 200 active contributors (internal Subject Matter Experts) on our platform helping us create high-quality learning experiences for our employees." – Johnathon Kruger
Because IDEA Public Schools' trainings are so complex and large, they need lots of experts to help teachers get the knowledge and skills required to be successful in the classroom.
Leveraging the power of peer-driven upskilling, IDEA Public Schools has created design standards that enable their 200+ Subject Matter Experts to create truly engaging courses and learning materials. In-course collaboration and feedback has also enabled SMEs to significantly speed up course creation—and learning content can now be accessed online simultaneously by all their staff.
Johnathon explains, "360Learning allows our Subject Matter Experts to create courses in real time and to ensure that all our teachers are getting the knowledge and skills that they need." These courses cover soft and hard skills, as well as mandatory compliance training.
"This has been incredibly important for us," explains Richel. "For example, in 2019, which is the last time we did this new teacher training at the beginning of the year in person, we only had 12 different tracks that teachers would join based on what content they taught."
Today, Richel and the team have 94 unique learning tracks that serve the different types of content and curriculum that teachers need. Everyone's unique learning needs are addressed, and training content can be adjusted to match each learner's schedule.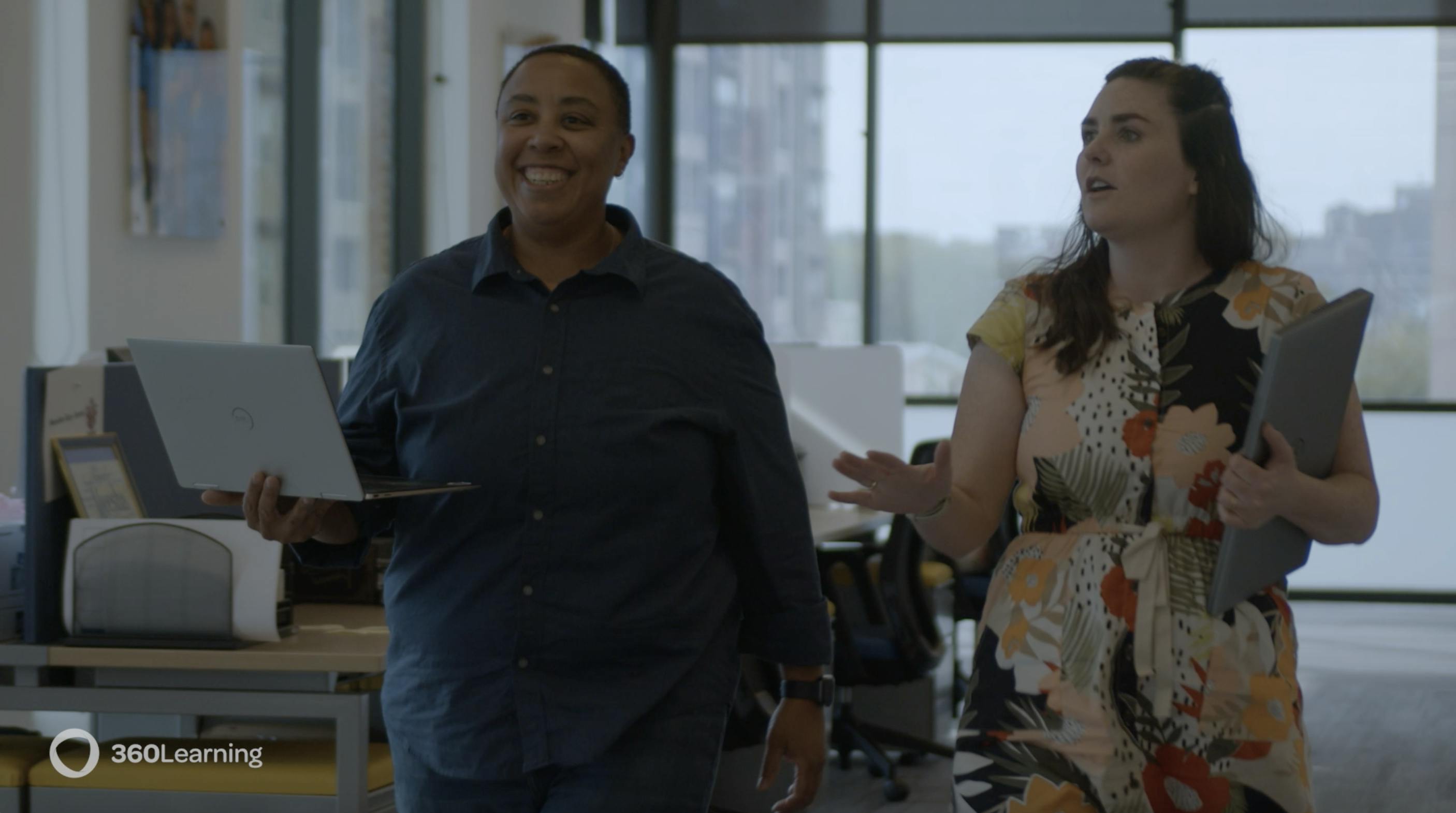 2. Implementing Remote Async Learning Across The Organization
"360Learning has been a game-changer in helping us execute trainings across so many different places, across two different time zones, with 200 Subject Matter Experts." – Richel Raich-Cantu
Before IDEA adopted 360Learning, they were hosting the majority of their training sessions in person, along with several learning software solutions. Live trainings were geographically limited and could only be held at certain times throughout the year—making it difficult to onboard new teachers with flexibility.
To make it even more challenging, their old training software wasn't user-friendly, and each solution was used for different purposes. This led to confusion for new staff, and also piled extra costs onto IDEA's L&D budget.
With 360Learning, they were able to consolidate all their learning needs into one central platform and source of truth. A streamlined course creation process helped them design bite-sized, peer-driven learning that is deliverable across different modalities.
IDEA learners now have historical access to all courses that have been created, and can learn remotely and asynchronously. This has also freed up time for those who typically would need to facilitate these trainings repeatedly.
"Now, our teachers can access new teacher training both for culture and content at any time," adds Richel, "It's also really helpful for our principals to be able to focus on priorities. It's really hard to offer training during the regular school day because our principals and campus leaders are so busy."
3. Standardizing And Scaling Mandatory Trainings
As a nonprofit charter school network that relies on public funding, Richel explains that "there are specific requirements from the federal government, state government, and local governments to ensure that we're in compliance."
360Learning enables IDEA Public Schools to register and track completion for mandatory training on the platform, and issue staff members certificates to verify successful compliance training.
IDEA can keep records of those certificates, and their teachers can also proactively renew their certificates as proof that they've completed continuing education that's specific to their roles.
By automating these routine tasks, IDEA's L&D team saves a lot of time and effort—time they can put to use delivering ambitious and exciting learning experiences. For example, in their Summer Professional Development Program, IDEA Public Schools trains between 1200 to 1500 new teachers at once.
With 360Learning, they can easily measure training completion rates and gauge how well their learners are mastering the course content. As a result, Richel and her team have a deeper and more accurate understanding of the effectiveness of their L&D initiatives and their training ROI.
The Results: Increased Learner Engagement, Better Course Design, And More Flexible Employee Onboarding
"We made the switch to 360Learning because the platform was so much more dynamic than the platform we were using previously." – Richel Raich-Cantu
By equipping their Subject Matter Experts with a powerful L&D platform that leverages peer-driven upskilling and asynchronous training, the IDEA Public Schools has driven concrete results and impressive cost savings across the organization.
$500,000 USD saved in their first year by switching from in-person employee training to remote, async training with 360Learning.
An increase in learner engagement and the ability to reach every single learner and identify their preferred learning experiences and modalities.
New teachers can access complete training programs, no matter when in the year they join.
Higher rates of job satisfaction and retention: IDEA saw increased performance, higher job satisfaction, and retention for teachers who are hired late or in the middle of the year.
Personalized learning tracks helped them grow from 12 content tracks to 94 content tracks for teachers, thanks to data that helped them differentiate individual learner needs.
The Future For IDEA Public Schools
Looking ahead, Richel and her team are continuing to grow IDEA Public Schools' commitment to expert-driven learning and upskilling from within. To do so, they'll continue to use the 360Learning platform to leverage their network of Subject Matter Experts in creating engaging and personalized virtual learning experiences for their employees and teachers.
In the future of digital learning, this means breaking learning resources down into bite-sized content that learners can complete at their convenience, and using internal peer expertise and feedback to make new content as relevant and impactful as possible.
Want to see similar results? Get a personalized demo to find out how 360Learning can help your organization achieve smarter and more impactful L&D.
360Learning
360Learning is the learning platform powered by collaborative learning. Upskill from within to accelerate internal mobility and deliver relevant training at scale with our easy-to-use, award-winning authoring tool.
Originally published at 360learning.com.