Top Features In Value For Money LMS That Enhance Your Investment
Learning Management Systems have the potential to close skill gaps, empower remote corporate learners, and increase the rate of skill acquisition. Certain LMS features can even help you improve your sales, customer relations, and business partnerships, as well as make onboarding online training more cost-effective and engaging. In short, the right LMS allows organizations to provide just-in-time training for remote employees quickly and efficiently. The question is: does your current LMS have features that enhance value for money? Or is it time to look for a new value for money LMS to improve your ROI? Here are 8 value for money LMS features to look for.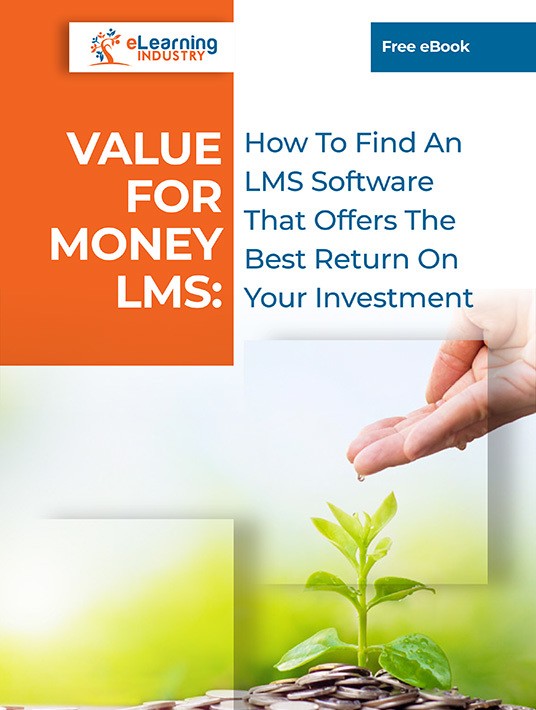 eBook Release
Value For Money LMS: How To Find A Platform That Offers The Best Return On Your Investment
Discover all you need to know about the importance of finding a value for money LMS platform that offers the best ROI.
1. Responsive Design In A Value For Money LMS
A responsive LMS gives your team anytime, anywhere access to crucial online training materials. They can get the vital online training tools they need on any device or browser instead of having to wait until they get back to the office to log in to the system on their PCs, or work terminals. Thus, they get the information they require to bridge gaps and brush up on skills, which improves your online training ROI. In addition to this, a responsive design makes the User Experience enjoyable and engaging. In some cases, employees can even download content for offline viewing then sync back with the system to report their progress. Just make sure that your value for money LMS has a built-in previewer so that you can make necessary adjustments for each version/breakpoint.
2. Robust Reporting And Analytics Features
These LMS features offer helpful insights into the progress of online training and help you spot individual performance gaps. On top of that, they enable organizations to gauge whether the online training goals and learning objectives are being met. Robust reporting also encompasses compliance tracking so that you can determine if employees are achieving organizational standards. You're able to make better-informed business decisions based on the Big Data that your LMS provides. For example, allocate resources more effectively to improve your sales team's negotiation skills so that they hit their monthly targets.
3. Integration Capabilities Of A Value For Money LMS
Integration capabilities offer you the opportunity to incorporate necessary functionalities and features that are outside your LMS. An organization can utilize third-party resources that make it easy for corporate learners to succeed, such as eLearning content repositories or HR software. Moreover, these capabilities help to enhance User Experience and engagement for your remote teams. Another added perk of investing in a value for money LMS that's compatible with your existing software is that there's no need to purchase replacements. For example, eLearning authoring tools or CRM software that meshes with your new platform.
4. A Value For Money LMS Can Have An Intuitive User Interface
According to a recent study by the Brandon Hall Group, 44% of companies using an LMS are thinking of replacing their current platform [1]. The top reasons for this are to create a better User Experience and enhance the administrative experience. A user-friendly LMS is easy to navigate for every member of your team regardless of their tech know-how. This also includes intuitive dashboards that allow admins to conveniently track online training objectives and identify areas for improvement.
5. Gamification
Gamification gets employees actively involved in the online training process and increases their motivation. The LMS may feature badges, points, levels, or other game mechanics that you can incorporate into your eLearning course design. Some even feature eLearning templates and themes that you can use to save time and resources. For example, start with pre-built badges that you can customize with branding elements. Another benefit of gamification is that you can monitor employee progress and identify your top talent. Especially when there's a leaderboard to track individual performance and fuel friendly competition.
6. Certification Support
Certification support is essential for compliance and skill-based training, as it gives you the opportunity to track individual performance and progress. Employees are also more likely to achieve their goals due to the fact that they have something to show for it. Namely, a printable certificate that recognizes their accomplishments. Lastly, you're able to identify which employees are on track and which require further assistance to achieve their objectives. Thus, you're able to intervene before its too late to improve performance behaviors and provide personalized support.
7. Data Security
You don't want your sensitive information falling into the wrong hands. As such, among the LMS features, you need to look for built-in data security measures to ensure that only approved users have access to online training resources and personal info. These include data encryption protocols, login authentications, and backup storage on secured servers. You won't get the best value for money if all your valuable information is hacked, corrupted, or lost. Verify which security measures the LMS vendor has in place and how often they update their data protection protocols.
8. Assessment Engine
Many LMS platforms feature built-in assessment engines to develop employee quizzes and exams using pre-made templates. You're able to choose from different question formats, provide instant feedback, and generate custom certificates. It's also easier to grade eLearning assessments based on specific criterium and customized rubrics. Thus, every member of your team can evaluate their own progress, identify strengths and weaknesses, and receive targeted recommendations.
When your LMS has these 8 features, you can efficiently manage content, provide support at the moment of need, and allocate resources more effectively. To identify the LMS features that will give you value for money, you have to ask yourself what your training needs and goals are. You also need to recognize the form your training will take, the platforms you need to integrate with, as well as how your needs will change in the future.
Does your current LMS offer the best value for money, or is time to look for a new system? Download our eBook on Value For Money Learning Management Systems for tips that can help you improve your ROI and allocate your resources more effectively. It features insider secrets on how to evaluate the LMS value for money during a free trial, as well as a step-by-step guide to calculating LMS ROI.
References