The Importance Of Finding A Value For Money LMS
A Learning Management System helps you develop, deploy, and monitor every component of your online training program. Learning Management Systems are used in many learning institutions but they are also popular in business organizations to train and educate staff. Unfortunately, choosing the best LMS is not an easy task. You need to consider your budget, organizational needs, and adaptability for your content. The value of an LMS isn't just in its purchase price. You need to be confident that it's an asset rather than a liability. It should add value to employees, offering career growth, assuring compliance, and reducing turnover where possible. Here are 6 reasons why it's crucial to find a value for money LMS.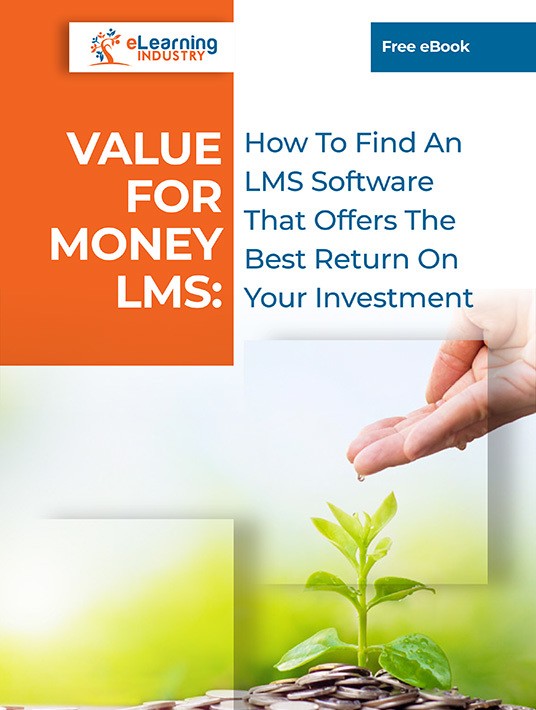 eBook Release
Value For Money LMS: How To Find A Platform That Offers The Best Return On Your Investment
Discover all you need to know about the importance of finding a value for money LMS platform that offers the best ROI.
1. A Value For Money LMS Addresses Your Specific Business Needs
When choosing a value for money LMS, you want software that fulfills your objectives. To achieve your online training goals, you must take data into account. This applies both to the data collected from the user and the information the user receives. Effective LMSs have integrated metrics and analytics, as well as automated reports. They should also include self-assessment options for corporate learners to ensure they have understood the online training material. Supplementary modules should be available in case any corporate learner wants 'booster shots' of what they're studying. Begin your LMS search with a list of objectives that it must attain. It helps to know what you're looking for.
2. Strikes A Balance Between Usability And Functionality
The team that develops an online training course often consists of both artists and scientists, in a manner of speaking. Graphic designers want an online training course to look good, while UX designers (User Experience designers) want it to flow well. Curriculum developers are more focused on the content of the online training course. While you do want your online training course to be visually appealing, the LMS content is sometimes too watered down or condensed to be helpful. In an effort to make it easy to use, it ends up being too simplistic to challenge the corporate learner. It's crucial to entice corporate learners and stimulate their minds so they can actually learn something new. That's why you should invest in a value for money LMS that delivers functionality and usability to extend learner knowledge.
3. Facilitates Efficient Data Management
Management is central to any online training program, hence the 'M' in LMS. An LMS that's worth its weight in gold allows for easy data migration, management, and organization. Keep in mind that there are three common user types in any LMS. The administrators and designers are the people configuring the whole software and developing meaningful eLearning content. The online instructors/facilitators often monitor online training courses and conduct an assessment of corporate learners. Finally, there are online learners or employees who directly benefit from the online training content. Management entails registering users, assigning online training courses, facilitating online learner-instructor interaction, and assessing corporate learners. In small companies, the administrator and the instructor are often the same. Large companies run all three LMS users independently due to a large amount of data circulating. That's why data security is crucial in Learning Management Systems.
4. Easily Adapts To Ever-Changing Business Needs
The growth of a business may require changes in their LMS-run training courses. As your business changes, your LMS must be able to adapt. In large companies, departments will often have their own training needs outside of the corporate LMS. Your primary LMS serves general purposes, like orientation, health and safety training, or overall organizational training. Departmental training may be more specific and limited. Rather than having separate LMSs, you need one that's versatile enough for both macro and micro-training. The adaptability should require minimal customization, preferably the kind that can be done in-house. You don't want to have to hire a software developer to upgrade the software any time there are departmental changes.
5. Improves Resource Allocation Across The Board
A value for money LMS allows you to allocate your resources more effectively. You don't have to worry about wasting time or money on a system that simply won't achieve the desired results. As such, you're able to dedicate funds elsewhere to improve business operations and employee productivity. For example, develop supplemental online training content to help employees bridge gaps instead of sinking even more money into LMS training for an overly complicated system.
6. Increases Employee Engagement And Motivation
A value for money LMS gives employees unlimited access to online training resources and makes the eLearning experience enjoyable. A major factor in the 'value for money' equation is employee engagement and motivation. LMS solutions should facilitate employee growth instead of standing in the way. Corporate learners must be able to navigate the LMS platform with little or no prior eLearning experience rather than having to deal with navigation obstacles of complex User Interfaces. Thus, they are more likely to participate and reap the full rewards of your online training program.
Making the decision to invest in a value for money LMS has multiple tiers. There's the financial implication, the developmental angle, and the practical application. To tick off all these boxes, you need your LMS to give you a measurable ROI. Start by listing the specific objectives you'd like your LMS to reach. Test the target software to see if it's both usable and functional. Many LMSs offer free trials, so take advantage of that. Evaluate how well it collects and processes data. Ensure it's adaptable to expansion, and that it complements any changes in your company's long-term eLearning strategy. Finally, confirm that it fits into your budget.
Download our eBook Value For Money LMS: How To Find A Platform That Offers The Best Return On Your Investment to learn tips and tricks for finding an LMS that offers the best value for money. It also features a step-by-step guide to calculating the ROI of your new LMS, as well as insider secrets to choose the right LMS pricing model for your organization.