How To Evaluate A Value For Money LMS During An LMS Free Trial Or Demo
The best demonstration of a value for money LMS is the one where you get to see how the system would fit with your organization. But it can be a tall order, asking your LMS supplier to describe how their system can deliver ROI. If you don't keep a close eye on the LMS free trial, then you're likely to be left with more questions than answers. Better to prepare in advance, take stock of your L&D strategy, and how an LMS could help delivery. Think about priorities, and what you need the system to be able to do in order to provide value for money.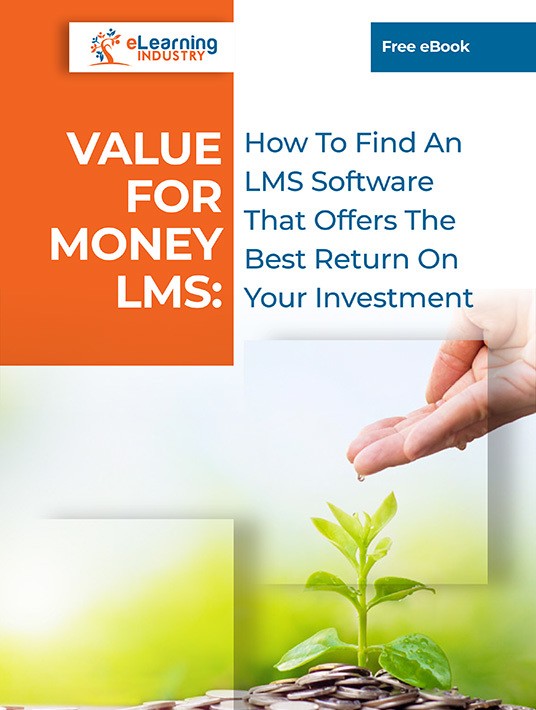 eBook Release
Value For Money LMS: How To Find A Platform That Offers The Best Return On Your Investment
Discover all you need to know about the importance of finding a value for money LMS platform that offers the best ROI.
Prioritize What A New Value For Money LMS Must Do For You
During an LMS free trial or demo, assessing value for money is largely about effectiveness. Does the system meet your objectives? You're likely to be basing your business case on cost savings, alongside upskilling. You'll also want to include savings related to avoiding compliance breaches. To assess this during the LMS free trial or demo, you need to prioritize your value for money LMS requirements/must-have features, such as:
responsive for mobile users
personalized learning path
interactive elements
accurate and fast reporting and analytics
data integration
testing and certification options
5 Practical Tips To Ensure Your LMS Requirements Are Being Met
Now you're thinking in terms of the functionalities you need to meet your LMS objectives. You must prepare your existing data and resources to test out the features of this value for money LMS and ensure that it's a good fit. Here are our 5 top tips on testing that the tool will be right for your organization:
1. Check If It Is Easy To Add Users
You'll need a data set you can migrate across to the test system so that you can assess how easy adding users is. The ideal scenario would be that you use a real test group, a good development opportunity for them, and involve them. Check they can access from a range of devices, offices, and countries if possible. You can then use their input and feedback for the other functionality you're trialing.
2. Assess How You Would Migrate Your Existing Learning Environment
It would be useful to demonstrate how easily your online training materials, reporting functionality and learning paths would transfer. Try uploading a couple of online training courses to check how well they display. Make sure they work on multiple platforms. See if you can use a video across multiple online training courses, or an online training course across more than one learning path. Migrating your existing resources smoothly is an essential factor in supporting your L&D objectives.
3. Drill Down Into The Reporting Capability
Use your test users to provide you with test reports. You should be able to demo learner progress, as well as assessment performance. It's vital being able to access many different types of reports: daily, quarterly, yearly, ad-hoc. The L&D team will need access to quick and easy dashboards. Managers will want to track the progress of their teams. Individuals will want to see their own individual performance. All of this supports the business case that learning objectives are being met, and reporting is quick and easy. Reporting should be an essential part of the LMS free trial period or demo for any value for money LMS.
4. Review The Testing And Assessment Options
Just as you need to make sure your reporting options are up to scratch, the testing options must be what you need too. You have to ensure you're meeting your learning targets, and this can't be measured without some type of assessment. There should be the capability to run pre- and post-course tests, mini-tests, and ongoing checks. If compliance is high on your list of priorities, you should check out the capability for certifications. All of this should be followed, if possible, by a test report to ensure all completed assessments are being captured.
5. Put The Support Services To The Test
The LMS vendor may claim to have superior support services to help you get the most from the tool. But following through is an entirely different story. Here are a few ways to test their support options and overall customer service firsthand during the LMS free trial or demo:
Submit a trouble ticket or email to gauge how quickly they respond. This also allows you to determine how knowledgeable they are regarding tech issues.
Explore their online FAQ or user forum to see if it's active. You can also check to see if they have an active social media presence, such as pages or closed groups.
Ask which support services are included in the package and if you have to pay for more advanced options. For example, some LMS vendors charge extra for phone support or live chat.
Research online reviews and ratings to determine what past/current users have to say about their support services. For instance, it's generally not a good sign if 50% of users state that the customer service is below average.
Capturing your L&D objectives and turning them into a sound business case should be the foundation of your LMS free trial or demo. You need to be able to assess how effectively the tool will perform, be it cost saving or increased productivity. Prioritizing the essential functionalities is the best way to assess a value for money LMS. If the LMS can't deliver against your expectations, then it's not right for you. Take the time to prepare for your LMS free trial or demo, and you'll be able to make an informed decision based on value for money.
Do you need an LMS that offers the best value for money and helps you fulfill your business goals? Our guide on Value For Money Learning Management Systems features tips and tricks to calculate LMS ROI and evaluate your current system to see if it's time for a new tool. It also highlights the key terms that every LMS buyer should know and explores the four E's of value for money (Effectiveness, Efficiency, Economy, and Equity).