How To Make The Most Of An Online Directory For VILT
Let's face it, there aren't enough hours in the day to scour the web for VILT outsourcing partners. You're already creating a budget, making a business case, and conducting a TNA. Thus, the vendor qualification process should be quick and convenient. It should cover all the essentials so that you cast a smaller net without letting top contenders slip through the cracks, You should consider everything from customer service to the quality of work so that your organization gets the best value for money. Once you find a credible source that's unbiased, how do you streamline the evaluation process and zero in on relevant listings? We've got you covered. Here are 8 insider secrets to make the most of VILT online directories to improve online training ROI.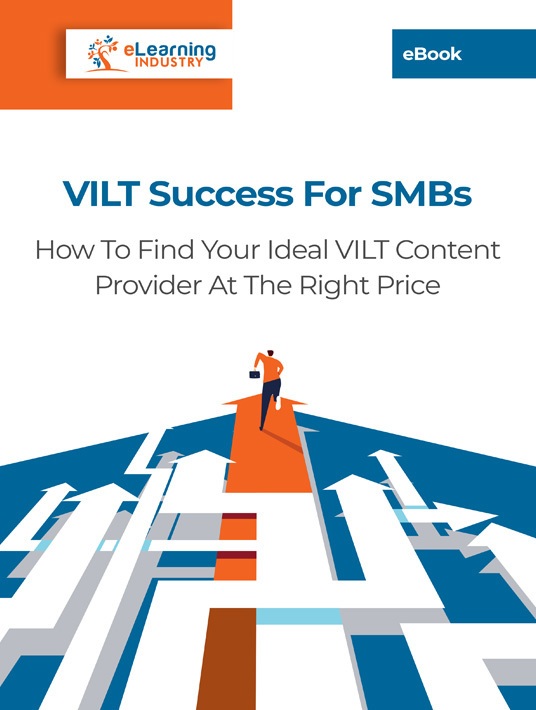 eBook Release
VILT Success For SMBs: How To Find Your Ideal VILT Content Provider At The Right Price
Get all the inside information you need to launch a VILT strategy on a tight budget.
1. Identify Your Priorities Before Reading The Company Bio
There's a lot of information to sift through in online directories. At least, in directories that understand the unique challenges HR and L&D managers face when choosing the right outsourcing partner. They include all the crucial information you need to avoid buyer's regret and maximize value for money. But you can make things easier on yourself by prioritizing the online training requirements beforehand. Identify your wants, needs, and expectations, as well as price points, online training objectives, and deliverables. Then read the company bio to see if any "buzzwords" stand out.
2. Focus On eLearning Content Providers Who Cater To Your Industry
Virtual classroom content providers generally cater to specific industries or sectors. This allows them to gather a team of trained professionals who understand the subject matter and unique online training requirements. You're able to filter out VILT online directory listings for vendors in your niche. For instance, companies that concentrate on hospitality or human resources. This is crucial for VILT, in particular, because outsourcing providers must find suitable instructors and SMEs. Knowledgeable hosts who have insider experience and the know-how to deliver the key takeaways to your remote team.
3. Consider Their Holistic Online Training Solutions List
An effective VILT online directory has a detailed list of online training solutions by category. For example, eLearning content authoring, gamification, and localization. This allows you to select virtual classroom pros who branch out into different online training services. Can they help you launch a microlearning online training library for JIT support? Do they offer TNA solutions to help you spot gaps before launching your VILT strategy? Can you hire them for change management when it's time to realign your corporate infrastructure?
4. Evaluate Online Reviews To Size Up Their Customer Support
User reviews cover a broad range of vendor pros and cons. But one of the most crucial ratings to consider is customer service. Did they treat the client with respect and communicate with them on a regular basis? Or was it radio-silence until they finished the project? Did the computer-based training content provider meet all the deadlines and deliver top-notch work? Or does the reviewer mention launch delays and lack of insider know-how? Ultimately, outsourcing should be a collaboration. A partnership between your staff and the eLearning content provider's team to achieve common goals.
5. Look For Vendors With Key Specialization Areas
Chances are, you don't want to endure another round of vendor selection a month from now when you'll need to outsource microlearning or Performance Management support. This is why it's crucial to consider the company's specialization areas and ensure they tick all the right boxes. Does the vendor cover sales and services training to boost your profit margin? What about leadership training for emerging managers? If your specialization isn't mentioned, contact the vendor directly for clarifications.
6. Pay Attention To The Overall Satisfaction Score
The overall rating consists of 6 crucial factors: responsiveness, communication, achieved results, deadlines, value for money, and quality of service. It's based on a percentage so that you're able to quickly rank Virtual Instructor-Led Training solutions and identify companies you may have overlooked. Additionally, listings feature a likelihood-to-recommend score, which speaks volumes about the CX. Word-of-mouth advertising is essential for eLearning content providers. A 100% is a telltale sign that they upheld their end of the deal and met client expectations.
7. Visit Their Site For More Info
Virtual Instructor-Led Training listings also feature landing page links so that you can check out the vendor's site, which often has more info regarding pricing, specializations, and solutions. You can also reach out for personalized quotes or RFP protocols so that you can draft the perfect request. There may be testimonials and sample work to give you an idea of their design methodologies, as well. If you're still unsure if the service provider is a good fit, set up a meeting with their rep. Just make sure to create a list of targeted questions in advance to get the most from your discussion.
8. Go Beyond Online Directory Listings
The top VILT online directories don't just upload a list of potential outsourcing companies. They go one step further by posting tips, tricks, and techniques to help you maximize ROI. Venture to other parts of the site to see if there are guides for vendor selection, RFP writing, and stretching your VILT budget.
A VILT online directory should contain information that's relevant to your decision-making process, instead of trying to sway your opinion with unnecessary sales pitches and false claims. Of course, vendors are trying to make a great first impression. But the listings must address key selling points, real-world benefits, and authentic ratings, as well as performance overviews that highlight the good, bad, and everything in between so that your organization isn't blindsided by unexpected vendor shortcomings post-purchase.
You can discover even more tips on how to choose the right VILT content provider for your business in our eBook VILT Success For SMBs: How To Find Your Ideal VILT Content Provider At The Right Price. Benefit from top VILT vendors' experience and know-how and reach your online training objectives even if you are on a tight budget.