Why An LMS Is Beneficial For Educational Institutions
In recent years, many international secondary and higher education institutions have been experimenting with Learning Management Systems (LMS), which have made some significant changes in their structure, functionality, and efficiency. This technology assists schools in creating, adopting, administering, distributing, and managing all the activities that are associated with online education.
However, the first step in embracing a new change is to acknowledge the situation. Extended school shutdowns due to the COVID-19 pandemic have posed certain restrictions on traditional teaching methods, forcing schools to confront existing technological shortcomings. The economic collapse due to nationwide lockdowns has forced schools to revisit their annual budgets. The schools find themselves encased in challenges that should be wisely confronted for the seamless conveyance of online education.
Why An LMS Is Crucial At This Time
When implemented, this technology can make the classroom experience more powerful, simpler, more personalized, and interactive.
1. Easy Implementation And Centralized
An LMS is a piece of technology that is easy to implement in schools and institutions. It stitches together all academic programs, subject study guides, and training modules. All your eLearning materials are stored in one central location instead of being saved across different hard drives and devices. It minimizes the risk of data loss and makes content handling easier.
2. Easy Access To eLearning Content
After content is added to an LMS, the learners have unlimited access to the data. Students can easily access the content on any device with internet. Classroom schedules are not bound by the usual school time; even after school, extra classes can be scheduled quite easily, making it convenient for both the teachers and students.
3. Tracks Students' Learning Paths
A cloud LMS will help keep track of student progress and ensure that they are headed in the right direction. An LMS can make necessary improvements to the eLearning content by accessing a learner's report, it can even make a tailored learning path for an individual student based on their performance.
4. An LMS Saves Time And Money
Using an LMS eliminates the cost of printing study materials, buying books, using online video conferencing tools, like Zoom, as well as other online training site rentals. An LMS helps with the complete management of teaching schedules and materials, thus saving time and money.
 5. Expand And Curate Learning Modules
An LMS allows you to add newly updated modules to an eLearning course. The learning materials can also be combined with personalized learning paths (a learning path is a sequence of steps a student needs to take to pass the course), making it possible for a teacher to control the content feed for individual students based on their performance.
6. An LMS Is Reliable And Secure
After information was leaked, many folks became very concerned with the security flaws in the Zoom video conferencing app. An LMS is much more secure, as you have more access to the system and integration of functions; antivirus, antimalware, and IP blockers reinforce these claims.
7. Needs Less Training
Most LMSs for schools are designed with students and teachers in mind. Hence, the User Interface is generally simple. A small demo session with the developers can help the teacher navigate, create, and manage courses in the system.
Evolving Elements Of An LMS
With the advancement of AI, Big Data, and Augmented Reality, the LMS is getting better and better. Our perception of reality is changing every day as we move toward the future.
Big Data Τo Analyze Learning
Often, individuals struggling at different levels of the courses are identified too late. An LMS helps bridge this gap with the use of advanced technologies like Big Data analytics. Whenever a user interacts with different components in an LMS, like course window, forms, tests, etc., they leave fingerprints in the form of data. These data points can be mapped into specific metrics like activity rate, viewing time, and retention levels. Teachers and course designers can make necessary changes by accessing these metrics and help struggling students catch up.
AI-fueled eLearning
Rather than wait for school hours to ask questions, AI-based eLearning technology allows students to clarify areas of confusion while they are learning. By acting as a virtual tutor, AI can answer some predefined questions and help students save learning time due to confusion.
This method is most effective for students who feel shy to ask questions.
Augmented Reality And LMSs
With 3-dimensional models, Augmented Reality is redefining eLearning courses. Usually, static images, 2D diagrams, and charts are used to explain a 3-dimensional model. Augmented Reality gives them the ability to manipulate three-dimensional visualizations so that they can view it from different angles. For example, a model that illustrates the geography of an area or structure of an atom. This in fact makes the whole learning process both exciting and engaging.
Industry Example
The global pandemic forced a Kolkata-based coaching institute, which provides professional coaching for competitive exams, to adopt online education as a long-term strategy rather than having it as an option.
The Challenge
The school was previously using a customer management system (CMS) to deliver eLearning. While this was suitable for delivering online learning to K12 users, they needed a solution that would support the needs of teachers and school administrators as well. There was an urgent need for an administrative hierarchy that controls access and permission levels universally. They were spending a lot of time using other tools to deliver and manage administration. The school wanted a simpler and more universal platform that can bind the entire operations of the school under one platform.
The Solution
From an administrator's point of view, the most helpful features were the reporting and organizational management elements. This functionality had been quite complicated in the previous platform. This hierarchy goes from "learners" who only have access to their own learning material and builds up to a "center manager" who can manage and distribute courses to their respective teams as well as monitor activities in their center.
Monitoring student engagement levels is important, so we developed custom reporting which allowed them to run a wide range of reports in order to monitor learner activity and progress. An important part of the RFP (request for proposal) was creating productive groups for students and teachers for collaborative work. These groups used the LMS to develop a curriculum that resonates across different centers thus improving communication. Integrating the various groups was at the heart of this project.
When compared to the previous LMS, a sharp 20% fall in course allocation time comes into the picture. The teachers have eliminated the extra time that was needed to register new students and compile test score data.
The school administration has been very happy with the work so far. They have had very positive feedback from their network, and learners love the idea of being able to bring lots of people and resources together in one place. While it's still early days for the LMS, it's showing great promise.
Conclusion
With the new advancements in Learning Management Systems, the world is ready to embrace it more than ever. The potential for customization is endless and can eventually serve any educational center that wishes to grow rapidly. The outcome of education with the help of a Learning Management System guarantees better understanding and more confident students.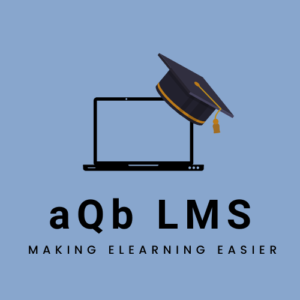 aQb LMS
Cloud-based aQb LMS empower teacher & admin to easily create and quickly track web-based courses. Equipped with a personalized chatbot for better engagement.