The Second Factor (N2): What Are Your Learners Needs And Expectations?
This article is part of a series exploring the concept of blended learning for remote and on-site workers. What you are about to read is a fable. The company, AshCom, is fictional but the learning challenges faced by Kathryn, AshCom's CLO, and her team are real and commonly shared by learning teams in large organizations. It is our hope that you will be able to connect with the characters, their challenges, and the solutions they discover. We also invite you to read the first eBook in the series.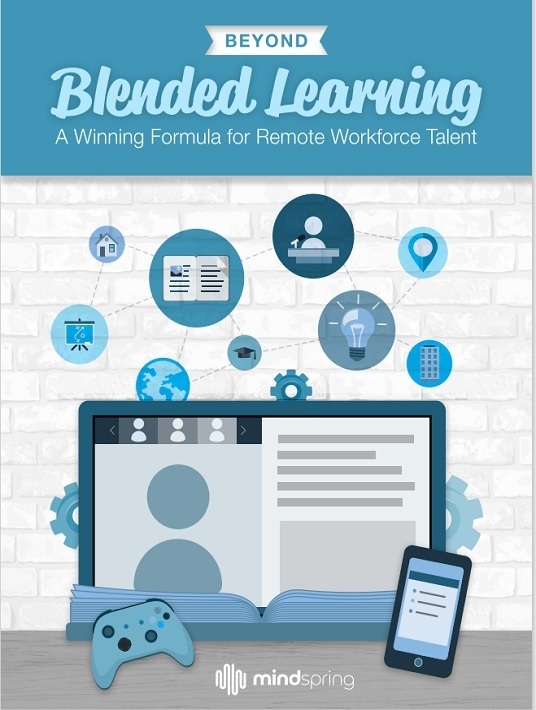 eBook Release
Beyond Blended Learning: A Winning Formula For Remote Workforce Talent
Follow along as fictional company AshCom faces L&D challenges and rethinks traditional blended learning strategies using an innovative formula for success.
Remote Learner Challenges
Kathryn began the morning session of the overnight retreat of AshCom's learning team with a recap of the previous night's discussion. "We ended at a decent hour last night. I noticed a lot of you still talking about our learning problems. We talked through our two biggest learning challenges right now. We face a skills gap in our manufacturing company as more people retire. We are finding it more challenging to recruit new people to work as technicians."
"The second problem," continued Kathryn, "is that HR is asking what learning would look like if they gave people the opportunity to have flexible schedules or even work completely remotely."
Looking at Darryl, Kathryn said, "Darryl thought the solution to both might be blended learning but the more he dug into the concept, the less clarity he had. At one point, Darryl told me that the whole idea of blended learning might be antiquated and even useless to us."
Darryl smiled. "But that is not where I finally landed."
"No," said Kathryn. "It is not."
Darryl, looking at Rebecca from Inno-Versity, said "I found some sage advice on how they think through our learning challenges. Let me just remind you of the formula we discussed last night."
At this point, Kathryn broke in. "We had an intense conversation last night. Before I suggest what I'd like to do this morning, I would like to allow each of you to give your reactions from last night. You've had a night to think about it. What is sticking with you?"
The room was quiet. Some people shifted around in their chairs. The other eight people in the room didn't respond for nearly a minute until Alishia, the youngest member of the learning team, broke the silence. "I suppose I'll go first. We were talking about AshCom's need to attract good new talent and then give them learning experiences to help them get up to speed quickly on high-tech machines. I was tracking with that. I really liked the formula from Darryl and Rebecca. It seems like a very logical way to approach both our learning challenges."
Everyone was with Alishia.
"But," she continued, "it seemed like the whole conversation turned with a comment from Amy." Amy was a consultant to the AshCom learning team who had deep industry knowledge and experience with many different clients.
Amy knew exactly what Alishia was talking about.
Current Threats
Alishia said, "I was thinking of these as two learning problems. Amy said they are more than that. If we can't find great people by offering things like flexible work schedules and we can't be more efficient and effective, Amy said we might not survive. That's a much bigger problem. More threatening. I felt a pit in my stomach that stayed there most of the night. I thought we were going to be talking about blended learning but suddenly that didn't feel very important. Did anyone else have this feeling?"
Several people shook their heads.
Michael was older than everyone else in the room. He had been in higher education both as a professor and administrator until his early retirement when he joined the AshCom learning team. He was often the source of wisdom to the team.
"Alishia," said Michael, "I hear you. And I agree that the stakes are high. We have a lot of challenges in filling the skills gap in the face of high technology and few workers available. We also have to figure out how we would give people the learning experiences they need in a remote setting."
He continued, "But I want to put your comments about the threat in the bigger context. Maybe it will be helpful. Or maybe it won't, but here goes. I think every learning experience we build either adds to or detracts from the future of our company. In other words, the stakes are never low if we believe learning is essential to AshCom's success. I'm sure everyone in this room feels the same."
Everyone nodded. Two people raised their hands.
"That said," continued Michael, "the anxiety you feel is real. The stakes are higher than normal. They are real. These challenges didn't originate from us. They came from the Chief Human Resources Officer and the Chief Operating Officer of AshCom. These are serious people who are seeing real difficulties coming our way if we don't figure this out."
Alishia grinned, "I thought you were going to make me feel better."
Kathryn didn't want to cut short this discussion, but she had another activity planned. "Does anyone have anything to add?"
No one did.
Taking On The Blended Learning Formula
"Then," said Kathryn, "I would like to divide us into two teams. The first team will take on the first part of Rebecca's formula. N1 and N2. The needs of the company and the needs of the learners."
Maggie hadn't said anything so far, but this was her moment. "I probably should have said this when you asked if anyone had anything to add, but I'd like to ask a question to our group."
Kathryn wanted to get on with her agenda, but Maggie had been with AshCom for more than 20 years and was an experienced learning experience designer.
Kathryn nodded and Maggie continued, "Like Alishia, I like this model or formula or whatever we are calling it. I don't want to get philosophical, but N1 and N2 both have to do with needs. N1 is organizational needs. N2 is learner needs. Which one is more important? Does one take precedent over the other? What if they conflict? Which one would win out?"
"Not philosophical?" said Michael, as the room chuckled.
"I'm not trying to take us down a bunny trail," said Maggie. "We have important things to discuss, and we all know the risk of failing to figure this out. But this is something that stuck with me after last night's discussion."
Kathryn saw her moment. "Maggie, I don't want to cut you off. This is an important discussion, and I want you to have it inside the team assigned to figure out our needs which are you, Amy, Darryl, and Adeena. Your assignment is to flesh out the needs of both AshCom and our learners. Paint us a picture. Give us a graphic if needed. Dig deep. And let us know if you come up with an answer to Maggie's question."
Kathryn continued, "The second team is assigned to the "T" part of the equation: tools. Those on this team are Alishia, Michael, Martina, and Rebecca. Your task is to list all the learning tools we have available to us right now. Every single thing you can think of. The more difficult part of your task is that I want you to give us a list of all the tools we don't currently have in our toolbox but that we need. Don't limit yourself by budget or complexity level. Think of everything you can and come back ready to discuss both what we have and what we might need in the future."
"What about the Design part of the equation?" asked Adeena.
"We will come to that later," said Kathryn. "I suspect once we've identified the learning needs of AshCom and our team members and we've got a great list of current and possible future tools, the design next steps will come easily."
"I get where you are going," said Darryl.
"You still stuck on blending learning?" asked Kathryn laughing.
"Nope," said Darryl. "When we know the needs and the tools available, we can do our instructional designer thing with objectives, blueprinting, and all of the other steps. That will tell us the modality we need to solve these problems."
"More likely 'modalities,'" said Rebecca. "And then we will know if we have blended learning or not. But I suspect we won't know this until the end and by then, no one will care."
"Good point," said Kathryn. "You have until 11:45 this morning, which gives you about two hours to complete your assignment. Let's come back together for lunch and see what insights you have. I'm not joining either team."
"You'll be on the patio getting some sun?" said Michael.
"Not quite," said Kathryn. "I'll be preparing the lunch you will all want in a couple of hours. Let's get to it."
Each team decided on a comfortable location and settled into their given topic. The conversations were intense but respectful, and each team felt more than ready when it was time to report.
Conclusion
Download the eBook Beyond Blended Learning: A Winning Formula For Remote Workforce Talent to discover how AshCom overcomes its L&D challenges using innovative blended learning strategies. Also, join the webinar to uncover valuable insights that will help you improve your L&D planning and learning delivery.

MindSpring
MindSpring is an award-winning agency focused on delivering engaging and transformative digital content. We create digital experiences using exceptional creativity, the best of learning science, and innovative technology. (Previously Inno-Versity)