Why Is Upskilling And Reskilling Essential For Talent Development?
Upskilling and reskilling is a key component of long-term growth and organizational change. The talents that your teams possess (or lack) have a direct impact on every aspect of business operations, from customer service scores to compliance breaches. But why is it so essential for companies to launch an online training program for skills development? How does it affect employee retention and workplace productivity? Which industries benefit the most from reskilling and upskilling their staffers? Let's look at the profitable perks that it brings to your organization and why it's an important ingredient in ongoing talent development.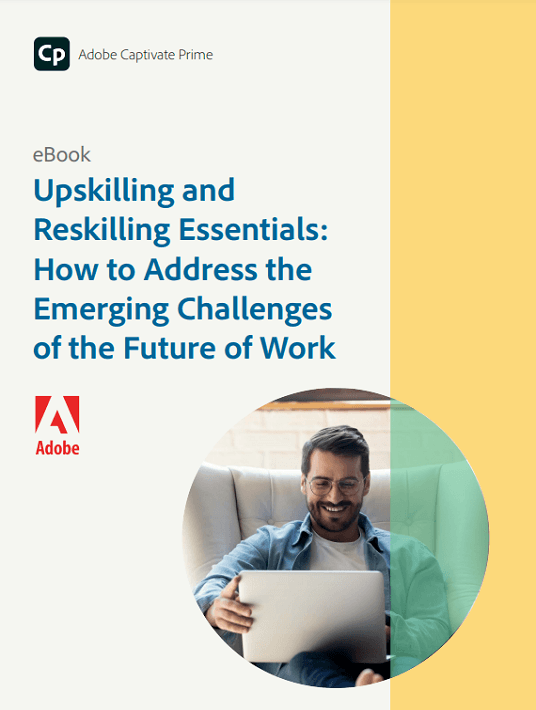 eBook Release
Upskilling And Reskilling Essentials: How To Address The Emerging Challenges Of The Future Of Work
Discover how to cultivate core competencies and build crucial skills to overcome remote work obstacles!
Top Reasons Why Upskilling Your Workforce Benefits Your Organization (And Its Bottom Line)
Talent development should be holistic, in that it concentrates on both team and individual performance. An upskilling and reskilling plan gives your organization a competitive edge, but it also gives your team the self-confidence they need to rise to on-the-job challenges. They don't settle for the status quo because they know there are training resources to help them achieve their full potential. Here are the top 5 advantages of upskilling your workforce from a personal and profitable perspective.
1. Tackle Emerging Challenges
The changing nature of work due to the COVID crisis isn't the only obstacle that organizations face. Employees must also be ready to take on emerging challenges that pertain to your business practices and the evolution of your industry. For example, you're implementing new software to streamline work processes and improve on-the-job productivity, employees need to know how to maximize functionality and troubleshoot common issues. Without an effective upskilling and reskilling training strategy, your workforce might have a steep learning curve ahead of them because they lack the necessary support.
2. Adapt To Changes In The Market
There are many advantages of digital upskilling, but adapting to change and keeping up with market trends is near the top of the list. Let's say that your customers now expect different services or product features. Your R&D team might be able to provide new and improved offerings, but the rest of your employees must refine or develop new skills to provide stellar service. Upskilling and reskilling training allows you to quickly adjust to these changes in the market because your workforce is aligned and has all the essential know-how.
3. Retain Top Performers
Self-development through reskilling and upskilling courses is a job perk that many candidates look for when seeking employment. But, it's also one of the main reasons why top performers stay with your organization instead of taking their talents elsewhere. Launching an upskilling and reskilling program shows that you care about their personal development and growth. They have ample opportunity to reflect on their current skillsets and possibly even cross-train in other departments that better suit their interests. In turn, this directly benefits your organization, as you cultivate a team of highly qualified professionals and cut new hire training costs.
4. Identify Skill And Knowledge Gaps Early On
A strategic upskilling plan doesn't just focus on taking talent development to the next level. It also allows employees to identify limiting beliefs, behaviors, and gaps that hinder job performance. They can disclose these pain points through periodic knowledge checks and self-evaluations in order to get their goals back on track. For instance, your upskilling strategy might involve certification paths that center on communication or interpersonal skills. Employees can test their active listening and empathy if they want to pursue leadership positions and continually hone their abilities.
5. Nurture Emerging Talent
Talent management is another all-important reason to implement an upskilling and reskilling training program. You must be able to pick emerging MVPs out from the crowd and give them the skill-building tools they need to maximize their strengths and pinpoint gaps. Many employees are willing and ready to take on greater responsibilities but there are limited advancement opportunities. Upskilling is a crucial component of leadership development, given that it allows them to shift their career trajectories and contribute more to your organization.
Which Industries Reap The Rewards Of Reskilling And Upskilling?
Every niche benefits from upskilling employees, as it allows you to make the most of internal talent and provide continual support. However, there are some industries that stand out due to the nature of their field and common pain points. Here are just a few prime examples of upskilling and reskilling in action:
Retail
Customer service and sales employees must be able to adapt to turns in the market and continually expand their skills. For example, a member of your team needs to build their communication skills to increase their per-ticket sales and satisfaction scores. They must continually strive to provide better service, identify customers' needs, and keep up with industry trends. In the case of reskilling, employees who once belonged to the customer service team might step into the role of remote sales reps to meet the growing needs of your organization and maximize unused talents.
Manufacturing
Retraining and reskilling workers in the age of automation allows you to engineer innovative solutions and continually improve your manufacturing processes. For example, employees learn how to operate new machinery and transition from a more manual approach. In this case, you can even upskill and reskill staffers to handle technical aspects of the job, such as using software on the production line to aid in your digital transformation.
Healthcare
While reskilling for the future is a key factor, healthcare workers must be able to rise to COVID-related challenges today. The post-pandemic world will also require fresh skillsets and competencies to mitigate new risks and pave the way for the new normal. Upskilling and reskilling allows them to focus on personal areas of improvement, adapt to new protocols, and develop talents to provide a higher quality of care for patients.
Why Upskilling And Reskilling Is Crucial For Business Survival
Skills are a precious commodity. Organizations that underestimate the importance of upskilling and reskilling put their profit margins in peril. If it's survival of the fittest, highly skilled staffers are more likely to edge out the competition. Every member of your team should be able to broaden their proverbial horizons and seize new job opportunities. However, one of the primary reasons why companies are failing at reskilling is due to the fact that they lack a sound strategy and training technologies. Adobe Captivate Prime can help you launch skill-based learning plans equipped with the power of AI tech and talent development certifications.
Download the eBook Upskilling And Reskilling Essentials: How To Address The Emerging Challenges Of The Future Of Work to learn how to foster internal talent, regardless of your budget or staff size.