Learning map – a non-linear way to present learning resources
As we all know, business, technological and social changes lead to and influence the transformation of workplace learning. As Marc J. Rosenberg said: "We must know more, but what we know has a shorter shelf life than ever".
An increasing demand of performance support and informal learning call for changes in learning strategies:
Just-in-time/just-in-case learning (people don't have time anymore, they just want to do their job properly);
Quick production or learning resources (because tomorrow they might not be relevant maybe it wouldn't be relevant any more);
Fast access to earning wherever and whenever.
To meet all of the above needs, a drastic change in e-learning design should be made. That is why there has been a lot of talk about chunking information, microlearning and content curation lately. By chunking information strategy, microlearning and content curation we can give our learners what they need: shorter, bite-sized, less-linear and self-controlled e-learning. There are several approaches and tools to do that, but in this post I am going to focus on an old-new approach Learning map. Why old-new?
We are all familiar with mind mapping, which is used mostly for learning, self-organizing, capturing ideas, etc. It can be used as a personal or collaboration tool (i.e. brainstorming). But it is rarely used for delivering/presenting learning resources to the learners. So the main idea of a Learning map arises from a mind map, which is (a bit) transformed to meet chunking, microlearning and curation concepts.
See a screenshot of a Learning map example, made by Edynco platform and the main characteristics of it.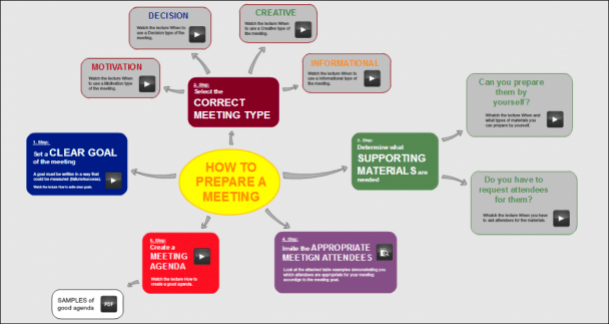 An example of a Learning map made with Edynco
5 Main Characteristics of a Learning Map
Learning map is non-linear and visually attractive, which helps your learners to remember more
A Learning map replaces menu lists and "page turning" courses. You can divide your course content into smaller learning topics using a learning map. Presenting a learning topic with a combination of color  key words and visual-spatial arrangement significantly improves recall when compared to the linear presentation.
Learning maps support the exploration and pulling the content at the point of need
The visual interface of a learning map encourages learners to explore learning topic and to pull the content they need. The learning path they take is completely self – controlled, which is important to adult learners.
Learning map is perfect for handling information overload
Each Learning map can have one central branch and numerous sub-branches. Inside the branch you can place short branch titles and instructions. Learners can see the whole concept of the learning topic and relationships between individual parts at once which reflects in greater understanding and memorable learning experience.Each branch can contain attached learning resource (i.e. videos, quizzes, PDF, web links, etc.) for more in-depth learning when needed by the learner.  Branch elements
Learning map supports curation
The nature of the Learning map avoids clutter and forces educators to prepare clear, short information and to organize it in a meaningful way. Learning maps are also very intuitive thus quick production and update in provided.
What about accessibility to the learning map from mobile devices?
This is the most important thing if we really want to help our learners to get information when they need it. Mobile learning plays a key role. Touch screen learning maps add a special value to the learning experience and improve engagement. Learners can "physically "interact with numbers and information on their screens naturally.
The essence of the Learning map is structured, visual presentation of a large amount of information without the fear of your learners getting lost.
Perhaps you will say "But I prefer using linear presentation of the course content with a table of contents or menu lists." Have you ever asked yourself if we aren't just used to linear presentation even though non linear is more productive? On the other hand, when I ask teachers/SME how they start preparing a course - the majority says they start with a sort of a mind mapping the course structure. Why? Because this comes to us naturally.  Our brain doesn't work linearly, so why impede the learning process?
You can find more about learning map and try it for free on www.edynco.com
References:
Buzan, T. 2010. The Mind Map Book. Harlow: BBC
Shepherd, C. 2011. The new learning architect. Onlignment