How Can You Leverage Banner Ads For Your eLearning Biz?
What are the different types of banner ads for eLearning marketers? How can you use them to promote your product or service and reduce your marketing spend? This article answers all your burning questions regarding run of site banner ads and popup banners and their many applications.
First, let's quickly recap banner advertising basics. In short, popups and banners are embedded on web pages that cater to your niche audience. For example, it could be your own website or maybe an industry thought leader's site that already attracts eLearning decision-makers.
The banner ad sends leads that click on it directly to your most converting landing pages so they can learn more about your brand.
Now, let's dive right into the types of banner ads and how they maximize your marketing reach.
Promote Your Product or Service with Banner Advertising
Do you want to connect with over 936,000 readers a month and get your message in front of the right people? Leverage different types of banner ads on eLearning Industry.
What Are The Different Types Of Banner Ads?
Run Of Site Banner Ads
ROS ads show up at the top of the web page or in the margins. You can implement several campaigns on your website to test the waters. If your traffic is low, maybe you want to take advantage of another website's traffic. The more relevant the website is to your service, the better. After all, what you're looking for is to reach a targeted eLearning audience.
The most dominating banner types in the online world are:
Flash
Animated GIFs
Static banners
In addition to the above primary types of banner ads, you can use different formats, layouts, and presentation styles to display them. For example, your banners can be floating, rotating, scrolling, and more.
Run of site banner ads are a cost-effective way to boost traffic and conversion rates since there are minimal distractions (no invasive ads). However, you still get all the big data you need to improve your marketing strategy and skyrocket sales. To give you an example, data can show you how many people click on your banner ad versus the number of impressions. Keep in mind that these banners are mostly used for brand awareness.
There are several websites that run banner ads that are related to article categories or tags to make them even more effective. Meaning that the relevance between the landing page the banner ad appears on and what it advertises will surely increase conversions for your campaigns. You can try to do the same with your ROS banner campaigns!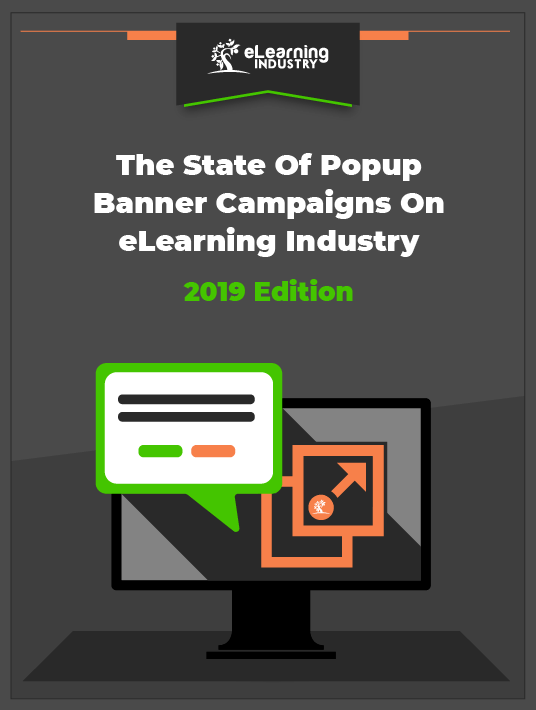 eBook Release
Do Your Want To Get More Sign-Ups And Opt-ins? Here's How To Succeed With Banner Ads
Download this eBook to get the hottest tips on designing popup banners that actually convert.
Popup Banners
When it comes to types of banner ads, these are my favorite. Popups are also known as lightboxes. This tool is a display ad that typically shows up in the center of your website. They are great at attracting attention from your website visitors. In fact, popup banners are a great strategy to achieve brand awareness AND drive traffic to your preferred landing pages!
Pairing a popup with clever copy or a specific campaign is a powerful way to gather that email address. For example, you could incentivize users with a discount or a unique piece of content to get them to convert.
Again, you may start using popup campaigns on your website or you can leverage a relevant audience on another niche website. And, remember: Relevance is the key to success.
Whether you're promoting new LMS features or special discounts on L&D outsourcing services, category-specific popup banners yield max results. For instance, your popup can take over the page and grab prospects' attention.
One of the perks is that you have more screen real estate to get your message across and expand your CTA. You can also typically choose from different banner ad sizes based on your promotional goals.
There are four main types of popups:
Exit-intent popup
Time-based popup
Scroll-triggered popup
Click-activated popup
Each type of popup has a different application, as well as pros and cons.
If you want to dive in and understand how each of these web popup types can help speed up your lead generation, check out our complete guide for web popups.
How Can eLearning Marketers Use ROS Banners And Popups?
1. Offer A Special Promo For First-Time Buyers
First-timers get a special discount, which allows them to try your product or service at a reduced cost. They're also more likely to take the leap because there's minimal risk involved. In lieu of price discounts, offer extra services or features. For example, first-time buyers get additional support at no additional cost. It's a fantastic way to show your appreciation and confidence in your own eLearning product.
2. Market Your Free Demo Or Trial
If you offer free test drives or live demos, ROS banners and popups give you the opportunity to increase signups. Thereby, generating more leads and allowing prospects to try before they buy. For instance, they may want to enroll in a free authoring tool trial to evaluate the features firsthand. Your static banners include all the crucial details, such as where to download the trial version. In return, you get their contact information to add to your mailing list.
3. Advertise Exclusive Content
Another popular use for a website popup or ROS banner is to promote bonus content, such as eBooks, white papers, and tip sheets. For instance, an exit popup appears when the site visitor is about to click away. However, they stay to learn more about your exclusive eBook that teaches them how to engage remote staffers. Or, maybe they're interested in the next live event you're hosting on compliance training during the COVID crisis.
4. Promote Free Upgrades
Many eLearning businesses use a screen popup to offer a free product or service upgrades. Let's say that website visitors get a free asset library upgrade if they sign up today. Or, they're able to access your exclusive VIP knowledge library to maximize LMS functionality. Popups and banner advertising show them what's in store if they seize the opportunity ASAP.
5. Hide Distracting Forms
The trouble with opt-in forms is that they're often distracting. They take up the entire page and prevent site visitors from perusing product perks and specs. However, run of site banner ads are more discreet and less distracting. You can also use category-specific popup banners to show your signup form after they've read the article. In either case, they're able to click through to your landing page to verify your credentials before opting in.
6. Provide Engaging Reminders
The clock might be ticking on your limited time offers or you have a webinar that's quickly approaching. Popup ads are the ideal way to remind website visitors so that your marketing stays fresh in their minds. They're already interested in your product or service. Otherwise, they wouldn't be visiting an eLearning site that features helpful pointers, tips, tools, and other niche resources. So, you know that the buying intent is there and that your reminder is relevant to their needs.
7. Send Prospects To Targeted Landing Pages
Finally, you can use an information popup or ROS banner to send leads to email-gated landing pages. You get their email contact details for future marketing efforts, and they get exclusive content. For example, the landing page features demos or recorded webinars that offer a behind-the-scenes look at your product. This is why designing popups and ROS banners for mobile is so crucial, as most visitors use their devices to vet vendors and conduct market research.
Conclusion
Forging a lasting relationship with potential prospects starts with a targeted marketing strategy. As an example, sending traffic to a lead generation landing page so that visitors familiarize themselves with your brand.
Behavioral popups leave a lasting impression (pun intended) because visitors have already progressed down the marketing funnel. Now it's time to tell them why your organization stands apart from the competition. Of course, this requires a well-crafted call-to-action (CTA) and additional incentives. It also doesn't hurt to create a sense of urgency so that they click straight away instead of letting your message simmer.
How can ROS banner ads and category-specific popup banners benefit your business? Which approach is right based on your budget and current promotional strategy?
Learn more about eLearning Industry's dynamic banner ad campaigns and how they can help you improve ROI in record time.