How To Overcome 6 Email Marketing Challenges When Promoting eLearning Solutions
Like any form of marketing, email marketing requires a plan of action. You can't just send out emails to prospective and existing clients and expect to generate sales. It takes time, patience, and value-added content to improve conversions and site stats. Most eLearning companies aren't aware of email marketing challenges, which leaves them wondering why thousands of messages and countless hours of research haven't yielded any results. But have no fear, because here are the top 6 email marketing challenges along with tips on how you can overcome them.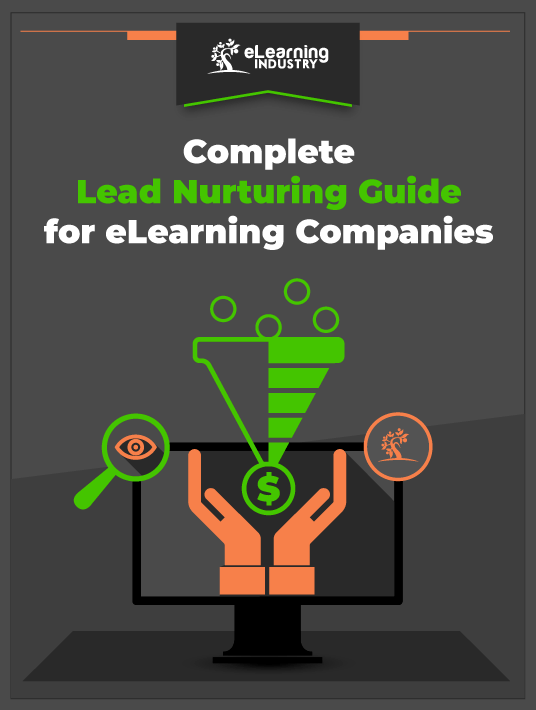 eBook Release
Lead Nurturing Guide For eLearning Companies
Learn how to use lead nurturing and qualify your leads. It's your best bet to make eLearning prospects convert.
These Are The 6 Common Email Marketing Challenges You Must Overcome
Selling online courses and training solutions through email marketing is easier said than done. Learning how to create and use your email list to sell online courses or offer eLearning solutions to prospects is critical. From creating email sequences that can lead to a free trial, demo, or consultation to launching online courses, you need to cover a lot of territory. If you want to try out a tested practice, make sure to explore the best email drip campaign examples and drive your leads down the funnel.
Let's check out which email marketing challenges eLearning marketers face and how to overcome them.
1. Insufficient Data
All marketers know that the content of the email is crucial, but how can you be sure that you're meeting readers' expectations? For that, you will need access to data, as much data as possible. You want a tool that will help you collect data from your email marketing campaigns, which will help you segment your content for email marketing. Look for a program that allows you to segment your customers, meaning you can divide them and design specific content for each target group. This ensures you have content that is relevant to them and increases the chances of conversion.
Are you looking for results-driven solutions? Take a look at these email marketing strategies for eLearning brands.
2. Emails Aren't Received
One of the biggest challenges faced by email marketers is whether the emails are properly delivered to the email list subscribers. A lot of time, the emails end up in the client's spam and sit there until they decide to do a clean sweep, or the email service provider automatically deletes the message at the 30-day mark. In the marketing world, the term used for such an occurrence is "bounce."
There are two types of bounces: soft and hard. Soft means that it's temporary and usually due to a full inbox. Hard bounces are due to an error, and it is usually permanent. Thus, you want to make sure your email contact list is always up to date. At times, the internet provider flags emails as spam, so you may also want to inform your client when they sign up for your email service. Ask them to check their spam mailbox or mark your company's email address as a contact.
3. Retaining And Adding Subscribers
To ensure that your deliverability is high, you want to make sure you have active subscribers. That also plays a role in retaining and adding new subscribers so you have a higher chance of generating business. A common email marketing mistake is buying email lists. While you do add a lot of emails to contact, your emails end up being unsolicited and usually are marked as spam. The key is to add a value proposition for your leads so that they opt in. Give them a sneak preview of what's in store, should they decide to become a subscriber. For example, they'll have access to exclusive tips, offers, and downloadable guides. You should also constantly optimize your content and use segmentation to adapt content based on customers' needs.
Are you looking for more tips on how to get more qualified subscribers? Make sure to read my article on how to qualify leads!
4. Generating Qualified Leads
While email marketing shouldn't be relied on as the sole channel for sales generation, it has the capability of becoming a major part of your sales funnel. The use of automated emails can help you nurture new leads. For example, as soon as a client shows interest in your service, an email goes out to provide them with more information about your eLearning software rather than having them wait for a representative to call. This shows them that you value their business and prepares them for the next phase of the customer journey. What's that? A direct call/consultation with your rep or an invitation to sign up for a course, an authoring tool, or LMS free trial.
Are you searching for effective ways to get new leads for your email list? Take a look at these:
5. Marketing Content Misses The Mark
Many email marketers fall into the trap of writing generic or gimmicky content. They see it as an opportunity to secure an immediate sale instead of a chance to build a rapport with their leads. Every email you send to the prospective clients on your list should be personalized and relevant to their needs. It should give them solutions to their problems and help them overcome online training obstacles. Avoid sales pitches and opt for a subtler approach.
For example, send an email that explores the top 5 LMS reporting mistakes. Or tell them about the best leadership training courses they should take. Then include a blurb at the end about how your tool can help them address the issue head-on. Don't forget the call to action and links to your social media and landing page. As you can understand, email segmentation is a number-one priority for personalization and increasing conversion rates. Always have in mind who you're writing for and which problem you're trying to solve.
Do you need more tips? Don't forget to read all about conversion rate optimization and try out new strategies.
6. Unclear Objectives
You must have a clear idea of why you're sending emails in the first place and what you hope to achieve. Unclear objectives and goals are a major mistake, as you have nothing to guide your efforts. Develop a list of desired outcomes and measurable objectives for each email marketing campaign you implement. If the goal is multifaceted, create milestones so that you can track each phase of the project. You should also re-evaluate your eLearning email marketing strategy on a weekly or monthly basis to ensure it's still on track.
For example, one of the emails you sent last month seems to be outperforming the others. The link you embedded into the message is generating the most site traffic and conversions. What's unique about this email and how can you improve future content to achieve similar results?
Extra Tips For Marketers Promoting eLearning Software Or Services Via Email Marketing
I love marketing technology because it continually brings new ways to communicate. But using emails for marketing is still one of the most effective tools eLearning marketers can utilize to drive conversions. Automating the process is even better!
Did you know that for every $1 you spent on email marketing you can get $51 in return? That's what helped me realize the power of email marketing. It's not just about creating engaging content. Success and conversions come from choosing the right distribution strategy. And, of course, reaching your ideal buyers at the right time. That's why email marketing is worth the investment.
Effective email marketing helps eLearning companies connect with corporate training buyers when they are looking for solutions. Plus, it opens new paths to cultivating strong client relationships. Most importantly, a smart email marketing strategy can convert prospects into clients. That's what we all want, right? Turning one-time purchasers into regular eLearning buyers.
If you want more conversions for your eLearning tools and services, here's where you should focus on:
Lead generation and lead nurturing
Producing effective email marketing strategies
Designing and testing email marketing campaigns
Leveraging marketing automation
Conclusion
The benefits of email marketing are endless. However, starting an email marketing campaign does not always result in more sales. You must know what you want to achieve and how to overcome challenges to ensure a successful email marketing campaign. You also need to make certain that the content of the email is relevant to your target audience. These 6 tips can help you improve your marketing ROI and generate more leads more rapidly.
Are you ready to take your eLearning marketing strategy to the next level? eLearning Industry's PPC advertising platform offers geo-bidding, KPI reports, and prominent placement in our online directory. You can also custom-tailor every ad based on the needs of your segmented audience to achieve a greater impact.