Discover The Lead Generation Best Practices For B2B eLearning Companies
Every successful Business-To-Business marketing strategy has one thing in common. With a narrow market of business decision makers as the target, B2B marketers simply must do this one thing well, and consistently.
It's lead generation.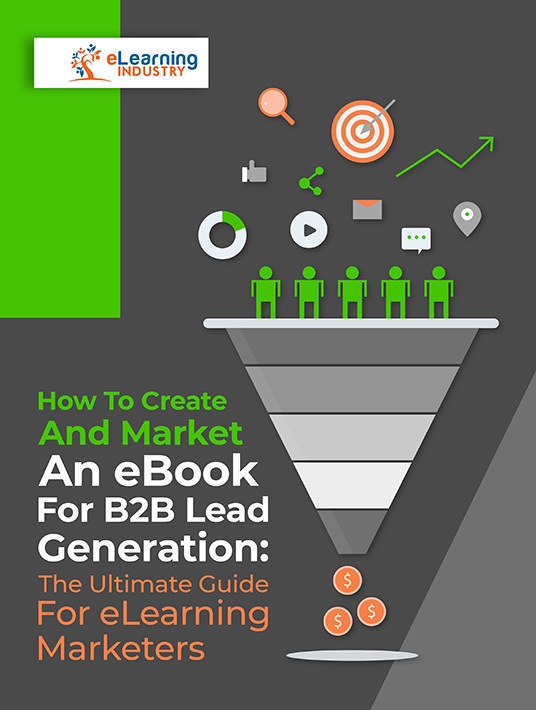 eBook Release
How To Create And Market An eBook For B2B Lead Generation: The Ultimate Guide For eLearning Marketers
Learn how you can optimize the B2B lead generation process and its ROI while discovering tips on quantity vs. quality.
In a B2B strategy, nothing is more important than identifying qualified potential customers and getting them into the sales pipeline. Some would say you can never have too many leads, but that's not exactly true. Lead generation requires a careful calibration of quantity and quality [1]. Marketing needs to inspire the right prospects to respond. But because every lead won't turn into a customer, the sales team needs enough high-quality leads to call on and close.
With small, precisely defined audiences, B2B lead generation strategies need to strike with the right mix of information, personalization, and timing to successfully attract, nurture, and turn leads over to the sales team at the point when a prospect is ready to make a purchase [2]. It's a blend of art and science.
Effective Lead Generation For eLearning
For eLearning companies, a lead generation strategy can be make-or-break. To generate the sales you need to reach your goals, you have to continually bring potential clients into your pipeline and effectively build trusted relationships over time. That way, when a prospect is ready to become a customer, your solutions are top of mind.
Remember when your salespeople were your primary lead generation tool? The good news is that in our era of digital content and inbound marketing, lead generation has gone to the next level.
Today, it's possible to generate more leads through digital marketing. But, more importantly, it's possible to generate more sales-ready leads.
With the right strategy in place, you can attract the interest of eLearning prospects as soon as they visit your website. Through a thoughtfully designed content marketing strategy, you cultivate their attention with useful content and expert insights. From there, advanced tracking and analytics enable you to optimize content, personalize the buyer journey, and time sales outreach to align with specific milestones.
6 Best Practices For Lead Generation Success
It's a process that works, but it's not always easy. Fortunately, there are proven best practices that help eLearning companies create, deliver, and optimize lead generation strategies that target defined sets of potential customers.
1. Mix Up Your Content Delivery
High-quality content that's both helpful and relevant boosts awareness and brings visitors to your site. Mix blog posts with a gated content offer that ask visitors to share their information in a lead generation form. When your content satisfies your audience, they will opt-in to become high-quality leads.
While content marketing starts on your website, it doesn't stop there. Capitalize on opportunities to contribute thought leadership-based guest posts to sites your target audience visits. Not only is this an effective way to expand your reach, but it also creates backlinks that bring your target audience to your website where they can be converted into leads. In addition, high-quality backlinks can help your webpage achieve higher page rankings in search results.
2. Aim For Shareability
When you create solid content, don't keep it to yourself. Share it via social media. Posts on channels like Facebook or Twitter are good for generating leads. For B2B marketing, LinkedIn is a good way to target eLearning influencers and decision makers. SlideShare is another option that's a good fit for sharing more detailed insights and knowledge by uploading a presentation. Finally, don't forget to share your content within online eLearning communities to put your content in the hands of the specific audiences you want to reach. Thus, aiming for shareability is one of lead generation best practices.
3. Invest Strategically In Pay-Per-Click
Strategic use of pay-per-click campaigns can generate quantity and quality when it comes to leads. PPC strategies can help you find the right prospects to target within the eLearning community, which, in turn, sends high-quality traffic to your landing pages. To generate high-quality clicks, target more specific keywords. And be sure to test headlines and calls to action to drive conversions.
4. Hit The Inbox
Email marketing can be an effective and cost-efficient way to reach prospects. For eLearning companies, creating a newsletter designed to nurture new leads is a good place to start. By sharing tailored content that's curated for your target audience, you can build credibility while nurturing leads through your funnel. If your email list is small, explore options to collaborate with an industry website to promote your brand and newsletter subscription offer.
5. Play Host
Webinars provide an opportunity to add a human element to your content delivery. When prospects register and attend a webinar, they're conveying a higher level of interest and a desire to connect with your content. In addition, the registration process itself is an excellent way to capture additional information about your leads. When planning your next eLearning webinar don't miss the chance to ask a couple of questions about their business and their needs.
6. Book It
In the eLearning niche, an eBook is an especially effective way to attract new prospects and retain potential customers throughout the marketing life cycle. When you offer substantive content that your target audience wants to learn more about, prospects are open to exchanging contact information for access to the content. To increase the quality of your lead capture, ask for information that will help identify where the prospect is in the buyer journey. Then, use segmentation to provide additional personalized communications and offers to move prospects to the next step.
Most of all, eBooks can be a go-to strategy for eLearning marketers primarily because of their longevity. Savvy marketers repurpose eBook chapters and use them to create articles, blog posts, and other content initiatives that keep generating leads for months, and even years, to come. And once the book is downloaded, prospects are likely to keep it as a reference and share it with colleagues. In a B2B space, wrought with long purchase cycles and multiple decision makers, an eBook can be a hard-working, lead-generating, ROI-creating showcase for your expertise and solutions.
eLearning marketers may sometimes feel overwhelmed when they're in the process of finding the best ways to create and market an eBook for lead generation purposes. Download our free eBook How To Create And Market An eBook For B2B Lead Generation: The Ultimate Guide For eLearning Marketers to discover how to create and market an effective eBook that addresses the topic with the authority of an eLearning marketing expert but in a friendly tone.
References:
[1] Why Lead Generation Is Critical to the Sales Process