Why A Custom GUI Is A Must For eLearning Courses
Creating eLearning courses is a lot easier today, thanks to the rapid authoring tools that are at our disposal. These authoring tools come with ready-made elements for the Graphic User Interface (GUI) – templates, icons, buttons, and controls we can choose from. While this may work for any urgent work that needs to be rolled out quickly, it may not be a great idea as a policy to go with just the default templates, designs, and color combinations for all your courses.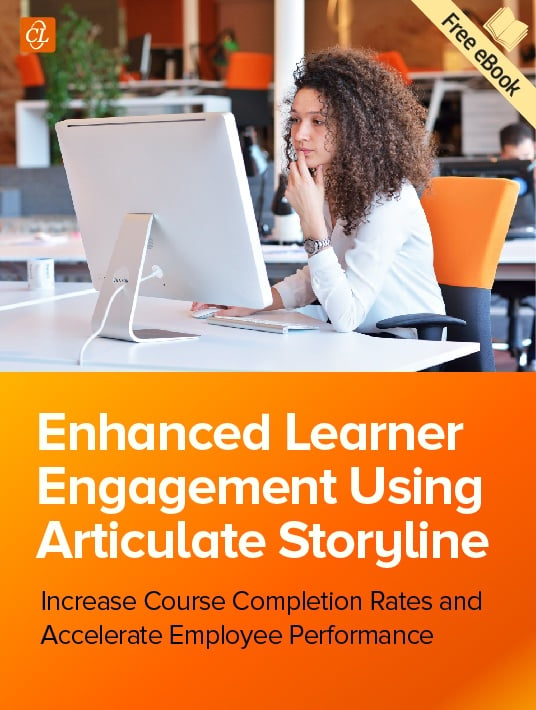 Here are some reasons you should invest time and resources to customize the GUI of your eLearning courses.
1. Create Courses That Are Unique And Align With Your Corporate Branding Strategy
Authoring tools come with built-in GUI templates along with several options for illustrated and photographic characters to make courses interesting. The color combinations or style used though may be in complete contrast to your corporate style guide. While these tools help you jumpstart course creation, you can make minor adjustments to them to personalize and make courses unique to your company. This means you can add your corporate logo and change the default colors of the GUI elements (icons, buttons) to those that agree with your organization's branding strategy as well as the corporate style guide.
2. Maintain Parity With Your Other Corporate Sites – HR Portal, Website
GUI elements, such as icons, buttons, and images, can match those used in other corporate sites such as the HR portal, intranet, or corporate website. It reduces the learning curve as employees are already familiar with the elements and they can get started quickly with the course instead of spending time on familiarizing the interface. In fact, you just need to invest in these elements once and the same can be used for future courses.
3. Remove Unnecessary Elements To Give A Clutter-Free And Neat Interface
The Dashboard or the Menu page can be customized by eliminating unnecessary elements, rearranging them, and adding functionalities that add value to the course. For example, you may not want the EXIT button to appear until the end of the course. Or, you may want to tell learners the portions/topics of the course they have already completed, right in the Menu page. I have seen my colleagues master this in Articulate Storyline using triggers and variables.
In case you want to include the audio script only in some slides, you can do so by customizing the GUI to ensure there's no global script button, but appears only in the needed slides. Finally, there may be features or navigational elements that you do not require for your course. They may be best removed from the interface so that it is clutter-free.
4. Don't Compromise On The Content And Learning Strategy
GUI in the default templates of an authoring tool are rigid. Your learning content may or may not fit into the template design. Instead of chunking or tweaking the content that was carefully prepared by learning designers, you can alter the design to suit the content. For example, if you have important information that needs to be part of the course but does not fit into the template, you can add a Resource or FAQ button and include the information under these heads. You can make required changes to slide layouts that are built-in in authoring tools, such as Articulate Storyline, Captivate, and Lectora, so that they better satisfy the learning needs of your target audience.
Final Word
Customization allows you to offer more learner-centric courses to your employees they can relate to. When you have an option, why do you want to settle for something that is not aligned with your corporate branding and style? Also, using default templates repeatedly will result in monotony and make courses uninspiring to your learners. Customizing, while retaining essential standardized elements, adds a surprise element to each course and maintains learners' interest and enthusiasm.
If you want to learn more about how the right learning design strategies and interactivities contribute toward learner engagement, download the free eBook 8 Efficient Ways To Improve Learner Engagement In eLearning Using Articulate Storyline.
Related articles:
1. 3 Tips To Create Less Monotonous, More Engaging eLearning
2. Using Branching Scenarios In eCourses To Build Decision-Making Skills: Why And How
3. Role Of Interactivities In eLearning And How You Can Use Them
4. 4 Levels Of Learning Interaction In Online Courses