Defining Your Hybrid Working Strategy
Many companies that provide mobile application development services and companies that work in other fields reported that their employees became more engaged and productive. Of course, people lacked personal meetings, a workplace outside the home, live communication, and other factors. On the flip side, they got more free time, as well as control over it.
However, it cannot be said unequivocally that any of these types of work are better and we should choose the only one. That's why a hybrid working strategy, i.e., the mix of remote work and work from the office, is a hot issue today.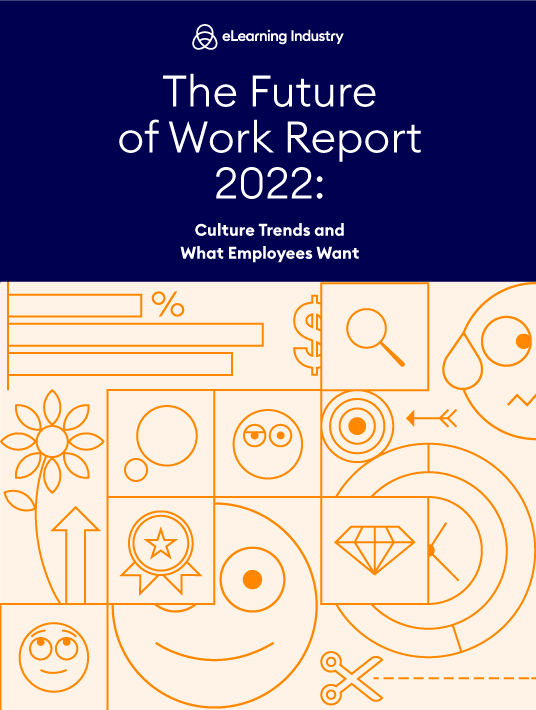 eBook Release
The Future Of Work Report: Culture Trends And What Employees Want
Is your business out of touch with what employees want? Dive into this report and discover how you can create a great workplace!
10 Tips You Should Utilize When Returning Back To Normal Life
It is not yet clear how the transition to hybrid jobs will change the career market. But in case you follow the 10 tips below, you can better navigate the new world.
We can say for sure that more and more hybrid work model organizations will appear. The world will not be the same and it shouldn't be. Long commutes to the office should be a thing of the past and it's important for us to rethink the factors that really help us achieve better results. You can contribute to the new world, so take this opportunity.
1. Hybrid Work Can Be The Value Of Your Company
Once businesses switched to telecommuting, it challenged the notion of how and why people work. If earlier we believed that good results are possible only in the office, now we have received confirmation of the opposite. Now people who are looking for a job and already employed specialists are asking themselves the question: What does my manager think about remote work? And this can be your advantage in the labor market.
When working on a hybrid strategy, it's important to understand what's on your list of values. If you want your employees to work from the office (when there are no restrictions due to the pandemic), or vice versa, you do not care about the location of the employees, let them know. So, potential candidates will be able to choose the organization that best suits their idea of ​​a good job.
2. You Cannot Avoid Personal Meetings
Despite the fact that most companies introduced telecommuting in 2020 for the first time, it is important to understand that what we went through was not a normal situation. It wasn't just about telecommuting; it was about physical isolation.
If you want to create a highly effective hybrid work culture, you need to focus on recurring face-to-face meetings. Of course, it is important that all participants understand why these meetings are needed and what results they will bring. Unless you have a clear goal and are not willing to invest in organizing meetings, you cannot demand that your employees get together.
3. You Can Become More Inclusive
When you hire employees to work in the office, you expect them to commute to the workplace on a regular basis. In any case, this creates certain difficulties with inclusiveness because you do not take into account people who have disabilities, family care obligations, economic constraints, etc.
Also, a second side of the coin exists here. By expecting your employees to always work from home, you can create an uncomfortable situation where their personality type, living conditions, or other factors make work less efficient. This means that companies that rely on more flexible hybrid strategies will be more attractive to employees and will be able to provide an inclusive environment.
4. Remote Work Has Its Limitations
It is a mistake to think that your employees can work when they want, no matter where they are and what time it is. Hybrid work requires a clear understanding of when your team is available for tasks and requests and what are their hybrid working hours.
On your part, your employees should have free time, a work-life balance, the ability to turn off the phone and forget about work tasks. If you don't set boundaries and motivate remote employees to take breaks, you're more likely to experience employee burnout.
It's also worth learning more about production, financial, and legal constraints when it comes to where your employees live and work, especially when it comes to working with important data and a high level of privacy.
5. Make Sure You Listen To Your Team
If you want to be successful in hybrid work, it's important for you to be on the same page with your employees. You can honestly tell them about changes in the world of work, difficulties, and that you do not know where your company is going. At the same time, it is important to listen to what your dedicated team members tell you, take their opinions into account, be flexible, and change work designing processes depending on the needs of your employees.
6. Encourage Remote Work
Even if you've decided on a hybrid work strategy, you need to think about how you will attract and retain talent. For example, if you focus on working from the office and frequent meetings with employees, it will be more difficult for you to recruit from large human resources. This means you need to develop clear business processes and find a balance between hybrid and remote work.
7. Use Offices And Technology To Your Advantage
Most modern companies have been able to provide their employees with comfortable conditions for remote work for more than ten years. But only the pandemic forced them to use all available opportunities. Until 2020, many companies were lenient with online workplaces and video calling. Instead, they relied on the magic of the office.
Of course, offices have their advantages. For example, they create conditions for personal interaction, which is very valuable for many people. But they also have weaknesses. For example:
You have to pay for office maintenance
Employees spend a lot of time and energy commuting to work
Time in offices can be counterproductive, etc.
We're not urging you to ditch offices entirely, but if you want to go hybrid work, you need to achieve the most out of the resources you have.
For example, you can invest in home office systems and cloud work platforms. You can redesign your workplace to fit the hybrid approach. And, of course, it is important to make sure that all employees are involved in these processes and have the necessary tools to work effectively.
8. Understand What Your Employees Want
There are people who want to work remotely, but there are also those who prefer another option. What absolutely all employees want are flexible and transparent working conditions.
There are 3 main categories of employees that may have different preferences and, therefore, require a different approach:
Work mostly remotely
Visit the office 2-3 days a week
Work from the office every day
Most people will choose the second option, but the first and third categories are also quite popular. In addition, living conditions and situations can change, which means that your employees can move from one category to another. Discuss all the options with the team and make it clear that you are ready to continue creating an agile hybrid work environment.
9. Don't Forget About Deskless Employees 
Many companies have deskless workers and that's not what it means when it comes to hybrid remote work. We are talking about people working in the field of transport, healthcare, retail, etc. Many of them are unable to work remotely and continue to remain onsite, even throughout the COVID-19 pandemic.
As you implement a hybrid working strategy, you need to better understand deskless employees. On the one hand, changes can create a tense atmosphere in the team because some employees have privileges that are not available to others. But if you find the right approach, you can create stronger bonds within the team. For example, you can develop shared digital workspaces and set up the same access, regardless of the roles, work mode, etc. In addition, you can organize meetings common for the whole team, encourage employees to share experiences, and so on.
10. Hire Good Talent Managers
We've already mentioned that most remote workers perform well in productivity and engagement. But there are factors that can affect this in both positive and negative ways.
For example, leadership. Working in the office, employees can read the boss's signals and understand the feedback that affects the results of the work. Working from home, they need more communication. Make sure you have good talent managers who can talk to employees about their goals and career development.