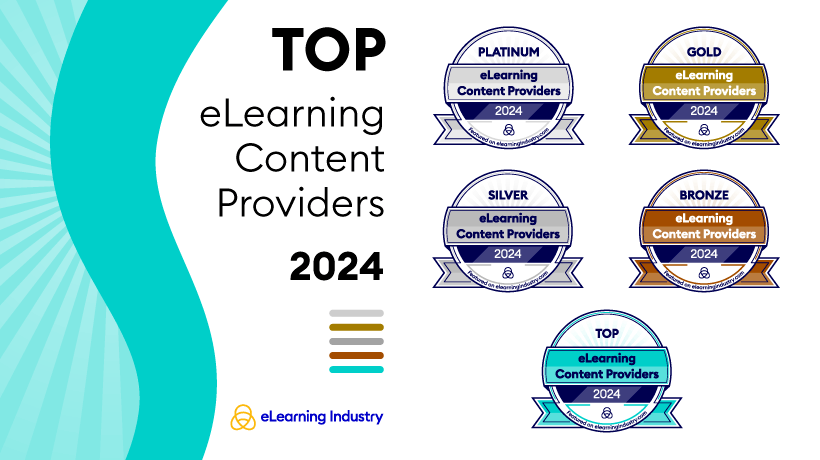 eLearningindustry.com
Summary:
Tenth time's a charm! We are ecstatic to announce our list of top eLearning content development companies for the tenth time in a row—and this year, we've decided to step up the list game. Here are our picks for 2024…plus a couple of aces up our sleeve!
The Best eLearning Content Development Companies For 2024
Even though there are plenty of eLearning content providers, choosing a partner is a hurdle. Some deliver online course libraries, while others offer virtual training labs. Some even create either approach for individuals and enterprises. Sure, one can find course libraries around common subjects... For example, leadership or compliance training topics. Yet, there comes a time when your organization needs custom eLearning content.
These eLearning experts can identify your employees' training and development needs so that your efforts are indeed effective. They can give a complete analysis of your training needs by analyzing all levels of each organization. That's when you have to team up with one of the elite to bring the best results for your teams.
So, if you care to find out which are the best eLearning content providers, you've come to the right place. Every year, eLearning Industry evaluates hundreds of eLearning content development companies. The goal is to determine which ones stand out for their long-standing, enterprise-wide commitment to eLearning content development excellence.
For several months, we scoured the eLearning landscape for innovative companies. To find the ones that deliver real value to their customers, continually improving learner and customer experience.
*Note to all eLearning companies:
If you want to be considered for eLearning Industry's Top Lists, feel free to apply for the Top Content Providers Lists.
Which Criteria Determined The Top eLearning Content Development Companies?
We chose and ranked the best eLearning content providers in the industry based on the following 8 criteria:
Company's economic growth potential
Company's social responsibility
Customer retention
Customer reviews
Employee turnover
Innovation in the learning industry
Quality of eLearning Content delivery
Expertise in learning solutions
Globally recognized LMS experts, including C. Pappas, and our editorial team did a thorough review of each vendor's eligibility. By checking each eLearning company's website and relevant published content—articles, eBooks, webinars—we've reached a conclusion.
Best eLearning Content Providers: Award Winners, Top Companies, Watchlist
As you may have guessed, sustaining a consistently high level of performance requires unique capabilities. This is why this year we've decided to create a triad of special awards for these leading firms whose presence has an imposing impact on the eLearning landscape: the 2024 Platinum, Gold, Silver, and Bronze eLearning Industry awards.
Of course, our list of Top eLearning Development Companies For 2024 is here as well. It is clear that these companies are motivated not only by financial success but by something deeper: customer trust and loyalty. These businesses have a strong, purpose-driven company culture and they truly take care of their customers. Plus, they provide superb eLearning products and services.
So, without further ado, *big drumroll sound* allow us to present to you the Top eLearning Content Development Companies for 2024!
Find The Ideal Content Provider For Your Corporate Training
Save time and money. Compare top eLearning companies by solutions, expertise, reviews, and rating!
Platinum Winner: Top eLearning Content Development Companies For 2024
Upskill And Reskill Employees With eLearning Solutions Powered By Authoring Tools
CommLab India helps organizations upskill and reskill their workforce by improving knowledge, skills, and behavior. They offer end-to-end solutions—understand training need, design solution, develop in tool of choice, deploy on LMS.
On-the-go, on-demand learning, or formal learning in any format—offer custom solutions to today's workforce with rapid eLearning solutions.
Reviews
Highlights
Rapid eLearning Development
CommLab India's expertise with authoring tools means learner-centric training at the speed of business. Custom solutions for any training topic, in any format, for any platform.
CommLab India offers complete online learning services—custom eLearning, microlearning, videos, VILT, L&D staff augmentation, EffectusLMS, and more.
Experts, Tools, And Processes
CommLab India's large pool of experts can work with the latest tools and technologies in the learning space. They use agile processes, templates, and rapid eLearning accelerators.
Achievements/Case Studies
CommLab India has kept 300+ global customers satisfied since 2000. Consistently ranked among the top providers of rapid eLearning and microlearning solutions, they serve industries such as healthcare and pharma, manufacturing, financial services, and nonprofits.
Gold Winner: Top eLearning Content Development Companies For 2024
Immersive Custom eLearning That Drives Performance And Maximizes Training ROI
EI has 30 years of experience in custom eLearning, enhancing learner and business performance. They craft personalized learning paths for engagement, behavior change, and talent retention, empowering with future-ready skills.
Contact EI to develop immersive custom eLearning solutions that drive performance gain and maximize your training ROI.
Read EI reviews in our directory.
Highlights
Cover Diverse Training Needs
Their innovation lab and immersive learning tech excel in diverse training needs across 26 industry verticals, driving exceptional performance.
Immerse Learners With Personalized Learning Journeys
They engage learners with personalized, adaptive approaches for immersive learning and improved performance.
L&D Advisory And Consulting Services
They partner with customers to drive effective upskilling and reskilling and prepare the workforce through sustainable learning strategies tied to ROI and ROE.
Achievements/Case Studies
EI has won 100+ Brandon Hall Group Excellence Awards in the last two years and has been featured in 40+ global ranking lists in 18 different categories. They also ranked No. 1 by eLearning Industry as a Top Content Provider for Custom eLearning for two consecutive years.
Silver Winner: Top eLearning Content Development Companies For 2024
Bring Culture Transformation And Leader Development To A Whole New Level
Pioneers around the world choose SweetRush to help solve business challenges through engaging, authentic, and relevant custom training. With a culture of respect, caring, and commitment, they'll earn your trust as your strategic partner. Now is the time for developing creative, effective, award-winning content—co-created by you and SweetRush.
Get in touch with SweetRush and discover a team with heart, dedicated to your success and to creating exceptional custom content!
Visit our directory to read reviews for SweetRush.
Highlights
Never one-size-fits-all; SweetRush designs effective training that meets learner needs and impacts KPIs, integrating knowledge, practice, reflection, and sustainment.
Fusing Instructional Design With Creative Design
Capture your learners' attention via engaging storytelling and simulations, diverse characters, relevant visuals, and high levels of interactivity.
Gold winners in 38 Brandon Hall categories, from learning in the flow of work to in-depth certification programs, eLearning to VR/AR. A team you can grow with and enjoy working with.
Achievements/Case Studies
An extraordinary track record of client loyalty and trust built on creative solution design. Clients count on SweetRush for effective and award-winning work (24 Gold awards at 2023 Brandon Hall!) across industries and subject matters in a wide array of modalities.
Bronze Winner: Top eLearning Content Development Companies For 2024
Award-Winning Custom Content Built For Business Impact 
Extensive Instructional Design experience, agency-level creative teams, and innovative learning technologies enable them to build custom content for learning solutions that engages learners and drives business results. Do you want to leverage award-winning custom content built for business impact? They've got all the experience you need to make it happen.
Create compelling learning experiences that connect with your audience.
Explore reviews for AllenComm in eLearning Industry's directory.
Highlights
Their complete learning solutions are tailored, designed, and developed to meet performance needs and business objectives using their highly effective collaborative process. That includes performance mapping, design workshops, scripts, mockups, and visual prototypes. They work together in a four-step process to define, design, create, and drive your transformative solution to a successful outcome. All the above ensure their ability to meet standards for schedule, budget, and quality.
The AllenComm team has developed a cloud-based learning content management platform for creating, maintaining, translating, and publishing learning assets across modalities and platforms. Built on a collaborative design system, DesignLab allows multiple users to work simultaneously within the program on content development to significantly decrease traditional project timelines. They provide consulting, customized training asset templates, and Instructional Design expertise to ensure that clients are able to get the greatest value from their content authoring technology.
Their thoughtfully designed custom content is developed by best-in-class Instructional Designers using the latest learning technologies; including ILT, VILT, videos, simulations, game-based learning, social learning, infographics, motion graphics, podcasts, train-the-trainer materials, and microlearning. They work with the client's team of Subject Matter Experts to ensure quality and efficacy.
Achievements/Case Studies
AllenComm partnered with BD Medical to develop custom content and a microlearning approach for clinical practitioners. The training boosted interest, motivation, and confidence that drive healthcare professionals as well as illustrate best clinical practices.
Top eLearning Content Development Companies For 2024
Next Steps After Checking Out eLearning Industry's Top eLearning Content Development Companies
Just finding a reputable eLearning company to partner up with is not enough. There's a lot more in order to identify the eLearning vendor who meets all your needs. By now, you must have gotten a better idea of what each of the above content providers can do. Undoubtedly, you've got plenty of details on their expertise as well as highlights when it comes to training delivery. Why not head to our directory and compare the best eLearning providers to see who matches your criteria?
If you are interested in earning a place in one of our eLearning solutions top lists, simply register on eLearning Industry's Top eLearning Companies page. Our committee will make sure to review your work and expertise. Who knows, maybe your brand is one of the top eLearning providers for next year!