How To Find The Best Project Management Tools In A Single App
Project managers typically find themselves bouncing between meetings with stakeholders, creating documentation for project briefs, managing a massive task list for themselves and teammates, and generally exercising their project management skills to push the project they lead to completion.
In our digital-first working environment, apps matter. If you don't have the right apps that facilitate you doing your best work efficiently, you may end up working longer hours and causing yourself headaches.
Luckily, there's an entire suite of apps that help you with things you do daily, like task management. The right workflow keeps you organized, efficient, productive, and leading your team rather than helping them do the work.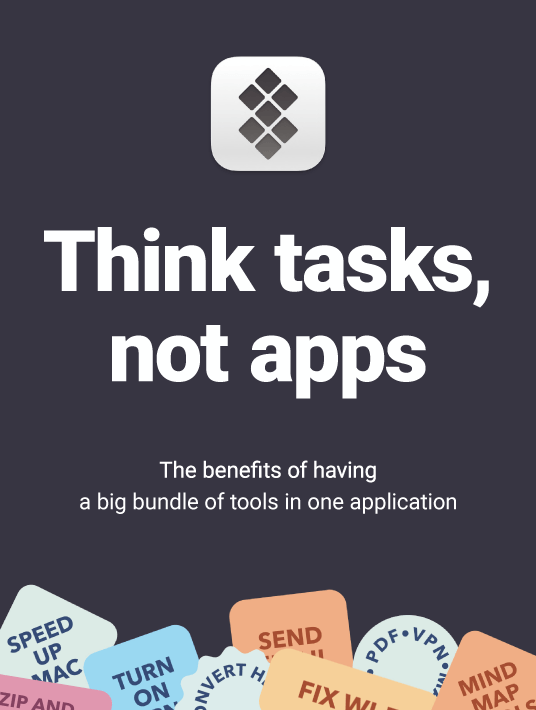 eBook Release
Think Tasks, Not Apps: The Benefits Of Having A Big Bundle Of Tools In One Application
This eBook takes a deep dive into the benefits of the one and only Setapp, where every app is a gem.
How To Organize All Your Tasks?
An organized process can have a meaningful effect on your projects. With the right workflow, you can prove the right suite of apps has a measurable impact. A good task tracker and/or project tracker is helpful, of course, but not the only tools you'll need.
It's important to find apps that can handle large pieces of the project, but it may be unwise to have a single app handling everything. Your team may need robust planning software or a to-do-list app with tons of features, but cobbling them together means a lot can get lost in the shuffle. (Think about it: how often do you use Outlook for email but have never thought twice about its 'to-do list' feature?)
Sometimes, the best project management software is not one platform but a series of really great apps that pull their weight so your project is completed on time.
How To Organize Tasks Using TaskHeat
There's a reason we still use whiteboards when planning projects: visual guides are an easy way to plan and communicate large projects with many teams and lots of things to do. Organizing tasks is essential for leaders and stakeholders to understand things from a holistic view and for disparate teams to understand their role in the process.
Taskheat replaces whiteboards and allows for far more customization and project management. It's mind-mapping software that allows you to color-code tasks for teams, set delivery dates, delegate tasks, and add tags to each section or task. There are even location-based reminders that alert you when you're offsite meeting with third-party vendors that they may have a task due you need to inquire about.
You can also build connections between tasks so people understand dependencies and can communicate what may be blocking completion. Flowcharts can be printed or shared, making it a great platform for weekly communications to leadership; just save your updated flowchart as a PDF and include it in your presentation!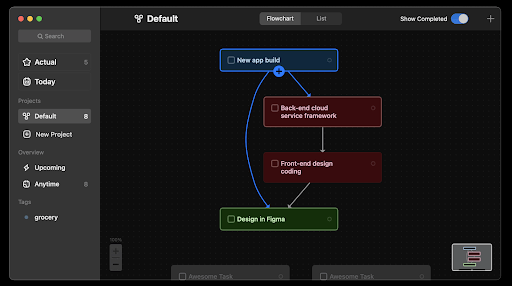 What Is A Project Plan And How To Create It?
Simply put, a project plan is a series of documents that outline how a project will be completed and delivered. It should have the following:
The lifecycle of the project
How each stage will be completed and implemented
Tools required for the project
Total budget projections
The change management process for the project
Performance measurement objectives
Communications plan
Necessary teams and/or people involved
Measurables for success of the project
How and when a project will be reviewed upon completion
With an initial investment in a project plan, you'll save time by following through on a well-planned project. Without a solid plan of action, you will spend more time clearing up discrepancies, communicating across teams (which may create more confusion than you imagined), and solving issues you didn't envision because you didn't have a plan.
How To Create A Project Plan Using Merlin Project Express
Not all project plans require you to negotiate several Word documents or Excel spreadsheets from the start. Creating a plan of action starts with ideating the framework for your project and creating specific documentation where it's needed.
Moreover, you need a centralized place people can access for the project plan and its various documents. Merlin Project Express has been designed for that exact purpose.
Merlin Project Express is templating software that can help you plan even the most complex projects quickly. It's a linear project planner and CRM in one, which can help you keep contacts and log important details like pay rates in one centralized location. This is especially helpful for those who manage several outside contractors and need to manage a budget. You can even create cost generation reports!
Start with the core objectives of a project and create subtasks from there, assigning the work to staff and assigning due dates as needed. Its Gantt chart view helps you visualize the project's scope quickly. Attach necessary documents to each item in your plan, create milestones, and more. Spend more time planning and less time problem-solving with Merlin Project Express.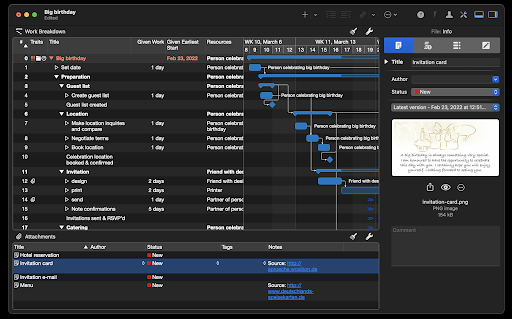 What Is The Best Project Management Software?
The best project management software is the platform or service that makes sense to you and helps move the project towards completion. Pagico via Setapp has an interactive timeline for projects and supports drag-and-drop for a more gesture-based project management experience.
Pagico's tagging feature allows you to use tags in search to align teams and people efficiently. If you've got a web-based project, Pagico has a great feature that turns any webpage into a task on a project, which you can assign due dates to as well. The timeline visualization in Pagico serves as a centralized dashboard in a calendar-based format so the entire team can see how a project is progressing.
For day-to-day project management, Pagico has a Today View that surfaces urgent tasks so you can plan your days accordingly.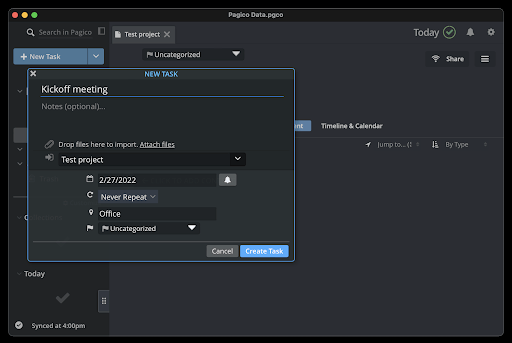 What Is The Best Scheduling App?
Time management is one of the more critical skills a project manager can have. Managing your own time is vital and it shouldn't be overlooked managing how others spend their time on a project is sometimes just as crucial to ensuring projects are completed.
Missed deadlines are often ruinous to a project. A single slipped deadline can wreak havoc on the rest of a project, especially if there are several dependencies for that task. Moreover, those working on the task may not fully understand how a missed deadline can wreak havoc on other teams and the project.
You may also need to manage time spent on tasks so budgets don't become unruly. To that, you may need to closely manage teams, contractors, or others whose time spent working on a project can adversely affect the total budget.
How To Track Productivity Per Project Using Timemator
Timemator is time management software that can keep track of how you or your team are spending time on projects—no matter how many projects you're trying to manage. You can color-code tasks as you see fit and choose to tag timed projects as billable or non-billable.
There's even a handy auto-timing feature that starts timing tasks as you open files. You can trigger Timemator to start tracking time when you open an app like Taskheat or specific files in Word. Rules are highly customizable and can be tailored to your unique needs.
Each Timemator user can set up their own rules, too. It's great for large projects and several teams. Designers can trigger time tracking in Timemator when they open Figma or Sketch, developers can set up rules to track time on specific code files, and other stakeholders can automate tracking based on the files, folders, or apps they use, too.
All timed events can be exported as reports, which show detailed data on how time was spent per tracked project. If the time is billable, hourly rates per project can be added for budgeting purposes.
Conclusion
Project management is far more than holding meetings and making sure everyone is working toward the same goals. Great project managers write detailed project plans, document everything in detail, and track progress across teams and functions in specific ways.
Great apps help project managers do more with the valuable time they have in their days. It's important that, in addition to managing time and ensuring a project is progressing properly, project managers are able to provide a clear roadmap to those working on the project and can communicate to leadership and other stakeholders where a project is at in real time.
That's why apps like Timemator, Merlin Project Express, Pagico, and Taskheat are so valuable to the project management workflow. Whether you want to use one or all of these apps, crafting your perfect mini-suite of apps that smooth out your workflow will help you lead the team and project to success.
These four apps and over 200 others are available for free during a seven-day trial of Setapp, the world's biggest and best suite or productivity apps for the Mac. During your week-long trial of Setapp, you'll be able to use any (or all!) of the 200-plus apps in the Setapp suite for free. Pick and choose apps you feel will help you manage projects efficiently and effectively.
When your trial period ends, Setapp is only $9.99 per month for unlimited access to the massive (and growing) Setapp catalog of apps. There is also special pricing available for teams.
Give Setapp a try today and get started on your path to effective time management, smart leadership, and projects being completed on time and under budget.
Ready To Download The eBook?
Download the eBook Think Tasks, Not Apps: The Benefits Of Having A Big Bundle Of Tools In One Application to dive into the perks of using a single app to boost productivity and streamline your workflow.

Setapp
Setapp is the next-generation productivity service for Mac and iPhone users to get the right way and tools to organize their work, with a curated collection of apps, a smart search engine, and a personalized app recommendation system